Everything you need to know about trendy sunglasses
When I speak of trendy sunglasses, I am not just talking about popular types of glasses. Instead, I am talking about the new and innovative styles worn by trendsetters and fashionistas alike. They focus much less on the practical applications of blocking out UV rays and are more about being the life of the party.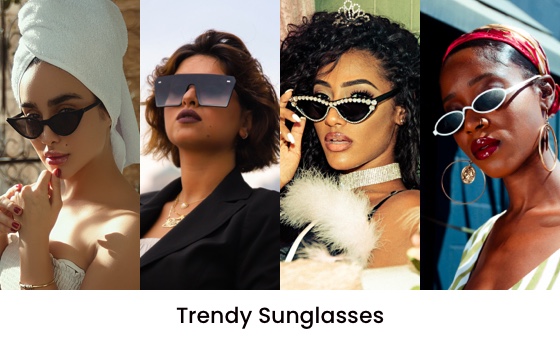 Why are trendy sunglasses so popular?
Trendy sunglasses push at the boundaries of fashion to invent entirely new styles. They are often inspired by classic and vintage frames but combine them with solid and vivid colors, unique shapes, and patterns. Trendy glasses often feature additional details such as bedazzlement and unique decals. They also go to the extremes in terms of frame shapes, with glasses tending to either be entirely round or very sharp and geometric.
Let's quickly run through a few examples of sunglasses styles that might be considered 'trendy.'
Hugely oversized visor-type frames for reference see the Cyra style frame in our trendy sunglasses selection. This bold and extreme style is a popular statement piece. It's popular due to its unconventional and eccentric look. They often include wireframes for an industrial-style look and colorful tinted lenses. Personally, I think this style has risen to popularity due to the current city wear and sportswear trends, which pair well with industrial aesthetics.
Now, moving on to small and chic 90's style lenses. Super small shades with little to no decal strangely fit into the trendy sunglasses category. If you don't know what I am talking about, then think of Neo's famous sunglasses look in the Matrix. Or check out the kiki and Bella sunglasses styles from our trendy sunglasses selection.
You wouldn't think that these minimalist shades fit into this category full of bold and eccentric styles, but that's the very reason thin rectangular shades are trendy. When everyone is trying their hardest to stand out in a crowd, sometimes a simple minimalist style will stand out amongst all others.
Continuing onwards, let's talk about cat-eye glasses frames. Cat-eye frames? Surely, those are considered vintage? Well, usually yes, but unconventional variations of the classic cat-eye design have slipped into the trendy sunglasses category. For example, wireframe cat-eyes with circular lenses, tinted shades, stronger browlines, and extra bedazzlement are all trendy styles.
This style looks to the classics for inspiration. Since the cat-eye can be quite a harsh look when this design is experimented on and developed, you can enjoy some truly unique results.
But, I haven't quite answered the question: why are trendy sunglasses so popular? The reason is pretty simple, actually. These are the styles worn by celebrities, influencers, and on the runway. And even more notably by members of fashion subcultures and fashionistas bold enough to go where man has never been before. An eccentric and bizarre style will leave a lasting impression on all those who see you, even if that impression isn't a good one. What's important is that you wear your style with confidence and don't compromise individuality for complacency.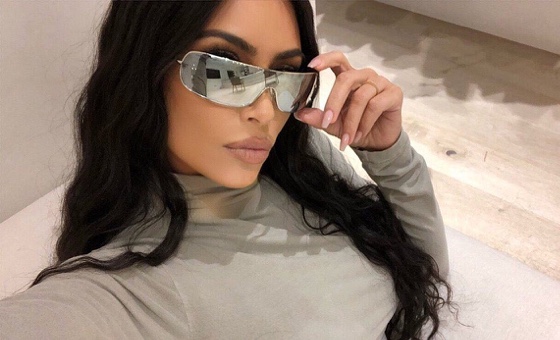 How to pick the best trendy sunglasses?
The "trendy sunglasses" category is a diverse one. This is great because it means you have plenty of choices to find a style perfect for your personal style, face shape, skin tone, and hair color. If you're nervous about dipping your feet into some of the more bold and adventurous styles from this list, then it would be a good idea to think about your facial shape, skin tone, eye color, hair color, etc.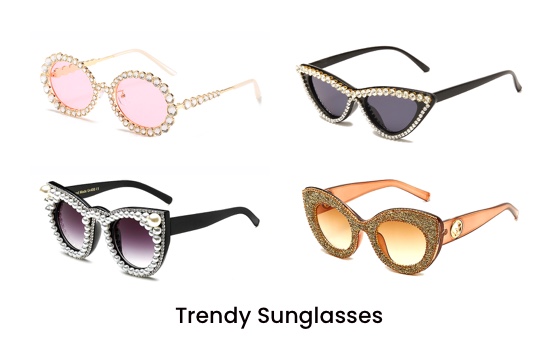 At the end of the day, you can wear whatever makes you feel good but knowing which glasses styles look good on your facial shape can help you get comfortable trying out some more adventurous fashion styles.
For example, if you had a square face and decided to try out some bold and boxy 70's style frames, then you will likely find that the sharp geometric shape of the frame and your sharp facial features clash, resulting in a less than desirable look. For a square face, you are probably better off trying rounded glasses or cat-eyes since they juxtapose your face's strong silhouette.
Trendy sunglasses trends in 2021
You are correct in thinking that subtitle sounds silly, but I don't come up with them. I just write the articles, I promise. Anyway, moving on to some of the biggest trends dominating 2021.
Let's take a trip back to the '70s with a style that has been all the craze this year: oversized sunglasses. Trendy sunglasses often take a lot of inspiration from vintage styles, and in this case, we are just bringing back a tried and true classic style. Still, oversized styles often fall into the trendy category due to their bold and eccentric appearance. Try pairing with beige, brown, cream, and tortoiseshell colors for optimum on-trend effect.
Or you could try out this year's favorite color: green. I suggest a bright crushed emerald green but sage and other more subdued options would work great too. You could also try green-tinted lenses or transparent green frames since both these styles are currently trending.
But if all else fails, trust your gut. You don't need other people to tell you what beauty is, just wear what makes you feel good, and even if other people don't like it, your confidence and happiness will make you stand out amongst all the others.
Recommended articles:
Everything you need to know about oversized sunglasses
Everything you need to know about trendy sunglasses
Everything you need to know about vintage sunglasses
Everything you need to know about reading glasses