Total Width: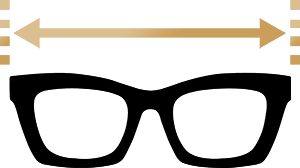 Half Rim Glasses

FAQ About Half Rim Glasses
What are half rim glasses?
Half rim glasses are glasses that have the upper half of the lens attached to the frame, and the lower half of the lens is not attached. This gives the glasses a more open and airy look, and they are also generally lighter weight than full rim glasses.
What face shape looks best with half rim glasses?
Generally, round faces, heart-shaped faces, and square faces will look good with half rim glasses. For those with round faces, half rim glasses with rectangular or square frames can help to create a more angular look. Those with heart-shaped faces should look for half rim glasses with frames that are wider at the bottom, as this will help to balance out the face. And finally, square faces should choose frames that are round or oval in shape to soften the angles of the face. Learn more.
What are the benefits of half rim glasses?
First, half rim glasses are much lighter than full rim glasses, which makes them more comfortable to wear for a long period of time. They are also less likely to slip down your nose as the weight of the glasses is evenly distributed. Additionally, half rim glasses can give you a more natural appearance, as they do not obscure your eyes as much as full rim glasses. Finally, half rim glasses are generally less expensive than full rim glasses.
Do half rim glasses make you look younger?
Yes, people with half rim glasses were perceived to be younger than without wearing the glasses because they cover up some of the wrinkles and lines on your face. Also, these glasses make your eyes look bigger and your face look thinner.
Are half rim glasses classy?
Yes, half rim glasses are a classy type of glasses. They can make you look elegant in both formal and informal occasions.
Related eyeglasses categories
All eyeglasses
Women's eyeglasses
Men's eyeglasses
Cat eye glasses
Rectangle eyeglasses
Round eyeglasses
Black eyeglasses
Tortoiseshell eyeglasses