What face shape best suits browline glasses?
Eyewear is both a fashion statement and necessity, especially for people who need to improve their eyesight. If you are on the hunt for a new pair of spectacles, the browline frame glasses might just fit your retro taste.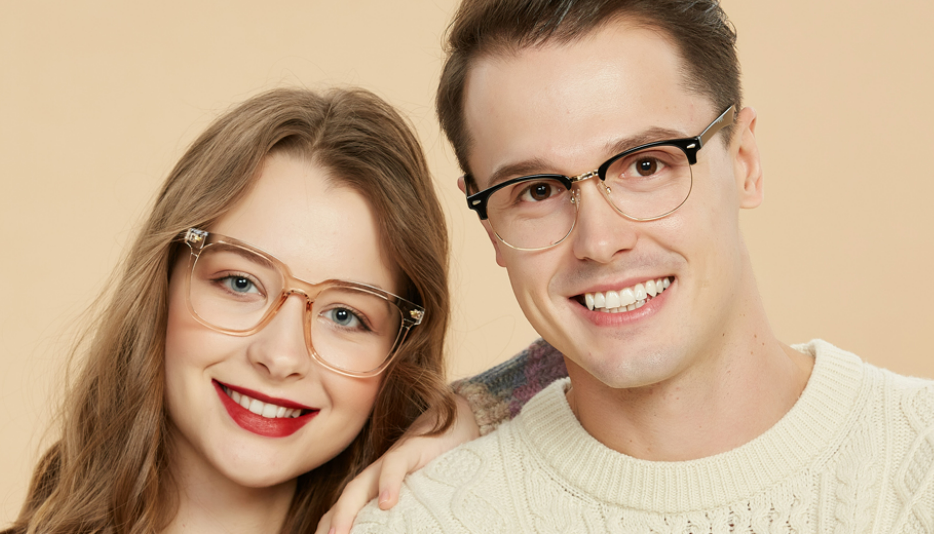 What are browline glasses?
There's a timeless vibe to browline frames, and it pops up every now and then on the trendsetter's list--it never goes out of style! The design, popularized by Ray Ban with the moniker the Clubmaster, was widely received in the 1980s, although it has been around since the 40s. It peaked in popularity in the 50's and accounted for about half of specs sold during the decade.
This type of glasses is unique for its bold upper frame similar to eyebrows, hence the name. The prominent rims on the top draw attention to your browline, which makes it the ideal frame if you want to accentuate your eyes.
Designed with a plastic or acetate top, these glasses are made to look big but not heavy. The bottom rims are often made of a thin wireframe that secures the lenses. Browline glasses won't obstruct your line, unlike bulky styles that slip off from your face.
Contemporary twists to this frame type such as quirky patterns, colors, and materials, make browline glasses popular in the recent era, appealing to people of all ages.
Which face shapes match with browline glasses?
In general, browline specs are great for users with narrow foreheads by helping to make them look wider and more balanced. With the many variations to the modern browline, it's not too hard to match this frame with any face shape, although there are things to consider with each one.
1.Oblong face
It's advantageous to wear browline frame glasses if you have an oblong-shaped face, helping to make it more square and wider. The oblong face is characterized as elongated and wearing these specs balances your facial proportions better.
With the browline's thick upper and thin wireframe, you will be able to highlight your jawline strength and cheekbone depth, which are unremarkable sans the glasses. Oblong faces are typically large, and this type of frame allows you to add more structure to your otherwise soft features.
2.Diamond face
Prominent cheekbones and an angular jawline are the distinct characteristics of the diamond-shaped face. What a browline frame does to this face shape is it adds extra bulk to even out the relatively narrow forehead. You can also soften your chiseled cheekbones and jaw if you opt for rounded browline glasses.
However, it's important to note that oversized browline forms can easily draw the diamond face shape, so it's better to opt for the regular-sized styles.
3.Square face
Browline glasses look stunning on square-shaped faces because it helps to mute the strong facial features and add a reflective, intellectual look to this imposing shape. It tames the chiseled jaw and cheekbones to give you a scholarly yet highly charismatic appearance.
If you want attention-grabbing frames, you can try dark-colored browlines and unique patterns that add more personality to your eyewear.
4.Oval face
The oval-shaped face is often regarded as the most ideal and it's a no-brainer that browline frame glasses will fit this type quite nicely. The bold upper rim helps the oval face's upper features to stand out, while the thin bottom frame enhances the soft lower facial structure.
With this shape, it's best to avoid oversized browlines as it can make the otherwise proportionally balanced face to become rounder and overly softened.
What other matches are acceptable for this frame type?
While the browline spectacles are versatile, there are face shapes that need particular styling to achieve a suitable look.
For instance, a round-shaped face might appear wider when using an overly large browline frame. For this reason, you must choose narrower frames that will elongate the face, preventing you from looking plumper than you want.
Which face shape must avoid browline frames?
Heart-shaped faces struggle when fitting browline glasses. The wide forehead might become unnecessarily exaggerated when a heart face shape uses this eyewear. It's so top-heavy that anyone looking cannot help but focus their attention on the forehead area.
If you have a heart face, you can select frames with less prominent rim and more angular lens to harmonize the wide upper and narrow lower sections of the face.
Recommended articles:

What Face Shape Best Suits Round Glasses?
What Face Shape Best Suits Rectangle Glasses?
What Face Shape Best Suits Square Glasses?
What Face Shape Best Suits Cat Eye Glasses?
What Face Shape Best Suits Aviator Glasses?
What Face Shape Best Suits Browline Glasses?
What Face Shapes Do Geometric Glasses Look Good On?