Total Width: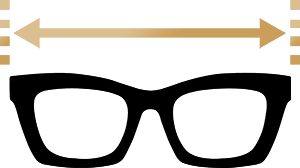 Octagon Glasses
FAQ About Octagon Glasses
What face shape looks good in octagon glasses?
The most suitable face shape for octagon glasses is round face shape, for geometric frames with strong edges are a top choice to balance soft round faces and create a more structured look.
If your face shape isn't the round one, it's also ok to get a pair of octagon glasses. Octagon glasses actually also work well with oval, triangular and heart-shaped faces. Learn more.
Are octagonal glasses trendy?
Octagon glasses have been gaining popularity in recent years. In today's society, people have been searching for symbols that make themselves unique. That's the social background that makes octagon glasses popular, and their distinct looks do easily catch others' attention.
Do octagon glasses suit round faces?
Yes, octagon glasses can balance the soft touch of round face shape and add some angles to it. At the same time, octagon glasses with thin frames can turn the cute style of round faces into a delicate style, while those with thick frames can add some vintage and bookish touch.
Do octagon glasses without rims look good?
Octagon glasses without rims provides a modern and minimalist look. Without the frame, octagon-shaped lenses seem bolder and more prominent, which can create an impactful look for you. If you like such style, octagon rimless glasses are there for you.
Related eyeglasses categories
All eyeglasses
Reading glasses
Blue light glasses
Gold eyeglasses
Geometric eyeglasses
Eyeglasses for round face