Total Width: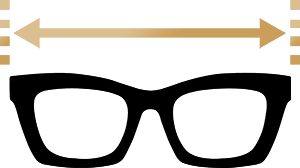 Reading Glasses

FAQ About Reading Glasses
What are reading glasses?
Reading glasses are designed to help people who have trouble reading or seeing objects up close see more clearly. They typically have a pair of lenses that have different powers, with one lens for distance vision and one lens for near vision.
When to wear reading glasses?
It is exactly as it says on the tin; you use reading glasses for reading. But that isn't all you may use them for. Reading glasses can be used for any close up work in which you may be holding objects in close proximity such as threading a fishing line or sewing. Just grab your handy reading glasses when you are having difficulty with any close up task.
If you find that it's easier to read if you hold reading materials further away from your face, have blurry vision when doing close-up work, struggle to read in dim light, and have tension headaches at the end of a workday, then it might be a good idea to take a quick eye exam.
How do reading glasses work?
Reading glasses work by magnifying objects that are close up. The lenses of the glasses are curved in such a way that they bend the light that passes through them, making objects appear larger and easier to focus on. A common misconception made about reading glasses is the assumption that they magnify small print. They don't; they actually work by providing the correct diopter strength making it easier to read small print. Reading glasses are available in diopter strengths between +0.75 to +4.00 and can be purchased both over the counter and online. Don't forget to buy with your prescription. Learn more.
Can I wear reading glasses all day?
Yes, you can wear reading glasses all day. However, it is important to note that readers glasses are not meant to replace your regular glasses or contact lenses. They are designed to help you focus on objects that are close up, such as books, newspapers, and computer screens.
Do reading glasses need astigmatism?
No, reading glasses do not need astigmatism. Astigmatism is a condition in which the eye is unable to focus light evenly on the retina, resulting in blurred vision. Readers glasses are designed to help you focus on objects that are close up.
What are the different types of reading glasses?
There are several types of reading glasses available such as cool, fashion and designer reading glasses. At the same time, lenses for reading glasses include bifocals, trifocals, and progressive lenses, etc. Bifocals and trifocals have two or three different lenses that are designed to help you focus on objects that are close up and far away. Progressive lenses are designed to provide a smooth transition between near and far vision.
What are the benefits of buying reading glasses online?
When you browse online for your next pair of reading glasses, it is much easier to see who is giving you the best price. You are also not paying for the extra costs needed to cover the shop, equipment, and staff, which will lead to much greater savings. It also allows you to browse a much more diverse range of styles and ensure you are getting the correct diopter strength which you can't do when purchasing over-the-counter glasses.