How to find the right black glasses for you?
The impression people have on black frame glasses in general is that of a fashionable, easy going and not too loud kind of look, which can blend with any type of dressing or cloth.

Thick black frames go mostly to the young, hipster crowd. The people who wear these glasses are definitely attempting to make a statement about themselves. Someone who has a pair of these glasses is probably young, bold, opinionated, and trendy.
Black glasses can be seen as a timeless piece as it works well with all colors of clothing and it makes it acceptable by men and women of all age categories.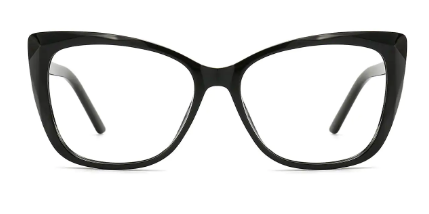 Simple black, slightly masculine frames are subtle and fashionable, and look smart on everyone. If you wear glasses all the time, think about shopping for three pairs, one for work, one for weekends, and one for evenings out.
Black frame glasses are one of the simplest selection for day to day wearing since the color never really goes out of fashion. Daring black glasses are also an excellent accessory for formal outfits, such as white shirts and black suits. But not to overlook your casual dress.
Wearing black glasses gives the feeling of control, corporate, strict yet giving room for colors to blend in, thereby making it trendy and as such can hardly go out of style. Black is a unique color.
What are black glasses usually used for?
Black glasses are usually used for mostly everyday use. It is so versatile that it can work for both lunch dates, work, dinners, parties, get together and lots more. Black glasses are unique.
The color of glasses that will look smart with your brown hair color will definitely depend on the shade of brown. If you've got light brown hair, you will look nice in black.
Darker frames like black or tortoiseshell look particularly sleek with black hair, as they assist to make a classy, coordinated effect. On the opposite hand, brighter colors will bring a sharp distinction, which is nice if you're after a statement-making finish.
Black glasses measure a major staple and luxuriate in additional quality than just about any other type of eyeglass frame.
Do black glasses frames make people look fashionable?
Black glasses frame makes people look fashionable due to its neutrality and ability to blend with any outfit and make the outfit more appealing to the eyes of both the wearer and people around.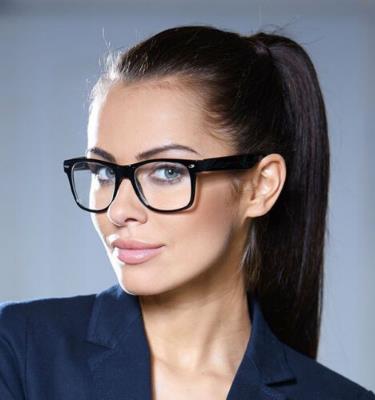 Black glasses frame can make people look fashionable by giving them a sense of being classy, trendy, original and yet having a subtle look.
If you have cool skin tones, a bold black look will favor your skin tone the best just like our collection Elizaveta. If you would like to cover aging signs from your face, try using oversized glasses. This style provides you a classy look allowing others to place their focus in your eyes.
Oh yes, it's absolutely precise to mention that a girl who wears glasses gets her look increased persistently. Girls on glasses are always in style and the best part is the confidence and intelligence they wears which actually imparts them from ordinary people. No, doubt a girl who wears glasses is cherished by most guys.
Tips to select the best black glasses
Before buying black glasses, people have to consider some factors like skin tone. A brown skin tone would look amazing on a black glasses. Face shapes are another factor to consider, one with an oval face shape, heart face shape and round face would be complicated with a pair of black frame glasses.
Recommended articles:
How to find the right black glasses for you?
How to find the right white glasses for you?
How to find the right clear glasses for you?
How to find the right tortoise shell glasses?