How to find the right pink glasses for you?
For the last couple of years, pink has been emerging as the preferred color of many people for all sorts of items, from clothing to home decoration and just about everything else in between. Eyewear is no exception. Pink tinted glasses and pink framed eyeglasses are now among the best-selling items in optical shops in many parts of the world.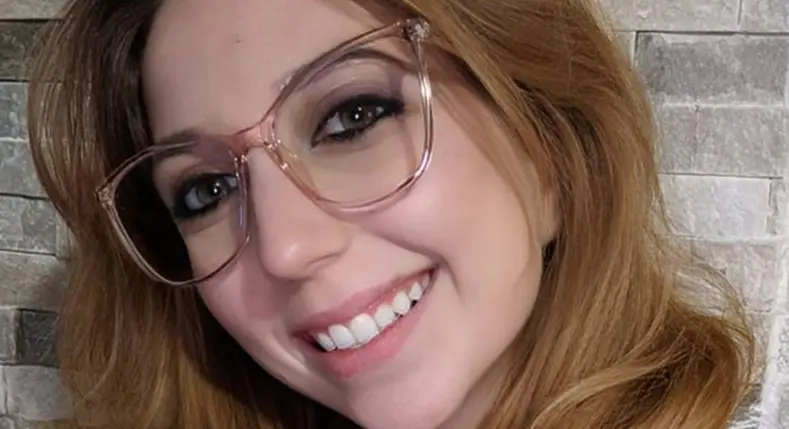 There used to be a time when pink glasses were reserved for little girls but that is no longer the case. Today, pink glasses come in all shapes and styles and are worn by women, and even men, of all ages.
They are available in cat eye, round, rectangle, aviator, square and oval shapes. They can be casual, trendy or even vintage! No matter what style you prefer, there is definitely a pair of pink eyeglasses out there that are perfect for you.
Do Pink Glasses Frames Make People Look Younger?
We can cite many reasons why pink glasses are so popular these days but the one that stands out is that pink glasses frames take years off your face. Yes, they can certainly make people look younger!
This is because the freshness and the glow that is inherent in all shades of pink reflect on your looks when you wear pink glasses, making you look fresher and giving you a glow that makes you look years younger!
Take a look at the Persia cat eye glasses in pink, for instance. These full-rim glasses are perfectly elegant, flattering to just about any face shape, and will instantly make you look a decade younger.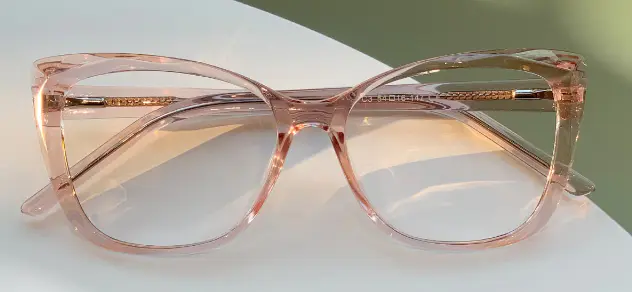 These Mirja oval pink glasses are another pair that will make people look twice as you pass by. Perfect for daily wear, they are a perfect example that comfort and style can definitely go well together.

What Hair Color and Skin Tone Suit Pink Glasses Frames Best?
One of the reasons why we love pink is because it comes in all kinds of shades and there is always one that is perfect for your hair color and skin tone. Pastel pink, in particular, is very complementary to most skin colors.
Whether you choose an opaque or translucent pink for your frame, it will definitely add color to your face, which is perfect if you have pale skin with cool undertones.
If your hair is blonde and your skin is light with cool undertones, eyeglasses in any shade of pink would complement your coloring perfectly. However, if you have warm undertones on your skin, it would be smarter to stick to warmer shades of pink light coral or peach. Anything lighter might make you look too pale or pasty.
Pale pink or pastel pink glasses are also an ideal choice for brunettes with very light skin. On the other hand, if you have dark skin and dark hair, the most suitable pink glasses for you are those that have darker pink frames in a classic style. For an everyday casual look, you want to stay away from very bright pinks that can draw too much unwanted attention.
Tips to Select the Best Pink Glasses
When shopping for pink glasses, you certainly want to consider your hair color and skin tone, as well as the corresponding recommendations that we listed above. But of course, these are just guidelines and the deciding factor is what you see in the mirror and what you feel really good about.
If you are looking for a classic and distinguished image, the Auberon and the Celebrity are great options. If you are up for a more adventurous look, then the Alwin or the Behati could be perfect for you.
While looks are important, there are also other things that you should think about when choosing the best pink glasses. For instance, they have to be comfortable to wear. They should sit easily on the bridge of your nose and over your ears. Some metal components might trigger reactions in some people so if you are allergic, this is something to consider.
Whether you are looking for prescription eyeglass frames for daily wear or sunglasses to adorn your outfits when you go out on the town, pink is definitely the color that you can count on. Check out the vast collection at Lensmart, where you will surely be able to find one that fits your style.
Recommended articles:
How to find the right white glasses for you?
How to find the right clear glasses for you?
How to find the right tortoise shell glasses?
How to find the right purple glasses?
How to find the right red glasses for you?
How to find the right brown glasses?
How to find the right rose gold glasses?
How to find the right green glasses?
How to find the right orange glasses?
How to find the right wire frame glasses?
How to find the right pink glasses for you?
10 transparent glasses to show your fashion
How to find the right grey glasses?