How to find the right orange glasses?
Any fashion-forward person will love adding a pair of orange glasses to their wardrobe. It's one of the few bold colors that express personality so well. It's generally a loud color but can have muted variations that fit a more casual getup. It perfectly echoes summer or party vibes, making it fun eyewear to don.
Orange eyeglasses refer to specs that boast colorfully on the frame or have a subtle orange accent to it. This term can also mean ones with an orange lens tint. Either way, the name speaks of this accessory's most distinctive feature: a warm, carroty color.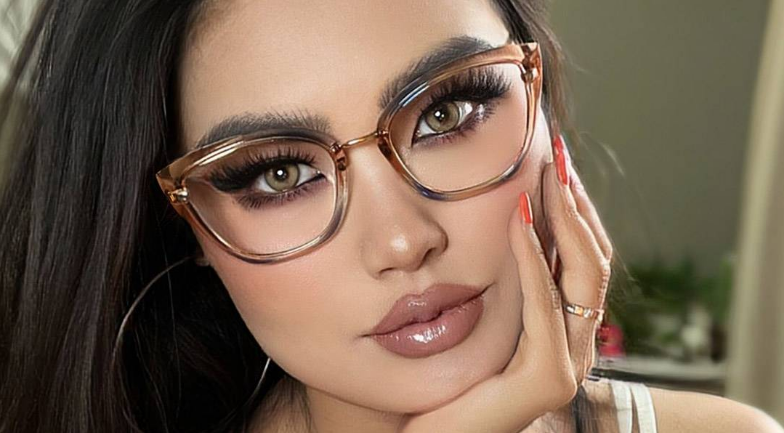 What do orange glasses frames say about you?
Any plain outfit can become head-turning when you wear orange eyeglasses. If you opt for the more vibrant shade, you're likely a fun-loving and high-energy person. It's a bright color that can become a topic of conversation with friends or acquaintances. It can also express passion, creativity, and a fearless declaration that you're not afraid to stand out.
Frames with subdued orange tones can also subtly grab anyone's attention if matched with the right clothes. Eyeglasses with this shade often get picked by people who are resilient and dependable. It also provides a boost of confidence to the wearer.
Who may best suit orange frame glasses?
Orange glasses look unbelievably stunning on people with blue eyes. These two colors are complementary on the color wheel, making them an excellent match for blue-eyed specs users. Additionally, you can wear this eyewear color if you want a sharp contrast to your black hair. Red-haired people can also look more vibrant with orange frames.
Orange-tinted lenses make the environment appear brighter and are perfect to use in low-light situations. For this reason, this type of glasses can benefit hunters, baseball players, cyclists, and golfers who play in overcast, foggy, or hazy conditions.
Some studies suggest that wearing orange-hued glasses can help in dealing with sleep problems. The color can effectively block the blue light that suppresses sleep and promotes wakefulness. When you wear orange eyeglasses for an hour or so before bedtime, you might have a better chance of sleeping quicker.
Guide to buying the right orange glasses
Are you getting ready to shop for a new pair of orange specs? Here's a basic guide to getting you started.
1.Choose high-quality lenses
Your orange eyeglass frame can go well with clear or colored lenses. Whether you need a prescription or non-prescription pair, you should choose lenses that offer comfort, vision, and a great design. You can pick an orange frame and lens combination that not only looks amazing but also helps to shield your eyes from blue light.
You can also choose lenses with additional features such as an anti-glare or anti-scratch coating to make them last for many uses.
2.Select the right shape
Although it's true that you can buy any eyeglasses you want, you need to choose a suitable frame that suits your facial structure. If you have strong features, you can make your face softer with round specs. Conversely, a round or oval face can match with angular glasses like rectangular or square frames.
You can browse Lensmart's selection of eyewear sorted by facial shape, making shopping a much easier experience for you.
3.Compare frame material
Your orange glasses should boast a material that will suit the purpose of the eyewear. You need lightweight yet durable frames if you are the outdoorsy type. For kids, eyeglasses made from flexible plastic are the most ideal option. Make sure to know how you'll be using the specs to select a suitable frame material for you.
Recommended orange glasses
1. Kalindi Oval Orange Eyeglasses
The lightweight Kalindi oval specs feature a lighter shade of orange that will remind you of autumnal maple leaves. It has a thick upper frame to call attention away from your brows into your lovely eyes. This pair comes with nose pads to provide an anti-slip feature, allowing your specs to rest comfortably on your face.

2. Musa Oval Orange Eyeglasses
The Musa orange frame has a thin silver upper rim and orange accent on the lower and side rims. It allows you to accentuate your cheekbones. It comes with high-quality anti-scratch and anti-reflective lenses that not only upgrade your style but also improve your vision.
3. Kaleb Round Orange Eyeglasses
For the bold and beautiful, this pair of Kaleb round specs brings out the fun in eyewear. The upper rim is thick and boasts a tortoiseshell-like pattern, which tapers to a thinner lower frame. It is made of top-grade TR90 material, a thermoplastic that is lightweight and impact resistant. This durable pair is worth the price!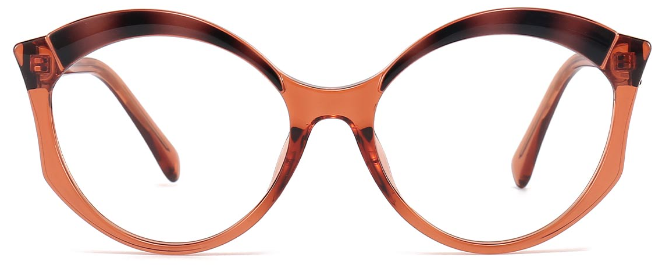 Takeaway
Ultimately, the best way to find the right pair of specs is to know what fits your face, style, and budget. You can use the Lensmart virtual try-on feature right on the website to select the most appropriate framework that can enhance your facial structure. Check out our great selection of orange glasses today!
Recommended articles:
How to find the right black glasses for you?
How to find the right white glasses for you?
How to find the right clear glasses for you?
How to find the right tortoise shell glasses?