How to find the right green glasses?
Isn't it fun to shop for new eyewear such as trendy green glasses that bring a fun twist to your outfit? You can change your look with eyewear that comes in unique tints. You can mix and match your glasses with different themes and even your hair color, making you stand out.
Green glasses refer to the lens hue and can come in varying shades of color. They may look like a funky addition to your sunnies, but they can do more than complement your getup. Most of these glasses can block glare from the sunlight. If you go to any water-related activities, you can wear a pair of green-colored glasses to help you see the surface of the water more clearly.
This type of eyeglasses can also refer to green-colored frames. You can use them for prescription and non-prescription glasses, making them very versatile options for eyewear.
Are green glasses in style?
Eyewear never fades out of style when it comes to fashion. While it's not an all-time favorite like colorless or black glasses, you can find a chunk of users who are attracted to green-hued frames and lenses. You can wear them whether you are at work, at parties, and just about any ordinary day.
Tinted eyewear is a great fashion statement. You can show your spunky side with a pair of green eyeglasses. Not many will opt for a vibrant shade, so you will surely turn heads if you wear brightly colored glasses.
Colored eyeglasses do well in the market because they are available in many different shapes, designs, and styles. You can find a pair that suits any age or occasion. There are even designer pieces that can appeal to your expensive taste.
Who may best suit green frames?
Green glasses look gorgeous on people who have green, hazel, and brown eyes. They accentuate the eye color, making you look more striking the longer they stare. You can create a signature style with green eyewear and make it uniquely you.
What makes this type of eyewear special is that you can find a pair that fits your needs. Do you need glasses for work? Do you want to make your outfit for a party more memorable? You can add a pop of color to your plain outfit or pick a soft-glowing shade of green to mute your otherwise loud clothing.
Guide to buying the right green glasses
A good-fitting frame can flatter your face and accentuate your facial features. You can follow this quick guide to buy the most suitable pair for you.
1.Consider your skin tone
A great way to select the best eyeglasses is to match them with your skin tone. If you don't know your undertone, you can check the inside of your wrist. If the veins appear purple or blue, you have a cool undertone. If your veins are green or green blue, your skin tone is warm. Green glasses match people with a warm skin tone the best.
2.Select the best frame
When selecting green-colored eyewear, you need to select a suitable frame that matches your face. For people with prominent chins or noses, a thick frame can soften such features. Green frames will help take away attention from your strong facial structures. If you don't want to draw any attention, you can try thin frames that look barely there once you don them.
3.Choose the best lenses
Green-hued lenses not only add flair to your style. Some brands can filter blue light and decrease glare when you're out driving or doing any water sport. It's perfect for when you work for long periods in front of a computer. It's also ideal for people who love to play golf and other precision sports.
Recommended green glasses
1. Leeni Oval Green Eyeglasses
This pair of Leeni green glasses has a sleek cat-eye like an outline on top that can make your eyes look more stunning. It features a thin frame and nose pads that prevent it from slipping down your face. It's a combination of chic and classic that can beautifully soften strong facial features.

2. Jack Cat-eye Green Glasses
The Jack green glasses have a cat-eye shape that makes them a trendy frame for both prescription and non-prescription users. The green hue is a bit of a surprise since it's found in the temples. The frame is thin, and the lenses are anti-scratch, making it a durable option.

3. Milani Round Green Glasses
If you want a more unique selection, the Milani green glasses are perfect for you. It offers a vintage vibe with its golden accent and round shape. It is lightweight, durable, and flexible, making it a fun choice for the hip crowd.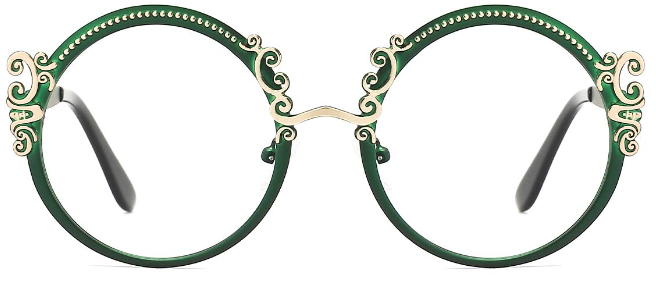 Summing up
At Lensmart, you can shop for your next favorite pair of green glasses that will suit your face. You can choose from a wide selection of casual, vintage, and trendy eyeglasses that can enhance your look.
Recommended articles:
How to find the right black glasses for you?
How to find the right white glasses for you?
How to find the right clear glasses for you?
How to find the right tortoise shell glasses?