Lightweight eyeglasses explained
There are several factors that must be considered each time you buy a new pair of eyeglasses. Of course, there is the matter of the style, color, shape and other physical attributes of the eyewear.
But even more important are the factors that you don't see, like the kind of material used in the frame and the lenses, the quality of craftsmanship, and the weight. For most people, lightweight eyeglasses are much preferable for a number of reasons.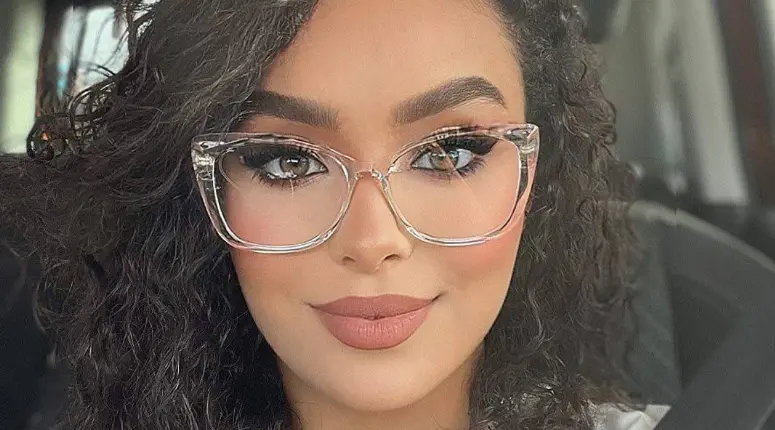 What Do Lightweight Eyeglasses Mean?
Lightweight eyeglasses are exactly that – glasses that don't have much weight. However, it's hard to identify the exact weight that would qualify a pair of eyeglasses as lightweight. Most eyeglasses weigh between 25 to 50 grams. Based on that, we can surmise that lightweight eyeglasses are those that weigh below this average range, or are in the lower values.
Whether you are planning on getting prescription glasses, reading glasses or ordinary sunglasses, one of the most important criteria that you should consider is the weight. If you expect to be wearing the glasses several hours a day, it only makes sense to purchase a lightweight pair for your comfort.
What Makes Glasses Lightweight?
Glasses are made up of several components but there are two main parts that contribute significantly to their weight. These are the frame and the lenses. For a pair of glasses to be considered lightweight, either the frame or the lenses or both should weigh less than average.
Let's talk about the frames first. Usually, metal frames that are quite slim have very little weight, particularly those that are made of titanium, which is quite on the pricey side. If you have sensitive skin that might react to metal, or if you want something a little more affordable, you can consider plastic or acrylic.
As for the lenses, they get thicker as your grade increases, and this is used to make eyeglasses heavier. But these days, there are now very thin and lightweight lenses made of plastic that are capable of high diopter levels. If you want the most lightweight eyeglasses possible, make sure to get these kinds of lenses for your eyewear.
Benefits of Lightweight Glasses
There are several benefits that you can enjoy when you opt for lightweight eyeglasses and the following are some of the most notable ones.
1. Comfort
Heavy glasses can be very uncomfortable on your face. They bear down on the bridge of your nose and over your ears, and may even squeeze around the sides of your eyes. But with some of the most lightweight eyeglasses, you can hardly notice that you are wearing them at all. Because of this, you will be able to wear them all day instead of having to remove them from time to time for frequent breaks.
2. Durability
A lot of people have the misconception that lightweight eyeglasses break more easily than heavier ones. This, however, is not necessarily the case. As a matter of fact, many of the materials used in making lightweight eyeglasses, like stainless steel and titanium, are much more durable than heavier materials. Also, their lighter weight makes them less susceptible to damage in case of a fall.
3. Wearability
Aside from being comfortable to wear, lightweight eyeglasses also tend to stay in place more easily. They will not slide down your face as the day goes on, even if your face gets sweaty. You also will not need thick nose pads to keep them in place.
Best Lightweight Eyeglasses
If you are looking to buy a pair of lightweight eyeglasses, whether you are a first-time user or you just want to get a fresh new look for this year, we have found 5 of the best lightweight glasses that you are sure to like. Check them out below.
1. Audrey Cat Eye Black Glasses

Comfort meets style in this classic pair of cat eyeglasses that are the perfect reading glasses for women. The Audrey glasses in black frame feature acetate lenses that are extremely lightweight but also very durable at the same time. With these glasses, you can curl up and read your favorite book from start to finish without feeling any pressure on your nose or the rest of your face.

Another gorgeous pair of lightweight cat eyeglasses, the Kimbry red glasses are the perfect embodiment of sexy and classy rolled into one. The frame has a very soft and delicate line that highlights the shape of the wearer's eyes. It also goes very well with any face shape and can easily be worn by women of all ages, with any outfit, and for all occasions.
3. Zo Round Silver Glasses

Made with a lightweight but highly durable metal frame, the Zo round glasses feature an elegant combination of red and silver and a unique geometric shape. Its design makes it an ideal choice for both men and women. With their extremely lightweight, these glasses are very comfortable to wear all day. You will not even notice that they are there.

One look at this pair of hipster glasses and you will probably think that it is not that lightweight. But once you lift it and put it on, you will be amazed at how light the Faith rectangle glasses are. They are a true comfort to wear all day at work or in the house.
They even come with a nice added detail of diamond rhinestone that definitely adds to the style and appeal of this modern twist on a classic pair of glasses. The regular tortoiseshell frame is a bestseller but it is also available in pink tortoiseshell and plain black.
5. Kila Oval Silver Glasses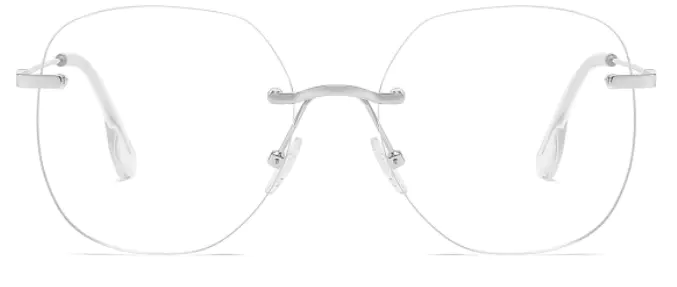 If you are into the uber sophisticated styles of modern eyewear design, then the Kila oval silver glasses are definitely a must-have. Equipped with the usual anti-scratch and anti-reflective features of all Lensmart glasses, the Kila comes with a very lightweight metal frame. With its rimless design, it will almost feel like you are wearing air. This amazing pair of lightweight eyeglasses also come in black and gold.
Related articles:
Eyeglasses trends 2023: popular glasses styles
Are half rim glasses in style? (also called semi rimless glasses)
Are gold frame glasses in style?
Are silver frame glasses in style?
How to find the right rose gold glasses?