Are gold frame glasses in style?
If you are desirous of an elegant and glorious look, you should opt for gold frames glasses. This type of glasses gives the wearer a radiant look that will set them apart from the crowd. While some other frames may be impacted by the lenses they carry, gold frame glasses are different. This best explains why people who want to make a fashion statement prefer to wear gold glasses. But are they still in vogue or are they a relic of the past? Let's find out.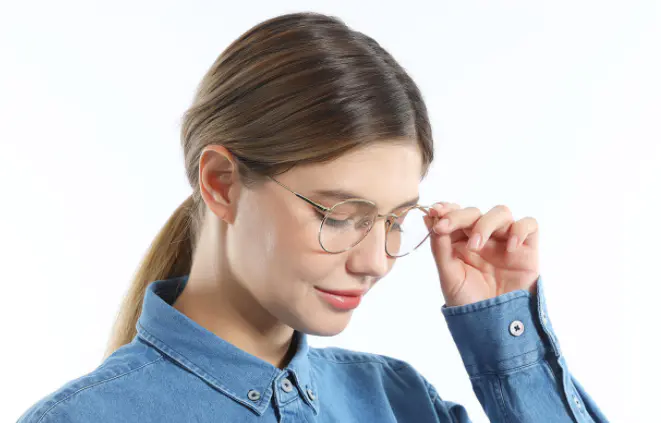 What do gold glasses say about you?
People wear eyeglasses for several reasons. Some do it to hide their shyness especially if it has a dark frame. Others wear glasses to project an impression onto others. Some just wear it because they want to stand out from the crowd. So suffice it to say that when you wear glasses, you are passing a message whether you do know it or not.
But when it comes to gold glasses, it sends a message that you are classy and take yourself seriously. Gold is a color that is synonymous with royalty. These glasses are best for people with a warmer skin tone that looks yellowish, medium fair or medium dark. However, there are people with a different skin tone who still look good on gold frame glasses. As long as it looks good one you and you don't feel out of place in public then you are good to go.
Another thing to note is that they come in different versions. There are gold acetate frames made of plastic and metal gold frames which are more low profile and lightweight. That is to say that the material of the frame also influences its look. But the fact remains that gold frames have an uncanny ability to change a person's appearance in subtle and delicate ways.
Are gold frame glasses in style?
Gold frame glasses are still in style. It has never gone out of fashion and from all indications, it doesn't seem like it will go out of fashion anytime soon. While it may not be a popular color of choice because of its outlandish appearance, it is still a tip choice for fashionistas who want to turn up in style for a special event.
One reason why it still remains in style is because gold as a color is timeless. This classic color has been around for generations and still holds a very strong sentiment in the minds of many. Secondly, it remains the only color that projects a classic look that no other color can project. For this reason and more, people who like to play with color opt for it for special occasions.
There are classic gold frame glasses, metallic glasses, retro gold glasses and aviator gold frame glasses. In fact, new designs keep coming out by the day so buyers now have the option to pick from a wide variety of options unlike in the past when options were so few.
Let's not forget that it draws the attention and compliment of others especially if it fits you well. Regardless of whether you wear it outdoors or indoors, people will still take notice of you. To get the style right, you can wear it on top and attire with gold elements and the finish will be as perfect as you want. So there is no reason why you should not rock gold frame glasses for your next event and if trends are anything to go by, these glasses will remain in vogue for many years to come due to their timeless quality.
Newest gold frame glasses for men & women
Now that you know that gold frame glasses are not going out of fashion anytime soon what is stopping you from adding one to your collection? Here are three of the bestselling frames in Lensmart.
1.Nevaeh - round gold glasses
Nevaeh is a gold frame glass with a round shape. These glasses are made with high quality materials that will not flake or lose color. The lens also has an anti-scratch coating which is an added plus. This means you get to rock it for a very long time with no worries. The craftsmanship is truly first-class and doesn't be surprised if you draw more than a few compliments from outsiders when you leave home wearing it.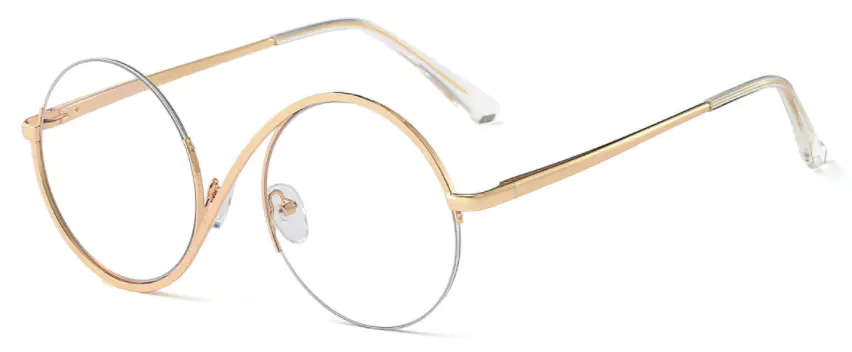 Nevaeh is suitable for wearers with round faces and oval faces. It is also lightweight so you can wear it for a long time without feeling eye strain or headaches. Furthermore, it has an anti-reflective coating so your eyes will be protected from sun glares. Order Nevaeh today and you will be glad you did.
2.Leslie - oval gold glasses
Leslie is another bestselling gold frame glasses courtesy of Lensmart. This model is one of the versions in a series of glasses spotting the same features. It has a minimalist design fit for those who don't want to project an outlandish look. It has an excellent finish, and a classic frame that will make you stand out.
Leslie weighs just 19.6 grams making it very light eyewear. The rim is made of metal while the lens is impact resistant due to its CR39 features. Suffice it to say that it is both an eye protector and fashion wear.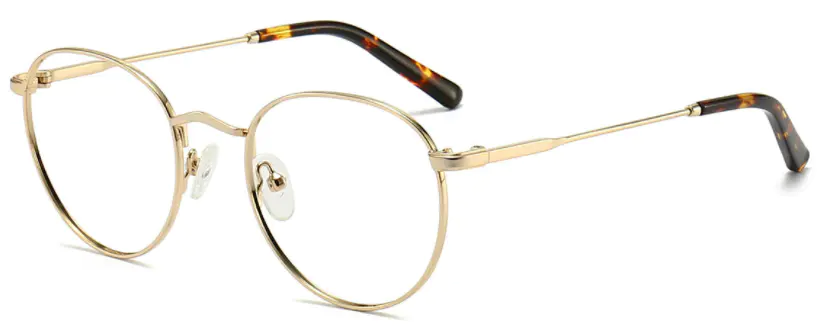 If you are looking for quality glasses, look no further than this handmade accessory made with high quality materials. The anti-reflective coating will protect you from sun glares and light reflection from your computer screen and smartphones. Leslie is both an outdoor and indoor accessory.
3.Jasmine - round gold glasses
Jasmine is a round gold frame glass made of metal. These glasses are flexible, durable and lightweight. If you don't mind being the life of the party, you should add this one to your collection. It is easy on the eyes because it's not heavy or too tight. Jasmine will sit just fine on the bridge of your nose without hugging the side of your face too tightly. The frame is anti-scratch and anti-reflective.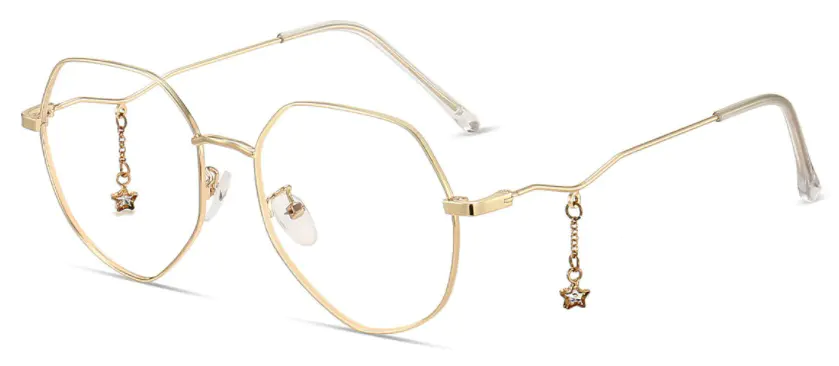 Gold frame glasses are timeless eyewears that project a confident and classic look. They are quite flexible and will fit you perfectly if you have a warm skin tone.
More articles:
Are silver frame glasses in style?
Know your face shape and find the right glasses
How to find the right white glasses for you?
How to find the right clear glasses for you?
How to find the right tortoise shell glasses?
How to find the right purple glasses?
How to find the right red glasses for you?
How to find the right brown glasses?
How to find the right rose gold glasses?
How to find the right green glasses?
How to find the right orange glasses?
How to find the right wire frame glasses?
How to find the right pink glasses for you?
How to find the right yellow glasses frames?
Lightweight eyeglasses explained