Are silver frame glasses in style?
From classic to inventive styles, silver frame glasses never left the list of timeless accessories for men and women. This type of eyeglasses is supremely light and flexible, giving them an easy to wear and repair quality.
Silver metal eyeglasses are some of the most versatile eyewear. Why? That's because they match virtually everything! You can have the loudest and brightest getup, but this frame will still fit you perfectly.
Metal glasses came about in the 1800s and remain a go-to accessory for many people today.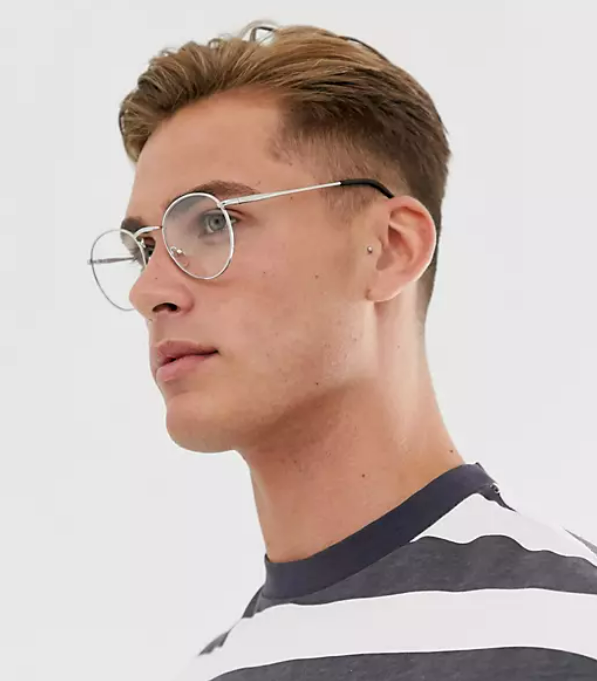 What do silver glasses say about you?
Silver-rimmed eyeglasses are the perfect frames if you're a fan of lightweight, fuss-free eyewear. They offer a sophisticated, smart-looking addition to your outfit. That doesn't mean they make you look older, though. On the contrary, these frames can deliver a youthful vibe because they emphasize your best facial features.
In general, silver metal frames can hold their shape better as time goes by. Unlike plastic glasses, this type is easier to re-shape once they start to stretch. As a result, you may not need to run to your optical shop when you need your specs adjusted.
If you go for silver frames, you can choose the wire style, which is much thinner than regular metal specs. A lot of people are currently raving about wire eyeglasses. They are simple, subtle, and trendy, making them an excellent choice for eyewear.
Although no frame is guaranteed accident-proof, you can count on silver glasses to be durable. It's possible to prolong the lifespan of this frame especially when you only wear them part of the time.
Most silver frame glasses have a nose pad. These tiny support pieces attached to the frame keep your eyeglasses in the proper position. They prevent your specs from sliding off, which is beneficial for individuals with a low nose bridge.
All in all, silver specs are sturdy and easy to wear. If you want glasses that last, this frame is a no-brainer choice.
Are silver frame glasses in style?
Are silver frames still a trend this year? Yes, because they never go out of style! Nearly every subculture embraces this eyeglass style simply because they offer a charm that no other frame has. They're one of the few frame types that boast a balance of old-school and modern appeal.
So, how do you know if a silver metal frame suits you?
Firstly, determine your skin type. Do you have the cool type? Try to examine the back of your lower arm in daylight. If your veins appear bluish, then you may have a cooler undertone. Additionally, a cool skin type has a pinkish or bluish hue.
Lighter skin colors mostly identify as a cool undertone, although a dark olive-skinned undertone may also be considered cool. Also, if your hair is bluish-black, dark brown, or light, ashy blond, your skin tone is on the cooler side.
Why is skin undertone important? It's how you know that this frame style fits you! Silver metal specs flatter people with this undertone. This color can make your lovely complexion glow.
If you opt for a more innovative style, you can choose black and silver metal eyeglasses. These specs are some of the most stylish choices in the market today. You get the best of both worlds: silver elegance with a sleek black aura.
Stylish black and silver frames for you
Are you shopping around for silver eyeglasses? Here's a superb selection of top-quality frames that meets your style.
Jasmine Round Silver Eyeglasses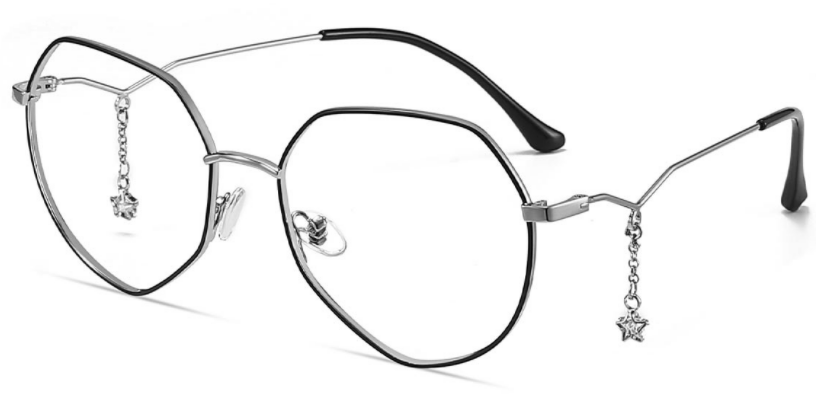 The charming angular rims of the Jasmine Round Eyeglasses add a fun vibe to the classic thin frame. It is made of durable metal and is available in two tones: silver and black. The material is ultra-lightweight and designed with silver nose pads for a snug and comfortable fit.
This frame comes with dangling stars on the arm, adding a chic style to this gorgeous eyewear.
Holland Rectangle Silver Eyeglasses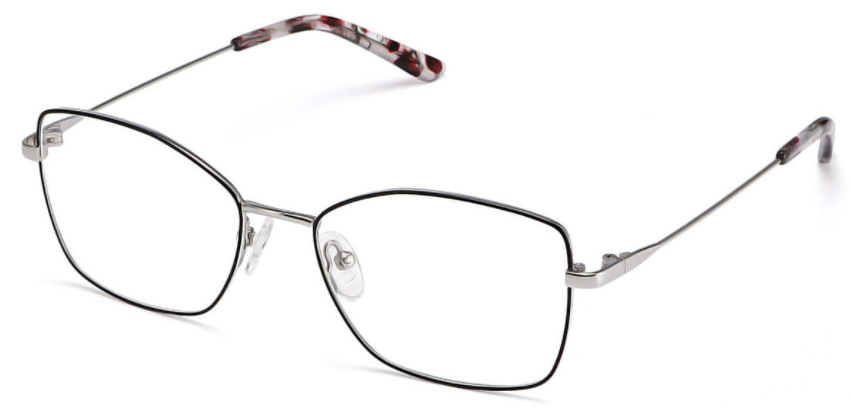 If your face shape is on the round or oval side, the Holland Rectangle Eyeglasses will flatter your structure. This frame adds length to your facial profile, accentuating your angles. The metal frame is silver-and-black toned, with a high-quality finish that makes it durable.
These glasses smarten any outfit and are a great eyewear choice for teens and adults who want to look younger.
Zo Round Silver Eyeglasses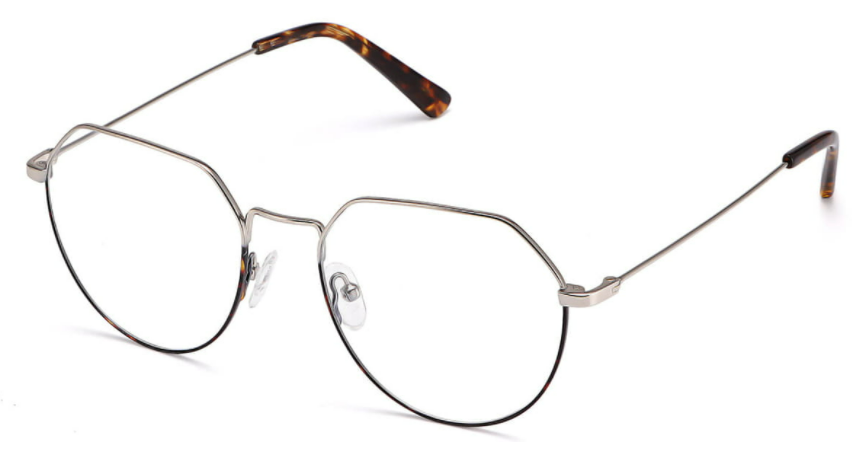 The Zo Silver/Black Round Eyeglasses are another worthy purchase if you love a thin metal frame. The upper rim has a polygonal structure that compliments your eyes. The two-tone combination is one of the latest versatile designs that both men and women can use.
This eyewear is a top pick because it's lightweight and comfortable on the temples—you might forget that you're still wearing them!
More articles:
Are gold frame glasses in style?
Popular eyeglass styles you should know
Know your face shape and find the right glasses