Are rimless glasses in style?
Are you tired of your old eyeglasses and looking to shop for a new fashionable one? Rimless glasses might be what you're seeking. This frame is one of the top styles for all seasons since it's easy to wear and practically weightless on the face. Rimless frames are highly customizable, too!
Rimless glasses(also called frameless glasses)
Eyeglasses have an outer structure that functions as a lens holder. The outer cover attaches to a pair of foldable arms that slings behind the ears. However, rimless glasses do not have the typical frame of full-rim spectacles.
As the name suggests, this type of eyeglasses has a no-bezel structure. It is lightweight and unimposing yet still catches attention with its stunning simplicity. Rimless designs are almost invisible and won't cover your best facial features.
The frameless design is cutting edge and adds a zing to your get-up. It smartens your casual outfit and offers excellent comfort that you can wear every day.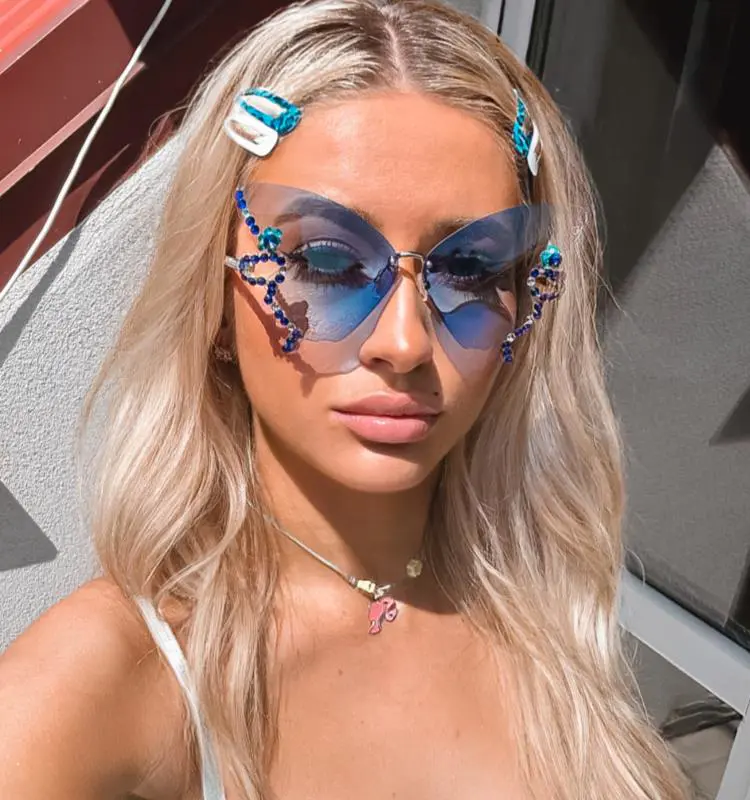 The style that transcends trends
In the history of eyeglasses, rimless frames had appeared in accounts as early as the 1820s, when the first rimless monocle was introduced. Series of innovations and centuries later, we now have ultra-modern and stylish rimless eyeglasses beloved by many.
Contemporary US president Theodore Roosevelt wore rimless glasses, popularizing them in the early 20th century. In recent times, Hollywood actors like Patrick Dempsey and Kate Beckinsale donned these glasses.
Why should you go rimless?
More than its lightweight feature and unobtrusive appeal, rimless frames have several other benefits for you.
1. Eye-catching design that doesn't distract
Big and bulky full-rim glasses have a common fault: they hide some of the best facial features, specifically the eye area. When you wear rimless, your beauty will not have to compete with overly attention-grabbing frames. The minimalist style allows you to flaunt the favorite parts of your face.
2. Flattering for all face shapes
Not all frame shapes suit every face structure, but you can say goodbye to this dilemma with rimless eyeglasses. Whether you have a round or diamond face, frameless designs can accentuate your angles nicely. The lack of a frame front will flatter you no matter your face shape.
3. A vast range of styles
Whoever said rimless spectacles are for older adults got that wrong. Every eyewear designer will always offer frameless designs because they are a hit to people of all ages. If you want a youthful vibe, you can ditch the usual solid metal style and choose bold temple colors instead. Also, many quirky and trendy shapes are available, such as aviator glasses and cat eye glasses!
4. Wide field of vision
The rimless design's lack of a bulky and heavy frame means less shadow play falls on your face. Therefore, you will have a better and broader view of your surroundings. This type of specs can help you see with less distortion and obstruction.
5. They're affordable!
The lack of an outer structure means less material is used to produce rimless spectacles. That is why some designs are considerably cheaper than other frame styles. However, they're far from cheap-looking. Did you know that about two to three decades ago, these rimless eyeglasses were worn only by the rich? Even Steven Jobs loved them!
What do rimless glasses say about you?
According to a 2011 study published in the Swiss Journal of Psychology, people who wear rimless glasses tend to be viewed as more trustworthy than those who use full-rimmed specs. Another research presented by Helmut Leaders revealed that rimless eyeglasses could make a person look more confident and attractive.
Evidence suggests that frameless glasses boost your trust factor. It also makes you look more intelligent! The way people perceive you can be highly influenced by wearing rimless frames, so why not give it a try?
Are rimless glasses in style?
Here's a quick yet straightforward answer: rimless glasses never go out of style! This eyewear design is a fashion staple because it has a classic appeal and because it offers plenty of benefits to the wearer. You can score a pair of rimless specs in bold colors or chic patterns, giving you more versatility when mixing and matching outfits.
From dinner dates to boardrooms, prescription or non-prescription, these rimless eyeglasses are always a suitable choice for eyewear.
Best Rimless Glasses for Men and Women
1. Natasha Rimless Glasses


The Natasha glasses is rimless and features an elegant design. The frame is constructed with rose gold accents, giving the glasses a fashion-forward and stylish appearance. And its temple arms are unique and convenient, making you appear more graceful.
2. Jeremiah Rimless Glasses

This Jeremiah glasses enjoys a simple while stylish design, and the frame is very sleek and delicate, with very thin and elegant temple arms. The lenses are rectangle-shaped and appear to be slightly rounded at the edges, creating a modern and minimalistic look.
3. Lorenzo Rimless Glasses

The Lorenzo glasses is a minimalist and modern style of glasses that exude a contemporary look. The rimless design of the glasses emphasizes its sleekness and lightness, resulting in a streamlined and clean aesthetic.
Recommended articles:
Eyeglasses trends 2023: popular glasses styles
Are half rim glasses in style? (also called semi rimless glasses)
Explained: what are half rim glasses
Buyer guide to stylish eyeglasses for women
Lightweight eyeglasses explained
Are gold frame glasses in style?
Are silver frame glasses in style?
Titanium glasses explained: pros, cons, and more
Everything about acetate glasses you should know