Are half rim glasses in style? (also called semi rimless glasses)
Probably one of the elements one looks at when choosing eyeglasses is the frame style. Will it be full-framed or half rim glasses? Both are more famous for having unique and prominent personalities than rimless frames.
Half rim glasses basically do not have the full rim surrounding the lens. In most cases, the solid area of the frame covers the lens' top half. Meanwhile, the bottom part is uncovered, or there is a thin nylon string securely holding the lens. Additionally, there some half rim glasses cover the bottom part of the lens, leaving the upper area uncovered. These frames today are increasingly getting popular.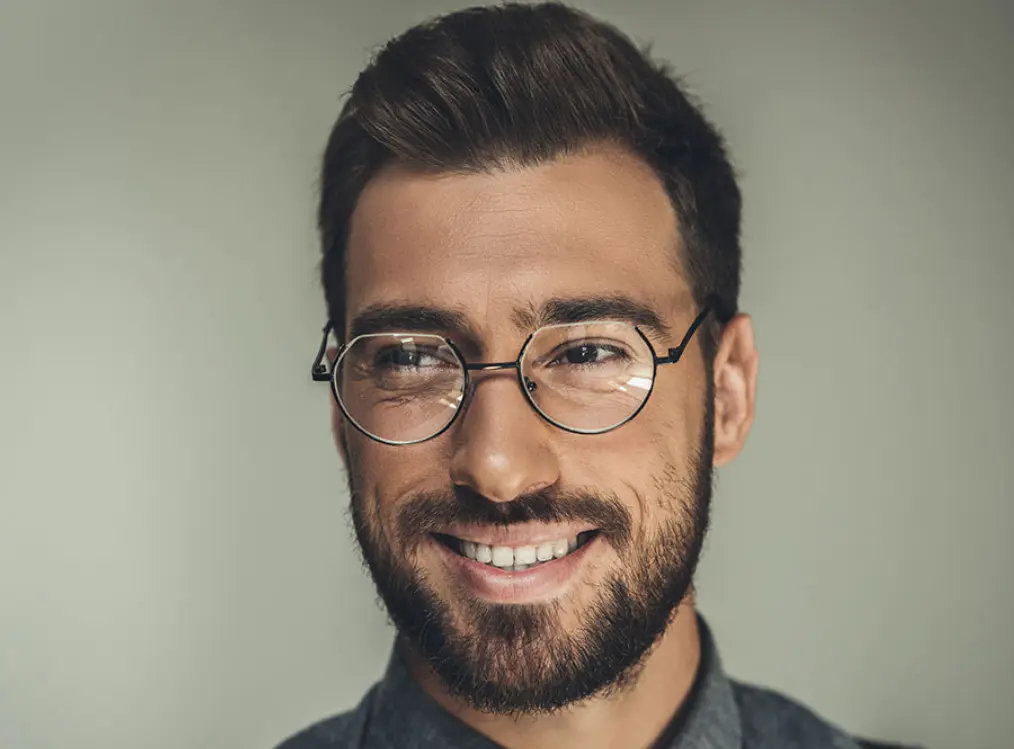 Are half rimless glasses in style?
Half rim frames give off a more distinct and premium vibe. Additionally, these frames are designed to reduce the weight of eyeglasses. When frames were mostly made of steel, the overall weight of the glasses ended up really heavy, even with the thin edges.
With various materials used in frames today, one can definitely opt for those lightweight glasses. However, some people still find glasses heavy and bulky regardless of the materials. Prescription glasses, for example, must be worn most of the time. In this case, wearers must find lightweight frames to avoid getting tired of wearing these eyeglasses.
In terms of fashion and style, every frame manufacturer provides a wide selection of half rim glasses from big, chunky, and sleek ones. Regardless of your style, these frames are fashionable. Additionally, using them in formal outfits adds elegance to the overall look.
Who should wear half rim glasses?
Anyone who seeks comfort when wearing eyeglasses will love half rim glasses. They are trendy and are excellent for business casual and everyday looks. Also, half rim glasses are not visible, making it a good option for people who prefer to feel like they're not wearing eyeglasses.
Additionally, some find their prescription lens changing every now and then. They can opt for half rim glasses as they can easily change the lens on the frame. People with small faces can also opt for half rim frames. These glasses look perfect on them besides those fashionable cat eye glasses.
A little reminder, of course, some material on these frames needs careful handling. Ensure you get those durable ones.
The best half rim glasses for men & women
There are tons of half rim glasses on the market today. This makes it slightly challenging to choose among them. However, you can check the list below for some of the most stylish and durable half rim frames for you.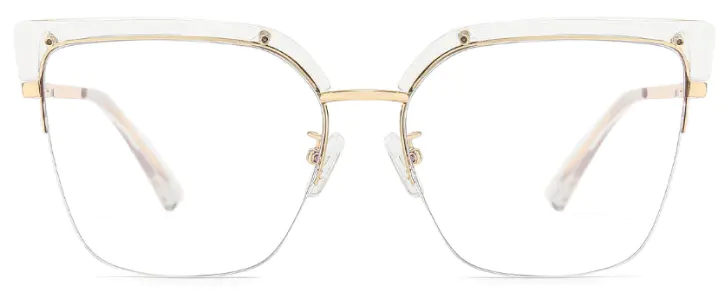 For people who prefer lightweight squared frames, they can consider Delyth. It is not the typical squared frames you see on the market today. The corners are defined and evenly proportioned, which allows for a more durable yet lightweight look. Furthermore, the frames are large enough to cover and protect the eyes from any possible damage.
In terms of durability, the TR90 material ensures a resilient and impact-resistant product. So you can guarantee its quality and functionality regardless of where you use them.

Besides the comfortability of wearing them, Dallis adds a touch of glamor and warmth to every look. These aviator-style half rim glasses will make the wearer look more romantic. Who said aviator glasses are for the oldies? Dallis is also designed to provide a classic look for everyone who wears them. Also, they come in rose gold, gold, and black colors giving more aesthetics to an already chic and stylish frame.
The lenses have an anti-reflective and anti-scratch coating, making them very useful at all times.
In some cases, some prefer those round frames for their eyeglasses. Nevaeh gives off a stylish look. This round tortoiseshell might be made of metal, but it does not come off as heavy when you wear it. Additionally, the materials here are of high quality, which ensures that investing in one is worth it. Furthermore, these frames are highly comfortable to handle with lesser glare.
There is also a wide selection of colors that Nevaeh provides, including gold, pink, brown, white, cameo-brown, and black. The colors also provide flexibility as they can fit any occasion and location.
Recommended article:
Eyeglasses trends 2023: popular glasses styles
Are big frame glasses in style?
How to find the right horn rimmed glasses?
Explained: what are half rim glasses
Lightweight eyeglasses explained