Are big frame glasses in style?
The bigger, the better. This also applies to styles in glasses, especially the frames. Big frame glasses or some call them oversized glasses, can be a simple way to provide an accent to any outfit in a flash. Additionally, they elevate one's look to the next level.
As the name suggests, these are rather larger-than-expected frames and lenses. They are usually used as an expression of style and as a fashion statement. Big frame sunglasses mean more protection from UV rays and glare.
Despite being termed "oversized", it still has to fit the faces of the wearers, as big frame glasses for smaller faces can differ from wider ones.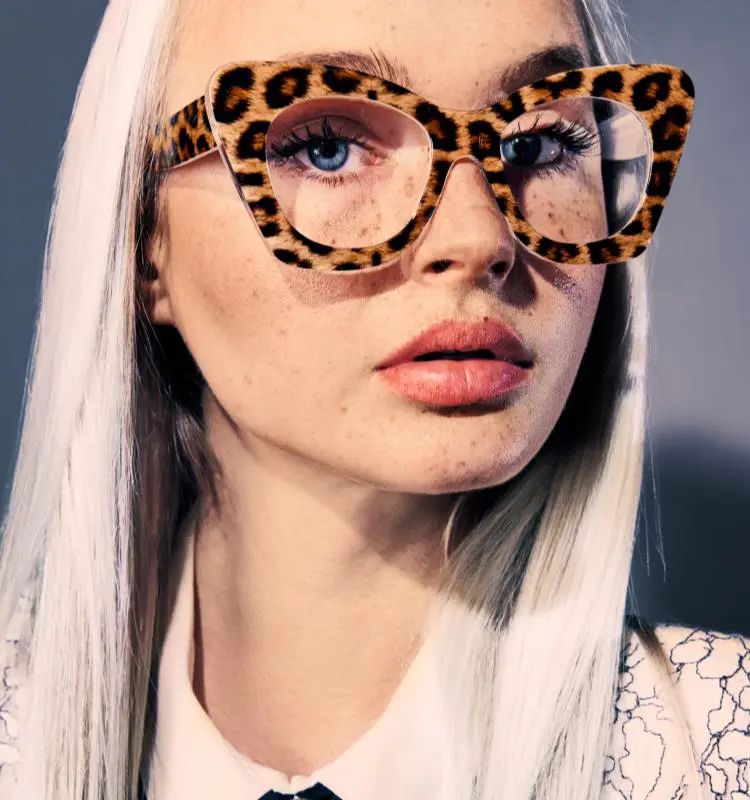 Do big frame glasses make people look younger?
Essentially, big frame glasses fit all ages. However, these oversized glasses will come into the discussion when you talk about fashion and style. Larger lenses and frames are excellent ways for people to appear much younger. They take attention away from imperfections one looks to hide.
These frames that make you look younger usually come with thick constructions and are bold in color. Oversized frames are full of character and give users a more daring look that exudes a much more youthful style.
What face shapes look best in big frame glasses?
Oval shaped-faces fit with most kinds of frames. In most cases, faces with an oval shape feature slightly wider and higher cheekbones that are also a bit narrower towards the forehead. Thus making this face shape to pull off any frame style. However, most people with these oval-shaped faces use wide, big frame glasses.
Additionally, people with smaller faces can also use big frame glasses. The key is to complement the face's size and choose frames as wide as or slightly bigger than one's face. Oversized glasses add dimension and definition to the face without overpowering one's features. Big frame glasses can come in oval, rectangular, or cat eye frames.
However, as much as you want to get oversized frames, remember to choose one that will not completely cover the features of your face. Instead, these frames must accentuate your features. So it pays to shop for various big frame glasses before buying one.
Are big frame glasses in style?
The big frame glasses are not new to the fashion scene. During the 70s, these eyeglasses were part of the maximalist fashion. Now, the trend for these oversized pieces has come to life in various shapes and colors.
As you may have observed, oversized glasses are also used by celebrities and famous personalities. These frames generally speak for you; ensure to cover a big part of one's face and make the wearer look cool. They're classic and trendy.
They're classic and timeless. Who would not want to have a pair of these glasses? You bet, no one. People of all ages love to wear big frame glasses, from the elderly to young adults. In some cases, they wear them for fashion. Meanwhile, others use them as prescription glasses.
Besides style, you would know that big frame glasses also provide protection. Since larger frames have full coverage of your eyes, they help prevent particular eye diseases caused by UV rays. Consequently, it helps in keeping your eye healthier for more extended periods.
How to find the best big frame glasses for men & women?
There are just millions of big frame glasses on the market today. How can you score great finds out of all the thousands of manufacturers?
As with any other eyeglasses, one needs to find comfort as one wears these glasses. Hence, you must assess your pupil placement. If you are privy to measurements, looking straight ahead, you must find your pupil horizontally centered between the lens opening of your frame. On each side, the distance between the edge of the lens and the corner of your eyes must be the same.
Additionally, big frame glasses can be heavier; always check the fit at your nose bridge. Ill-fitting large frames can crease your skin, press upon your temples, or even irritate. Finally, suppose you are not into experimenting with shapes; you can always opt for those you usually buy when looking for big frame glasses.
Best big frame glasses for men & women
1. Siobhan Big Frame Glasses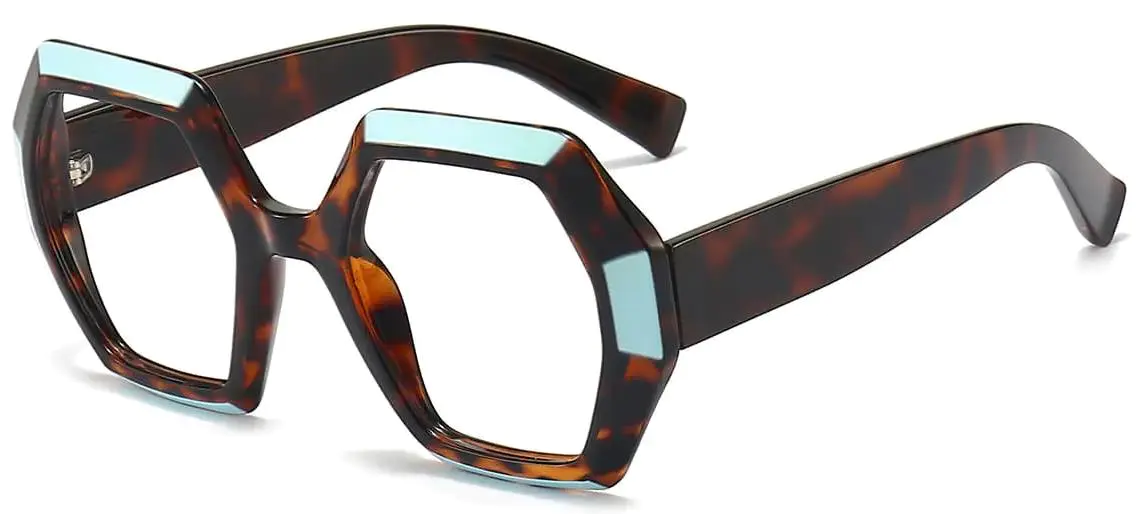 The frame shape of this Siobhan glasses is that of a geometric design, with straight lines and angles that create an eye-catching look. This glasses is predominantly tortoiseshell pattern with blue accents, providing a contrasting yet complementary color scheme that is both stylish and vintage.
2. Yandi Big Frame Glasses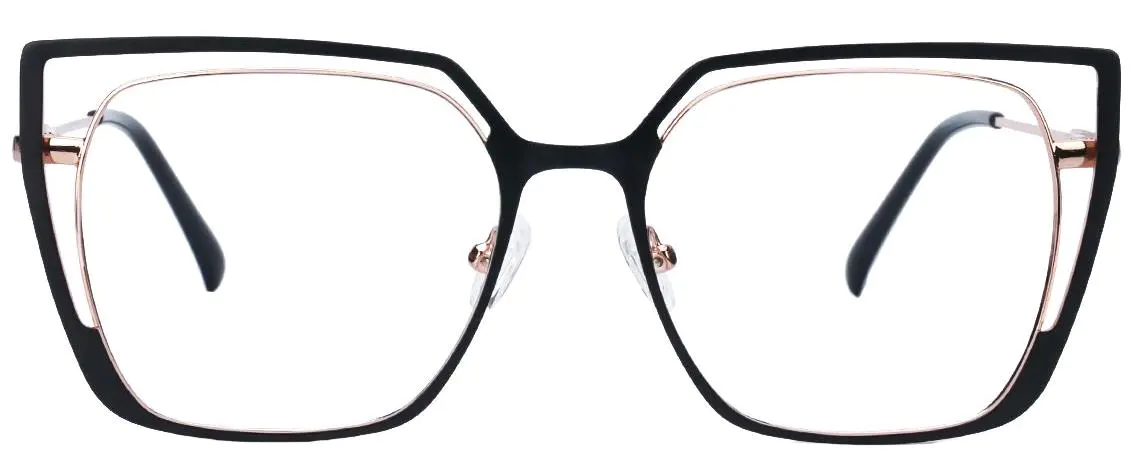 Yandi glasses sports a sleek and modern design, perfect for those fashion-conscious people. The square frame shape is modern and angular, with straight lines and angles that create a modern and eye-catching look.
3. Mirja Big Frame Glasses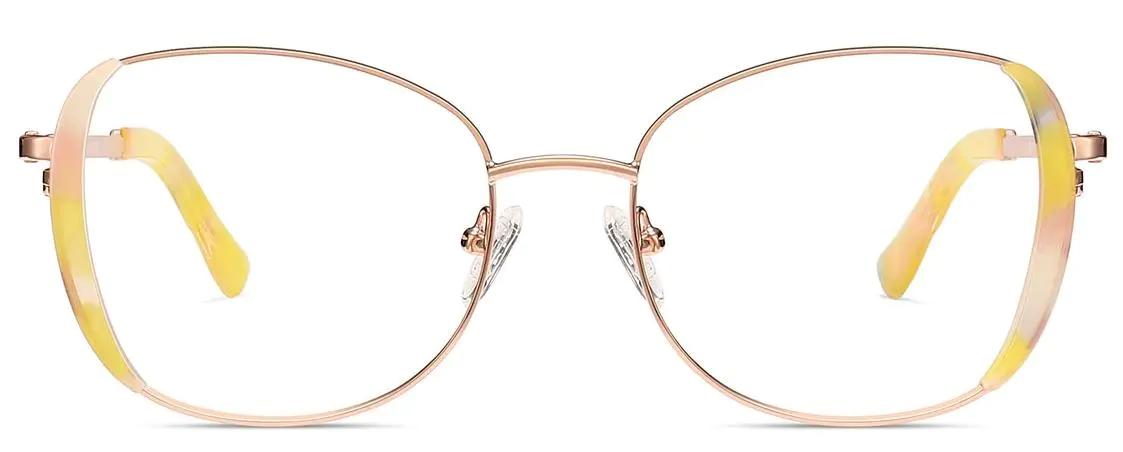 The most prominent feature of this Mirja glasses is the intricate and exquisite design. The frame is delicately adorned with lively yellow pattern that adds a touch of elegance to the glasses. The pattern is carefully crafted to enhance the overall look of the glasses and give it a luxurious touch.
Recommended articles:
Thick vs. thin frame glasses: which suits you better?

What glasses frames are the best for women?
What glasses frames are the best for men?
Are silver frame glasses in style?
Are gold frame glasses in style?
Are half rim glasses in style? (also called semi rimless glasses)
Glasses measurement: how to know your frame size?
Ultimate guide to choosing the best frames for glasses