Total Width: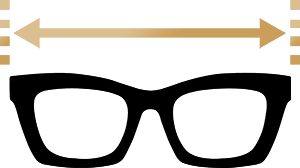 Big Glasses

FAQ About Big Glasses & Oversized Glasses
Who looks good in big glasses?
Everyone can wear big glasses actually. For those wo want to have a more intelligent look, big glasses are a great choice. Wearing big glasses may be a way to convey a positive social signal for them. Learn more.
Why do people wear big glasses?
Big glasses can make people unique and special. They can demonstrate your mood, complement your smiles, and also be a topic for others to start conversations.
Do big glasses distort vision?
Yes, you may experience some distortion in your peripheral vision. This situation is more common in high prescription and large lenses. Big glasses usually have large lenses, which can cause problems with depth perception and focus.
Do big glasses make face look smaller?
Generally, the larger the appearance of the glasses, the smaller the face will appear. This is true for most types of glasses.
Are big glasses good for big faces?
Yes, some big glasses can make wide faces appear longer, giving a more balanced look for wide faces. But it's important to know what size best suits you and avoid some styles that may not go well with you.
Are big glasses good for small eyes?
If you have small eyes, you can choose big glasses with thin frames, which will work more to your benefit. Remember to avoid bulky frames because they can minimize the appearance of your eyes.
What size of glasses are oversized?
Oversized glasses are usually glasses that extend beyond the width of your face or temples. This makes them a little bit tricky to gauge. However, you can still look for eyeglasses that are at least as wide as your forehead.
Is it OK to wear oversized glasses?
Of course it's ok to wear oversized glasses. However, you should make sure that your oversized glasses fits properly on your nose and won't fall off.
Are oversized glasses in style?
Yes. Oversized glasses are favored by celebrities and many people. They're a fashion accessory that can help reflect your personality.
Do oversized glasses look good on round faces?
For people with round faces, they can choose oversized glasses with square, aviator, cat eye, or rectangle frames. These frames can make round faces look more balanced.
Related eyeglasses categories
All eyeglasses
Men's eyeglasses
Round eyeglasses
Square eyeglasses
Black eyeglasses
Clear eyeglasses