Women's sunglasses guide for pear face
Your face shape is probably one of the most important factors to consider when picking out a new pair of sun specs. While face shape isn't always the deciding factor when picking out your next pair of eyeglasses, it is an excellent place to start if you are stuck for choice.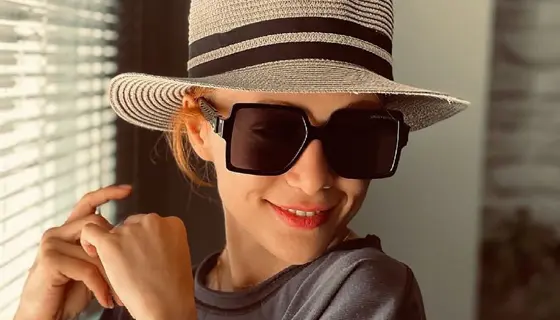 Let's take a good look in the mirror and get familiar with your face shape. If you have a pear-shaped face or, as it is sometimes called, a triangular face, then the lower half of your face will be significantly more expansive than the upper half. Your jaw will be rounded, and your forehead will be narrower than your chin. Pear-shaped faces are opposite to heart-shaped faces. Your face shape will be more tapered with a defined jawline that is well suited to angular-styled frames.
If you are trying to pick out a pair of sunglasses for a pear-shaped face, your best bet will be to choose styles that balance out and add width to the upper part of your face. To complement your features, choose a cat eye sunglasses or rectangular sunglasses. If you want to make a more extreme statement, then consider using a defined cat-eye or square-shaped frame.
Tear-drop shapes will suit you best. Your face will have a top-down emphasis so to balance out your narrower forehead and prominent chin and jaw, try out bold cat-eye and aviator-style frames.
You will also suit semi-rimless frames, which emphasize the forehead, making it appear broader and more balanced. So try semi-rimless glasses with strong rims at the top but are rimless on the bottom half. And since we are on the topic of rims, any form of embellishment around the tops of your glasses, for example, rhinestones at the ends of cat-eyes, will help balance out pear-shaped faces.
1.Meliora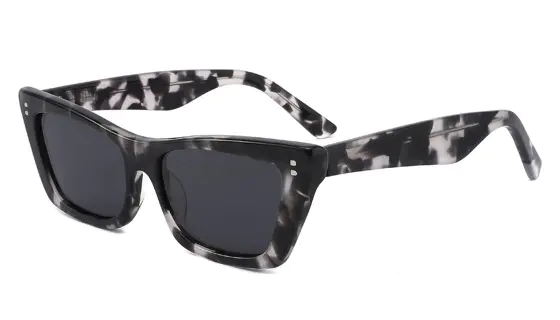 For a subtle cat-eye style, try out the Meliora sunglasses frame. Tear-drop style frames perfectly complement pear-shaped faces.
As a result, cat-eye frames will suit your face excellently. Since this style angles outwards in the upper corners, it draws attention away from your widener chin and towards your eyes and forehead. Since the Meliora also has some subtle embellishment at the upper corners, this style will be even more effective at making your features appear more balanced.
This assertive and trendy style is available in a number of different colors, including black tortoiseshell, brown tortoiseshell, pink tortoiseshell, and green. This style is fun but still conventional enough that you don't have to worry about unwanted attention when you are catching some rays. It has an excellent balance between a trendy, retro style and everyday wear.
2.Oona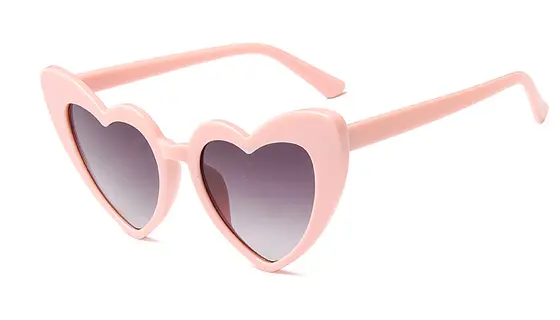 Okay, heart-shaped cat eye sunglasses, just bear with me for this one. Much like the classic cat-eye shape, heart-shaped frames can really compliment pear-shaped faces due to their top-heavy design. It draws the eyes towards the forehead rather than the jaw and, as a result, makes your features appear more balanced.
Plus, the style is cute, fun, and potentially flirtatious. It comes in a range of different colors, such as pink, white, beige, black, tortoiseshell, and red. This style may not be conventional, especially for women. However, life is too short to skip out of heart-shaped glasses. Don't let fragile masculinity squash your dreams of novelty sunglasses; you deserve better.
3.Lucia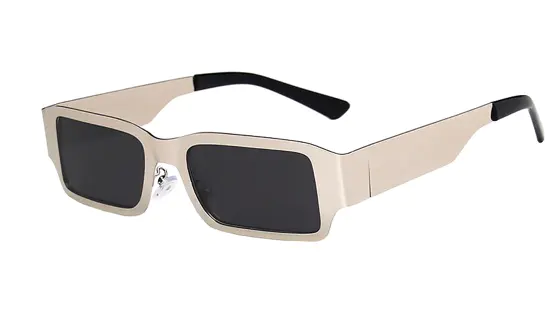 Rectangular frames are your second best bet if aviators or cat-eyes aren't your style. So, for this last entry, I have decided to tone it down a bit for a quieter yet still stylish option.
The Lucia frame is a simple geometric style of sunglasses. This rectangular frame will help give your pear-shaped face a more balanced appearance. This classic and versatile style can complement a number of different looks, and it will be much easier to coordinate your outfits around your eyewear. Since these glasses are longer horizontally than vertically, the illusion of a wider forehead is created, further balancing out your features.
Plus, the Lucia frame comes in a range of different colors, including tinted frames. Frame colors include black, silver and gold. Some colors even have lens tint options, such as the gold and red frame and the gold and olive green frame. Overall, whilst the Lucia frames might be more subdued than the other options, there is still plenty of space for a splash of color.
Recommended articles:
How to choose the best sunglasses for oval face?
2023's best sunglasses for women: keep trendy
The best designer sunglasses for women in 2023
What glasses frames are the best for women?
10 recommended stylish cat eye glasses for women
The best glasses frames for women in 2023
Reading glasses for women: how to buy the best pair?
Stylish sunglasses for square face(with tips for men & women)