Men's sunglasses guide for round face
Beauty is in the eye of the beholder, as they say. But what if I told you that there was a way to guide those wandering eyes to see your best features first. You may be tempted to pick up any old pair of specs when shopping for your next pair of glasses, but it would be a mistake to miss out on all the tips and tricks you can use when styling sunglasses.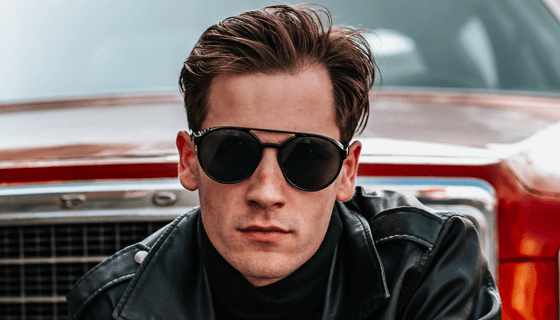 Finding your face shape is the first step to styling your glasses effectively. If you have fuller cheeks, a wide forehead, and a rounded chin, you most likely have a round-shaped face. Your face will be of an equal length and width with few or no sharp angles.
Angular frames are an excellent choice for anyone with this face shape, especially men, as you may want to make your face appear more angular and defined. Some of the most popular sunglasses types for rounded races include rectangle, cat-eye, and square.
But before we begin, I will mention there is no objective right or wrong when it comes to fashion. If you find a nice pair that doesn't typically suit your face shape, then you can still try them on. Knowing your face shape is a great start to finding those perfect specs, but ultimately so many other features will affect how you style glasses. And, as I said, beauty is in the eye of the beholder; this guide is focused on emphasizing conventionally attractive features.
Today I will be introducing you to a few sunglasses from Lensmart which make the best use of your facial features. We will discuss the features each style emphasizes and obscures so you can make a well-informed decision the next time you are shopping for sunglasses.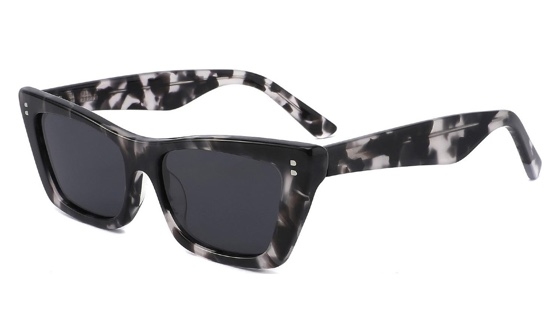 The retro cat-eye shape of the Meliora frames will feel right at home on a rounded face. The upswept shape of cat-eye frames will provide a lifting effect, thus making your face look more contoured and slim. The unique shape is an instant attention grabber, and despite cat-eye frames being commonly marketed towards women, there is no reason you can't pull this look off.
Squared Cat-Eye frames such as the Meliora will look excellent on you. The squared angular shape stands out against your softer features whilst the upswept style contours your face. It's an ideal fit for anyone with a rounded face. The Meliora comes in three different tortoiseshell shades black, brown, and pink, and is also available in emerald green. This daring style will surely draw attention and fully compliment your features.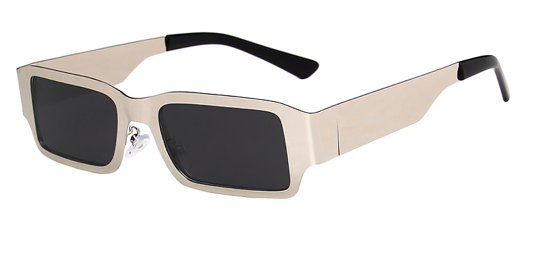 The sharp rectangular shape of the Lucia frame will juxtapose your softer rounded features and make a real statement. Rectangular shades are an excellent choice for men with rounded facial features. The wide frames will help section the face and create a defined look. The pointed angles help add sharpness to the face, and strong lines hide the softness of the face.
The Lucia frame fits all of these criteria and comes in a range of bold and funky colors. Including red, gold, and silver, as well as the classic black, of course. The angular design will emphasize your features and boasts a contemporary look without being too showy.
Lucia is an excellent middle ground. The design is enough to create a sense of intrigue without being too big, bulky, or colorful. The geometric shape is all it needs to make a statement and draw the attention of wandering gazes.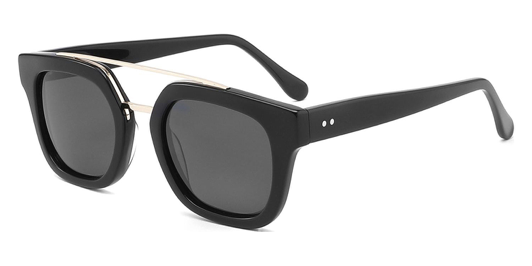 Can you rock aviators with a round face? Absolutely, so long as it's the Ocataviana frame. Typically, aviators don't exactly look great on rounded faces. However, there are some exceptions.
Squared aviators or as they are also known as navigators, are a great choice for rounded faces. The classic rounded or teardrop shape of aviators can often clash with rounded features. By choosing squared aviators, you eliminate that problem entirely and can enhance masculine features.
The Octaviana is a thick-rimmed square-shaped aviator sunglasses perfect for men with rounded faces. Thick acetate is better for round faces as the bold lines will draw attention that, combined with the slightly more angular shape, means that you can rock this retro look too.
Recommended articles:
Women's sunglasses guide for round face
Men's sunglasses guide for round face
Men's sunglasses guide for oval face
Men's sunglasses guide for heart-shaped face