Wayfarer sunglasses explained
One of the most recognizable classic eyewear designs is the wayfarer sunglasses, which are undoubtedly a beloved pair across all ages. It finds its origin back in the 1950s when Ray-Ban released the style that became popular worldwide. It's a top choice for people wanting to exude the fashionable sense of Michael Jackson, Daniel Craig, Debbie Harry, and more.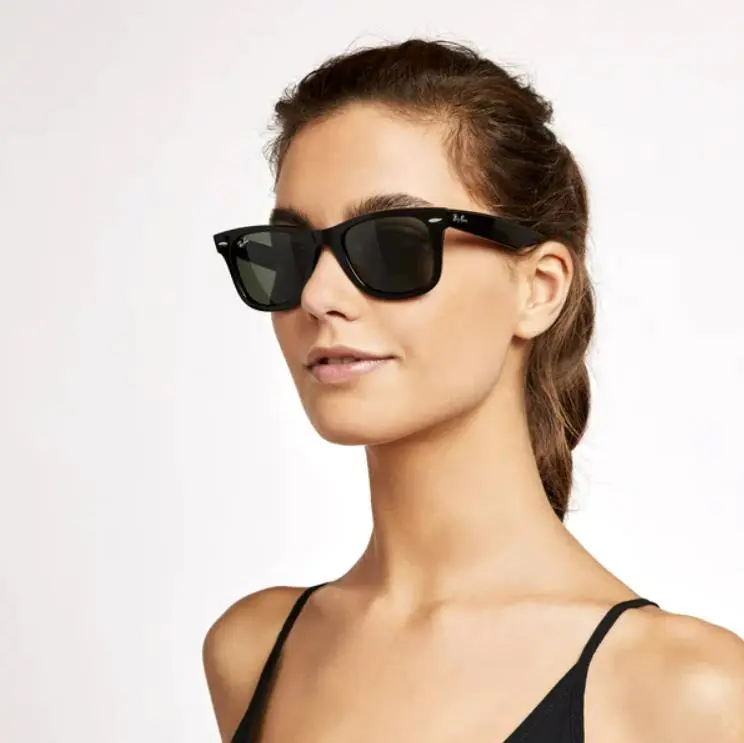 Anatomy of wayfarer sunglasses
Wayfarers are one of the few eyewear styles that are trend-proof, allowing them to stay in the market from decade to decade. It's a pair of ultra-fashionable and functional sunglasses that symbolize a person's classic taste.
Design
In general, the wayfarer frame has a horizontal rectangle shape. The lens is wide around the eye area without overaccentuating the forehead and chin. It has great coverage for outdoor wear, giving you enough protection against tiny particles floating in the air.
Wayfarers usually come in two sizes, the 50mm and 54mm styles. The 50mm variety is considered small or medium, while the 54mm type is referred to as large.
If you notice, the wayfarer frames have a forward angle. Called the pantoscopic tilt, this unique feature allows enough light to enter from up top. It gives you enough light to see your surroundings without suffering from the harsh glare of the sun.
New wayfarers
Manufacturers updated the new model with slightly smaller and more rounded frames. This design provides a softer finish that suits more face shapes. The distinct tilt is now gone, allowing less light penetration on top of the frame. You can wear it on top of your head securely, too.
You will find the new wayfarers to fit regardless of your facial structure and size. It is now more in tune with a wide range of styles, making it more marketable to people of all walks of life.
Are wayfarers still cool?
Wayfarers saw a boom in popularity during its early release because it was an eyewear staple of celebrities, artists, musicians, and just about anyone with a keen eye for fashion. The classic black frames with high-quality lens construction are not only stylish but also highly functional. Its sleek design made it the epitome of sophistication.
The horn-rimmed glasses and thick temples of wayfarers weren't only a hit among men. Marilyn Monroe popularized the style for women wanting to imitate her pin-up beauty. Big names like Muhammad Ali, Jack Nicholson, Bob Dylan, and more carried over the trend over the years.
Is it still cool to wear wayfarer sunglasses today? Yes, absolutely! There is a huge selection of color combinations to fit your fashion persona. You can score a pair with bright and bold colors or stay with the classic neutral or black shades, allowing you to mix and match with your wardrobe.
Who can wear wayfarer sunglasses?
The classic pair with a forward angle is flattering for wearers with oval faces and round faces. The square shape complements the soft features of these face shapes. It accentuates your facial structure to balance your rounder contour.
Wayfarers are originally designed to fit 90% of people and you can check this by using a credit card. Try placing the magnetic strip vertically with one edge of the card in the middle of your nose. If the card edge reaches the corner of your eye, the standard wayfarers can fit. If the card extends beyond the corner, a small 50mm frame is ideal. Otherwise, choose a large 54mm wayfarer.
New wayfarer-style frames are versatile and can match different face shapes. This frame has a combination of straight and curved lines with angular points that manage to highlight different features of your face.
The unisex appeal of wayfarer sunglasses makes them popular in the market. You can opt for the original wayfarer style if you have a heart-shaped face. If your face is square-shaped, you can try slightly curved wayfarers.
Guide to wearing wayfarers
Wayfarer frames essentially work for most faces, although they are not for everyone. It's not that they don't fit due to the shape. Rather, the color and size may affect how the frame looks in contrast with the skin tone and facial structure.
Here are some tips on how to wear your wayfarers effectively:
The classic black wayfarer frames might be too harsh on fair- to medium-toned skin. If you have a richer skin tone, choosing neutral or black colors may help to add more glow to your complexion.
It's tricky to wear wayfarer sunglasses with business attire. However, it may deliver a dashing look when you accessorize with this pair for outside-the-office corporate events.
Are you going for an outdoor swim or adventure? You can pair these sunglasses with your swimsuit or a simple breezy tank top. You can easily make it an everyday choice for eyewear.
Once you find the right pair of wayfarers that fit your face, you can buy the frame in different colors to match your chosen outfit for the day.
If you want to preserve the vintage style of the wayfarer, you may want to avoid white or light-colored designs. These frames tend to take away the classy edge of the eyewear.
Wayfarers vs. aviators
The key to selecting the right sunglasses is to bring balance to your facial structure and features. While both wayfarers and aviator sunglasses are iconic styles, there are certain differences that you should know to help you choose the right pair for you.
Besides your personal fashion preference, you must also take note of the face shape these two styles are suited to. Wayfarers best fit vertical oblong faces, while aviators can elongate round-shaped faces.
Additionally, your nose bridge might help you decide between these two sunglasses. Wayfarers sit a bit high on the nose bridge, making it ideal for people with low to middle nose bridges. Aviators can comfortably match wearers with a high nose bridge.
The takeaway
The classic design of this eyewear is worthy of being a staple in your wardrobe. If you prefer to go vintage, wayfarer sunglasses are the best accessories to wear.
Recommended articles:
Magnetic clip on sunglasses explained
Are clubmaster sunglasses in style?
Best cool sunglasses for men & women: upgrade your fashion