Floating sunglasses explained
If you love water sports but don't want to keep losing your eye gear in the water, you can explore the benefits of floating glasses. This unsinkable eyewear allows you to confidently wear your glasses even when you're swimming or riding a boat. It lets you enjoy water activities without having to fear dropping your pair of glasses and saying goodbye to it forever.
Whenever you book a water-related adventure, sunglasses are a crucial part of your outfit. It is an accessory that can protect your eyes from harsh elements in nature. For instance, the sun's rays have ultraviolet (UV) light that can harm almost every part of your eyes, from the cornea to your eyesight. It can cause corneal damage, macular degeneration, or cataracts later in life.
Floating sunglasses are made of hyper-lightweight materials such as acetate, composite, polycarbonate, or bamboo that has molecules close to each other. This structure allows the material to become buoyant in water. That means it can float for a certain amount of time, preventing it from sinking before it becomes completely lost.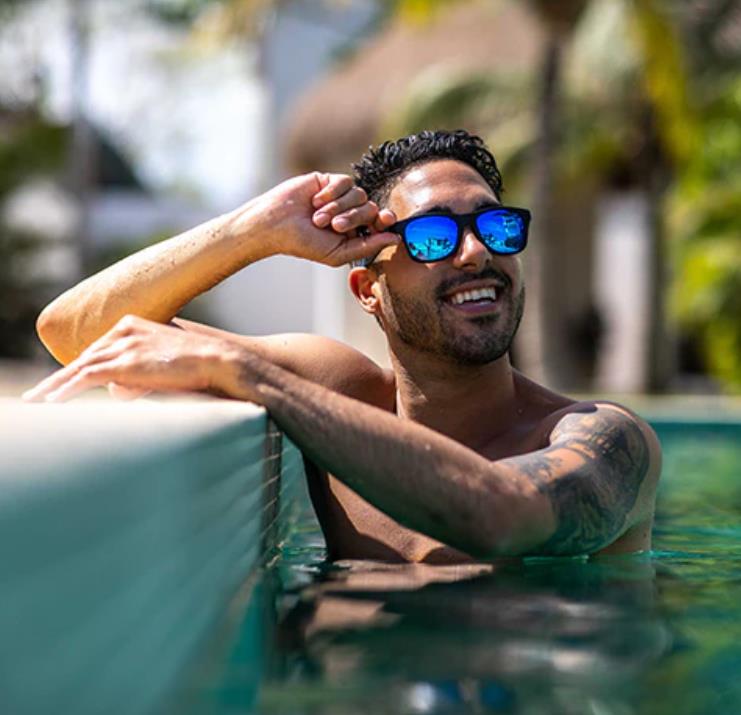 Are floating sunglasses worth it?
When you're the type who enjoys frolicking in the water or are a serious water sports athlete, you can benefit from a pair of unsinkable sunglasses. It can provide the assurance that you won't lose your eyewear in the water. These accessories are specially designed for use on trips to the beach or pool. Plus, they come with different features that offer extra protection for the wearer.
Floating sunglasses can take the beating from the tide and waves. Normally, regular sunglasses can get swept away and sink on the seabed shortly after you drop them. You can avoid this issue when you wear floating frames.
However, you should take note that unsinkable eyewear is not completely unsinkable. They will easily bob back up to the still surface of a lake or pond. If you're met with crashing waves such as surfing, whitewater rafting, and more, then this feature might not be as effective.
Floating sunglasses vs. regular sunglasses
Wearing the best sunglasses is a wise move for outdoor enthusiasts. It's even more important that you have a pair with you during water-related activities. The sun's glare combined with water and sand particles can disturb your sight and prevent you from fully enjoying your getaway. With the right eyewear, you can have loads of fun while your eyes stay protected.
So, what's better, floating sunglasses or regular sunglasses? The greatest advantage of unsinkable sunnies is the capability to float in bodies of water. If you're on a boat and accidentally drop your pair, this type of eyewear bobs back up towards the surface. Regular sunglasses, on the other hand, can't deliver this feat.
Like regular sunglasses, floating glasses can come in various designs and features. Some brands incorporate aerodynamic frames and polarization to provide fantastic clarity. Not only are they light and comfortable but also enhance your vision.
However, floating eyewear is often costlier than regular frames due to the materials and construction. You can invest in unsinkable sunglasses if you are a serious water sports enthusiast. With this eyewear, you won't have to waste your money buying a new pair every time you lose one to the water.
How to choose the best floating sunglasses?
Do you want your pair of unsinkable sunnies? Here's a quick buying guide for you.
1.Choose the material
Material is one of the most crucial options you should consider. Only the right material can make the glasses to float. Heavy, solid metal will likely drop straight to the bottom. Composite plastic, bamboo, and polycarbonate, on the other hand, are lightweight and naturally stay afloat on the surface.
2.Pick the lens type and color
More than fashion, choosing the best lens type can improve your vision in the water. For instance, anti-glare coating on the lens can allow you to see beneath the water better despite sunlight reflecting on the surface. You can also opt for polarized lenses that deliver the most suitable protection against harsh UV/UVB rays.
3.Add your personal flair
The selection for floating sunglasses is astoundingly wide, so you can surely select the best frame that appeals to your taste. It's no different from choosing your regular glasses: you should also prioritize your comfort and style when shopping for one.
4.Inspect the price
Before you checkout those sunnies, check if the price is within your budget. You don't want to overspend on eyewear for the sake of being cool. Always check how much you can afford, or better yet, save up for the pair of floating glasses that you want.
Conclusion
If you love spending time in the water, you can find floating sunglasses a worthy purchase. It's an assurance that you won't have to say goodbye to your favorite pair once it falls and sinks underwater. For the best frames, you can browse through Lensmart's vast array of high-quality sunglasses. Your next favorite pair is a click away!
Recommended articles:
Magnetic clip on sunglasses explained
Everything about gradient sunglasses you should know