The best 80s sunglasses for men and women
The 1980s brought in many trendsetting fashion items, and the 80s sunglasses are among these treats. Eyewear played a significant role in the way people dressed themselves during this decade. Sunnies were more than an outdoor accessory. Believe it or not, they wore it at nighttime, and managed to make it look appropriate regardless of time.
If you dream of taking yourself back to this age of extraordinary shades, this guide is made for you!
What sunglasses were popular in the 80s?
Celebrities including rappers and actors confidently donned the most unique styles in this era. The trick was to dazzle, whether it was the color of the lens or the frame shape. Sunglass makers in the 80s let their imagination run free and created cult classics that are still well-loved today. Here are some of the popular styles in the 80s.
Wayfarer sunglasses
If you follow Tom Cruise or Don Johnson, you're likely very familiar with wayfarer sunnies. Although it came from the 50s, this timeless design made a bang in the 1980s, and rightfully so. The frame can flatter almost every face shape, and they provide ample protection for the eyes.
In addition, these sunglasses are uber-easy to wear. It's a delightful combination of comfort and style that every eyewear fanatic will have in their collection.
The circa 80s loved round sunglasses, and John Lennon can take some of the credit for it. Many of his fans began wearing this frame shape to express their love for the songwriter. Some sunglasses creators made some designs huge and chunky to bring that 80s boldness to the aesthetic.
This iconic style is stunner and highly durable thanks to its usual metal construction. Retro round eyeglasses soften angular faces but can also work with other facial shapes, too.
Michael Jackson preferred aviators, and that made this eyewear style a hit in the 1980s. Originally designed for pilots in WW1, aviator sunglasses found their place in fashion in this era. The design provides ample protection against the harsh sun rays while also granting a chic, eye-catching attractiveness to the wearer.
Triangle sunglasses
Triangular eyewear is so unique that people gave it the distinction of being a must-have 80s sunglasses. It's an edgy style that fits the confident, fashion-forward individual. The vintage vibes often get matched with polarized lenses to bring functionality to its already impressive form. It's a pair that is cunning and distinctive, which is what best describes this era.
Who may be good to wear 80s sunglasses?
Anyone who wants to embody the golden era of art and music can wear the stylish sunglasses of the 1980s. The selection of eyewear from this decade is astoundingly vast, ensuring you can find the perfect pair. These funky, larger-than-life pieces can help you express your fashion personality better. If you want a pair of shades that can effectively accentuate your outfit, this era's eyewear is yours to own.
Five best 80s sunglasses in 2023
1.Burns Aviator Sunglasses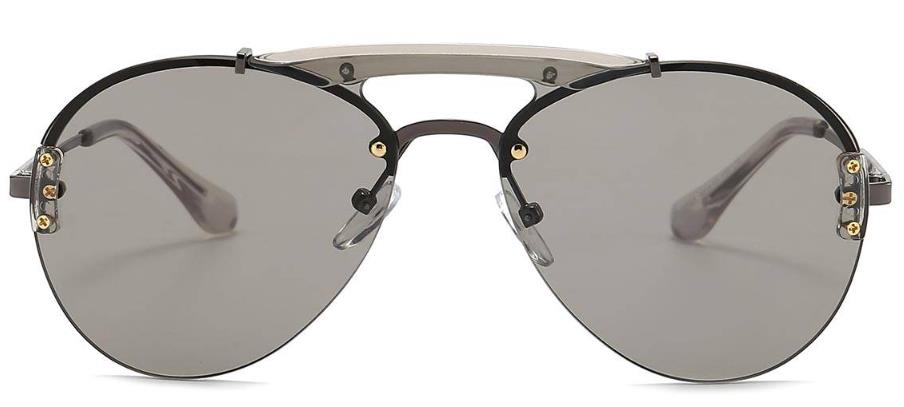 The gold hardware accentuating the classic aviator style of the Burns sunglasses is the reason it belongs to this list. This frame captures the 80s decade with its pop of color that is anything but ordinary. It's a full-rim metal pair of sunnies that will deliver a retro feel to your get-up.
2.Amelia Square Sunglasses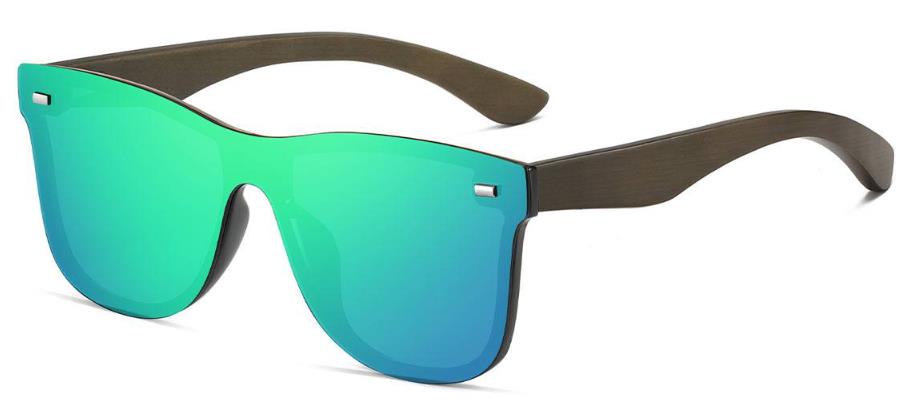 The duality of the Amelia square sunglasses may not be obvious at first glance. However, if you tilt it sideways, the arm material gives the frame a distinct aesthetic. The synthetic plastic rims support the lenses that come in unique colorways, a great example of 80s sunglasses.
3.Sofia Round Sunglasses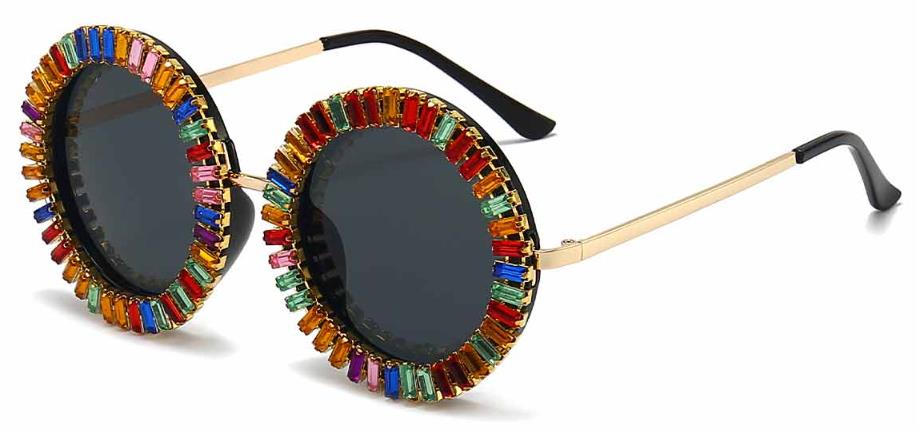 If you want funky and truly attention-grabbing, the Sofia round sunglasses can do the trick. The bejeweled frame comes in a metal and TR90 plastic material. This combo offers impeccable durability while the design is very much a depiction of the fun and quirky 1980s.
4.Theone Aviator Sunglasses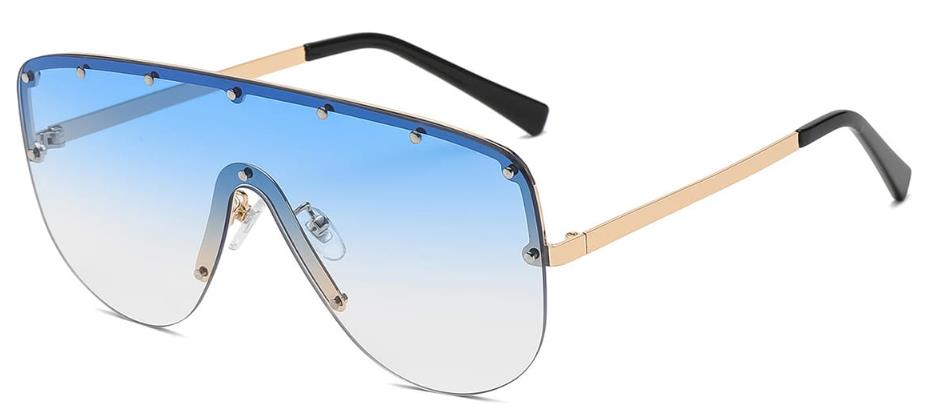 There's another aviator option on the list: the spectacular Theone sunglasses! The oversized lenses are secured to the metal frame with gold screws. It's an unusual take on the typical aviator design, but still provides outstanding coverage and eye protection as it should.
5.Manny Oval Sunglasses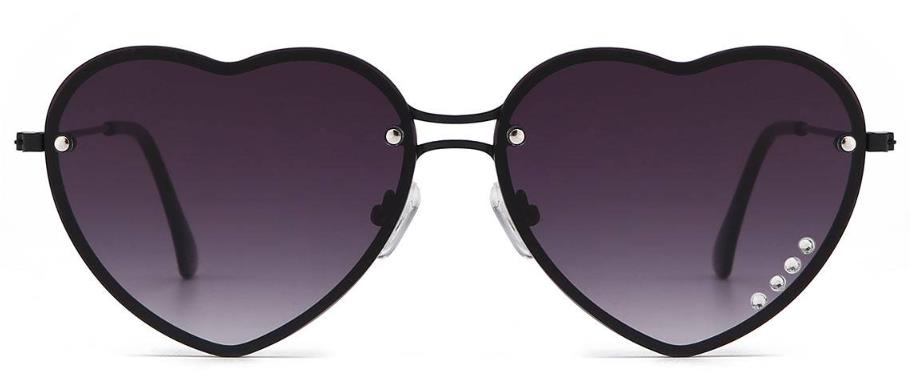 The heart-shaped Manny sunglasses are truly one-of-a-kind and can help you effortlessly achieve the 80s look. The gradient lenses and thin metal frame create a lovely emphasis on your vintage outfit. It's a frame that can turn heads for its shape, color, and overall aesthetic.
Final thoughts
Lensmart is your go-to for 80s sunglasses that will take your style back to the golden age of fashion. You can see how these frames look on you with the virtual try-on feature right on the website. Happy shopping!