What are half rim glasses and how to buy it?
The frame style is an essential aspect of choosing eyeglasses. Some have bolder edges and full-framed, rimless, or half rim glasses. If you're looking for half-rim eyeglasses today, continue reading to know this frame style's best colors and designs.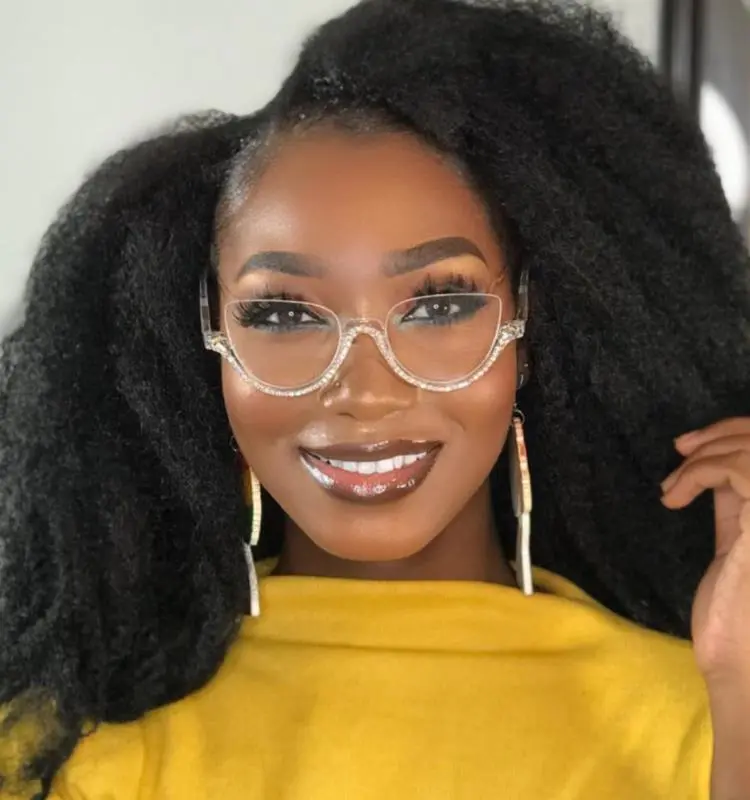 What are half rim glasses?
Half rim glasses have a bold upper frame while the lower part is uncovered. With the designs now, you can also choose the other way around. Some call them semi-rimless frames, which bring a more sophisticated vibe to wearers. They're considered versatile accessories which are suitable for any occasion. These frames were first designed to remove some weight when wearing them. With better materials today, half-rim glasses have become more lightweight and comfortable.
Are half rim glasses in style now?
As they say, you can always look fashionable even when wearing eyeglasses. Half-rim glasses are back this 2023. They're even better now as glasses manufacturers have improved the designs of these frames. Wearing half rim glasses makes you look brave, chic, and intelligent. It's the vibe that most people desire when using spectacles every day.
Most importantly, they're relatively lightweight than full-rimmed frames. They can also provide a more precise field of view when reading, as no borders surround the lower frame.
How to buy the right half rim glasses?
While semi-rim glasses are ideal for everyone, you must also choose the best frame for you. It's beneficial to refer to the guide below before buying a pair.
1. Frame style.
Half rim glasses come in different shapes. They can be round, square, cat-eye, or rectangular. As eyeglasses stylists say, it's best to consider your face shape when buying glasses. They must contrast your facial features. This means if you have a round face, you can use geometrical frames to give angles to your face.
2. Colors.
Gone are the days when all you can imagine are plain colors like black, red, and white for eyeglass frames. Today, there are many hues you can choose from. Warmer skin tones can go for beige, honey, brown shades, olive green, and light tortoise. People with cool skin tones can choose green, pink, blue, blue-green, purple, and magenta. Remember that the frame colors must highlight your face, not overpower it.
3. Durability.
In most cases, you'll use your half rim glasses daily. This means using the right materials to ensure durability. They can be made from alloys, metal, or titanium. Regardless, it pays to check with the manufacturer, who can tell you the specific materials used in their products. You must get your money's worth when burying frames.
4. Customization.
You can get your half rim glasses personalized by changing the colors or lenses of the frame. Find a manufacturer who allows you to do so. As you know, you must change the lenses if you have prescriptions.
The best half rim glasses for 2023
With the various designs and styles of half rim glasses today, it might take time to choose among them. This is why we give you some of the most popular styles on half firm frames for 2023.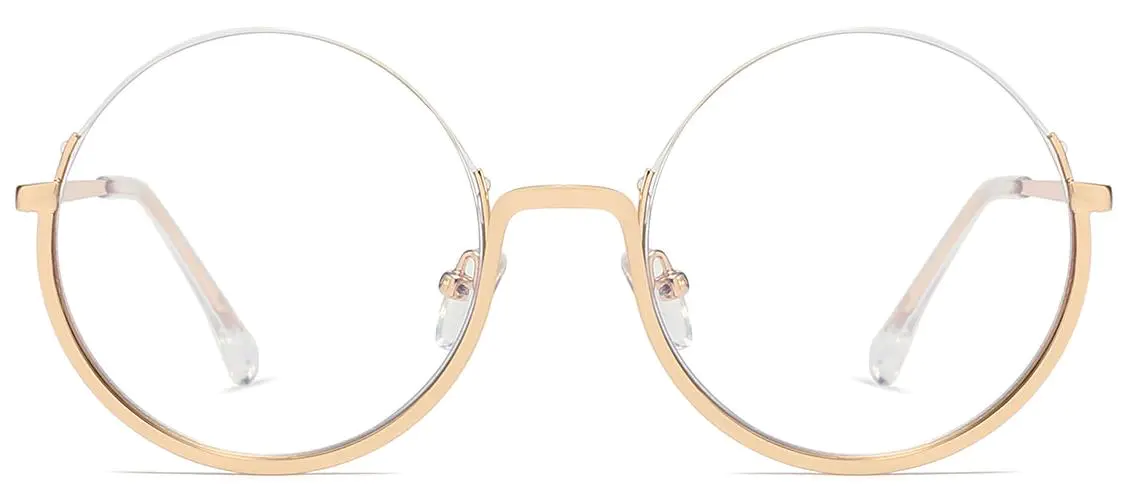 This classic round frame comes with gold borders at the bottom of the lens and is rimless on its top. The design is generally the opposite of most half rim glasses. Regardless, the overall glasses exude a chic and minimalist style you can pair with any daily outfit. It allows customization on the borders. Besides gold, you can choose between black and gray stripes. Another plus is that the frame will enable you to change the lens type and add prescriptions before buying.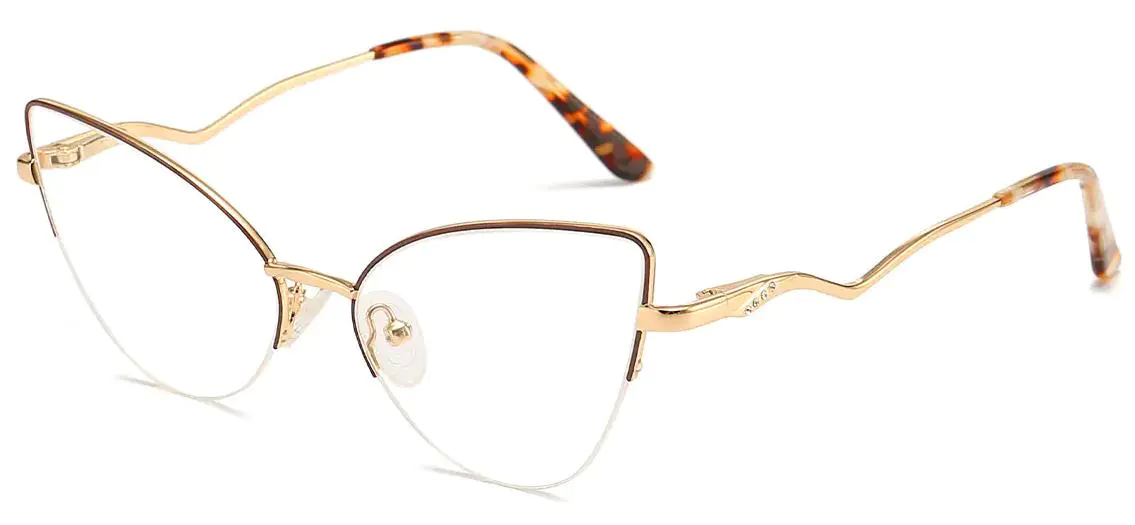 Imagine butterfly wings with these cat-eye half rim glasses. It's rimless on its bottom, so you'll have a clearer view if you wish to use these glasses for reading. You can choose among various colors for the rim, including blue, brown, green, and black. They're also cute and lightweight.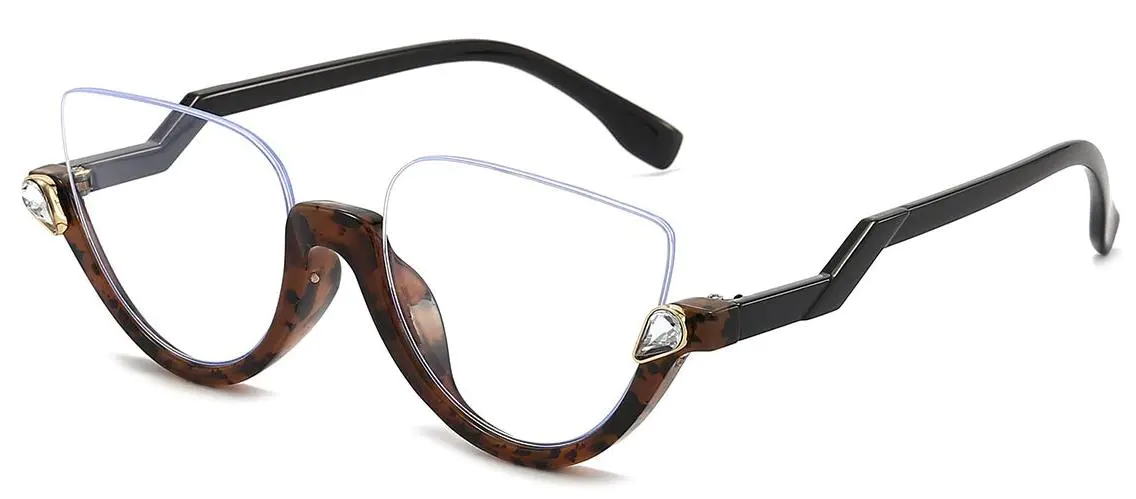 This is another cat-eye frame, but it comes with subtle edges, making it look more like an oval shape. The frame has bolder rim borders on the bottom and is rimless on top. Before buying the glasses, you can try which color best fits your skin tone - black, tortoiseshell, or transparent.
Related articles:
Are half rim glasses in style? (also called semi rimless glasses)
Eyeglasses trends 2023: popular glasses styles
Lightweight eyeglasses explained
What is my face shape? guide to choosing glasses
How to buy the best glasses for your hair color
Eyeglasses color guide: what color fits you best?