5 vintage glasses for round face
Identifying the shape of your face correctly is the first step to finding the perfect pair of glasses for you. There are a lot of people who mistakenly think that they have a round face just because they are rather overweight or have chubby cheeks. However, one's body type actually has nothing to do with the shape of your face. You may be extremely slim but still have a round face.
So, before you start shopping for glasses for a round face, you first need to confirm whether you do have a round face. To do this, check the height and width of your face. If they are almost the same, then you either have a round or square face. Next, check if your face has angles or if your cheekbones stand out. If the edges are rounded and the cheekbones are not very distinct, then you certainly have a round face and you can start looking for glasses for a round face.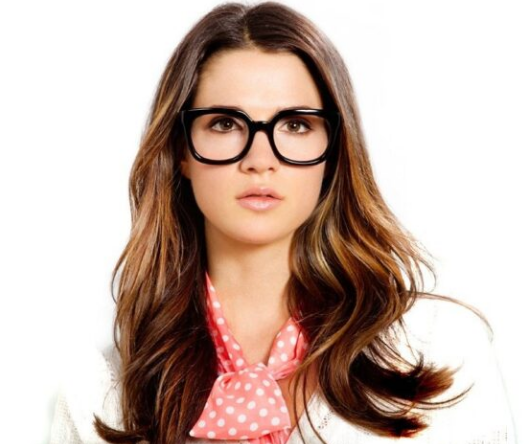 According to eyewear experts, the general rule for choosing glasses for round faces is to go for those that have some angles. Square, rectangular or cat eyeglasses are ideal. You might want to stay away from round glasses and those that have very small frames as these will bring too much attention to the roundness of your face instead of creating a nice balance. Vintage glasses for round faces are the best because they combine functionality with great style.
5 Vintage Glasses for Round Face
Vintage eyeglasses are among the most in demand styles in eyewear for both men and women because they have a very elegant appeal that has withstood the test of time. There are also a lot of good-looking square, rectangular and cat eye styles among vintage eyeglasses, which are the best shapes to wear for people with round faces.
Lensmart has a large selection of top quality vintage glasses for round faces. We have highlighted the most popular of our vintage eyewear for you to check out.
1.Oren Cat Eye Glasses
Elegance and sophistication are the first things that come to mind when you first see these Oren cat eye glasses for women. Once you put them on, they will instantly create a beautiful balance on your round shaped face, highlighting your eyes and lifting your features instantly. It only comes in black tortoiseshell, which is really all you need because this style goes well with any outfit. It works with any look, from casual daily wear to special evenings out.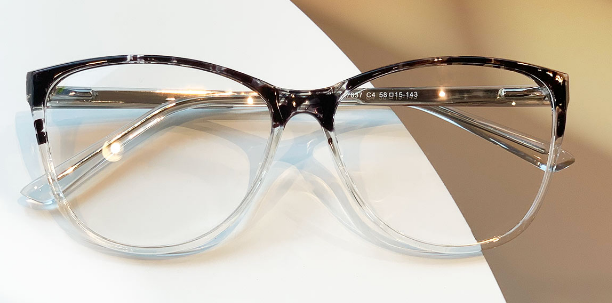 2.Tikvah Square Eyeglasses
Square frames are the most effective in balancing the shape of a round face, and the Tikvah square eyeglasses for women certainly do the job very nicely. Depending on the color that you choose, they make you look businesslike and very professional, or take years off your features. This certainly says a lot about the versatility of this particular pair of glasses, which are suitable for women of all ages.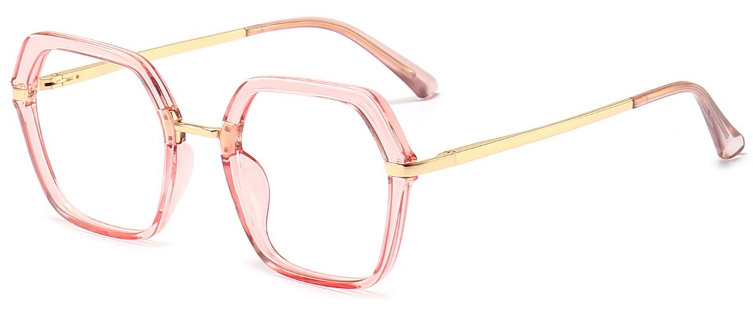 3.Hala Cat Eye Glasses
Cat eye glasses can give you an instant facelift and add contour to even the roundest faces. The Hala cat eye glasses come in a beautiful yellow frame that is very trendy and that will make your eyes come alive. The frame is also lightweight and made of durable Tr90 material that sits comfortably on your face for long periods. Wearing these vintage glasses will definitely bring you compliments from everyone around you. They will also protect you from glare because of the anti-reflective coating on the lens.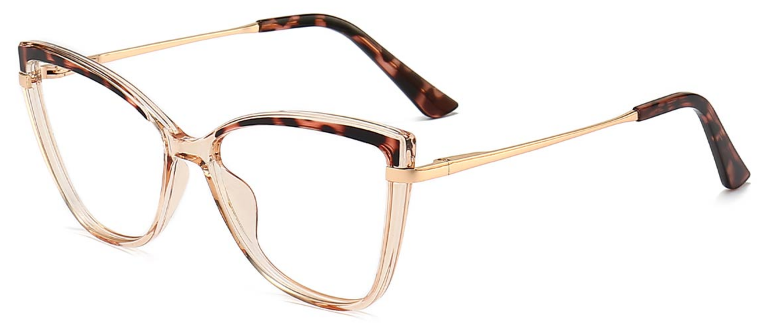 4.Aroa Square Transparent Glasses
If you want to make a strong fashion statement, then this pair of eyeglasses would certainly do the trick. With a very fashionable transparent and large sized frame, the Aroa eyeglasses don't mess around. It is undeniably a vintage style and it can surely pump up any of your retro outfits. You will be the center of attention of any party you attend wearing these gorgeous glasses, and the square shape of the frames will nicely add some angles and balance the roundness of your features.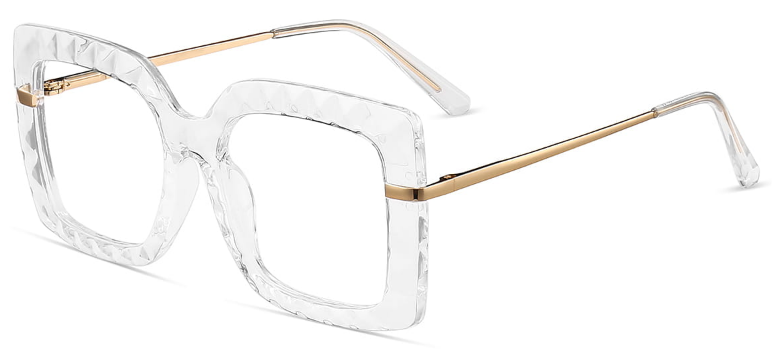 5.Cyprian Rectangular Glasses
Wearing prescription glasses doesn't have to be boring as some people think. With these vintage red Cyprian eyeglass frames, no one would dare accuse you of being boring at the very least. Sexy and chic, the narrow rectangular frame of these glasses is perfect for adding some length and angular features to your round face. The floral detail on the sides also adds a lot of interest and appeal, making these retro eyeglasses even more unique. The red frame is our personal favorite but it also comes in black and brown, both of which are equally beautiful as well.

What are the best sunglasses for round faces?

When it comes to sunglasses, you may want to ensure they fit properly and look well on you. You don't want anything to appear too large or tiny. So, what's the answer to this question? There are several strategies to ensure that everything looks fantastic! All you have to do now is keep the following pointers in mind while making your next eyewear purchase!
1. Choose frames with characteristics that contrast with your own. Blocky angular frames, such as square or rectangular frames, suit you best if you have a round face since they lend structure to softer features.
2. Avoid tiny round or even oval frames if you don't want to emphasize your face's roundness. These glasses will make your face appear larger and rounder.
3. Take a risk and step outside of your comfort zone. Consider using brighter colors or frames that are somewhat larger. You may give the illusion of larger eyes and a more balanced face shape by contouring the eye of your frames.
4. If possible, try on the sunglasses in person. You can never be sure if a pair of sunglasses will be attractive to your face shape, complexion tone, or hair color just by looking at them in photographs.
There are specific types of sunglasses that are best suited for each face shape. The pair you choose should be able to balance your features. This may make your eyeglasses buying experience a bit more challenging, but the result will be worth it. Remember that your facial form determines everything.
Women's sunglasses for round face

Square Sunglasses
As previously stated, angular frames are recommended. A squared pair would be the ideal glasses for round face shape. When the frames are broad, it balances out the delicate features, improves face, and makes it look thinner and longer. Sunglasses with a square shape are one of unique and trendy sunglasses. The frames exude the nostalgic sensations you've been seeking. They are medium-sized and have two-tone high-quality frames.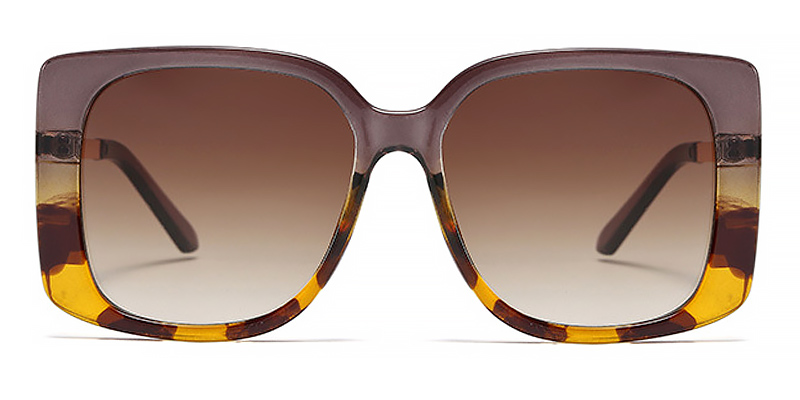 Brow-Line Sunglasses
With our next selection, we're sticking with the vintage vibes. Another great alternative for women with round features is brow-line sunglasses with beautiful semi-rimless frames. The silhouette is helpful because it combines the appearance of length and balance, despite the fact that these frames don't add many angles.
Furthermore, these glasses help to slim down the face's structure. For this style, the Ruri, Lux & Rae sunglasses would be a wonderful pair of sunnies for round faces! They are designed to suit a medium frame. They include different materials of frames and gradient grey lenses for a fashionable look.
Vintage Sunglasses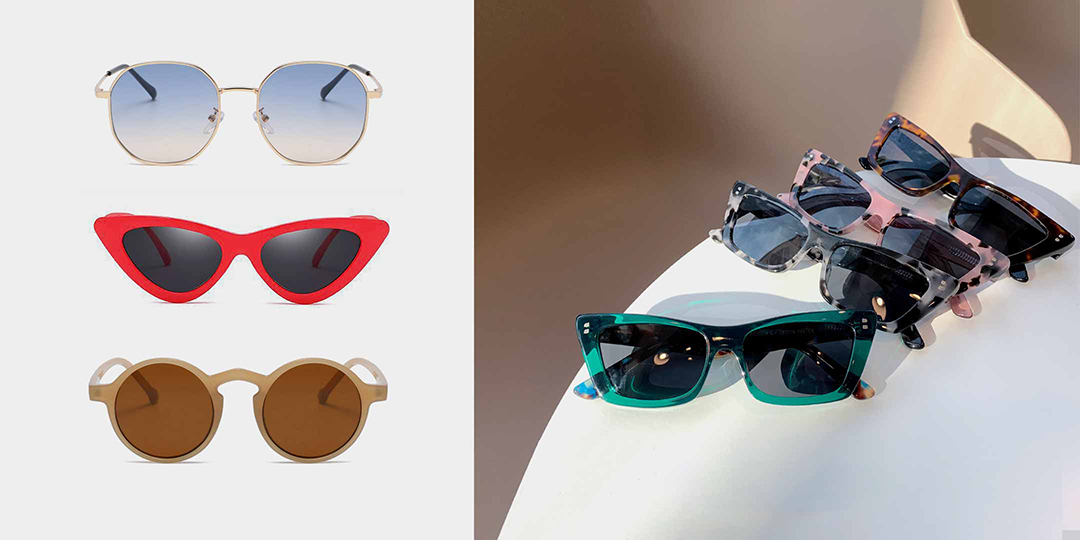 Although vintage sunglasses cannot be classified as a distinct frame form, they are worth highlighting for two reasons:

For starters, choosing from a range of vintage-inspired squares frames for round faces is excellent. These frames will contain features that can provide the illusion of a defined silhouette.
Second, retro-style sunglasses are quite fashionable right now.
Men's sunglasses for round face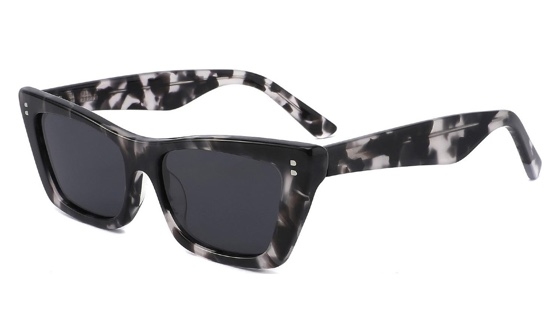 The retro cat-eye shape of the Meliora frames will feel right at home on a rounded face. The upswept shape of cat-eye frames will provide a lifting effect, thus making your face look more contoured and slim. The unique shape is an instant attention grabber, and despite cat-eye frames being commonly marketed towards women, there is no reason you can't pull this look off.
Squared Cat-Eye frames such as the Meliora will look excellent on you. The squared angular shape stands out against your softer features whilst the upswept style contours your face. It's an ideal fit for anyone with a rounded face. The Meliora comes in three different tortoiseshell shades black, brown, and pink, and is also available in emerald green. This daring style will surely draw attention and fully compliment your features.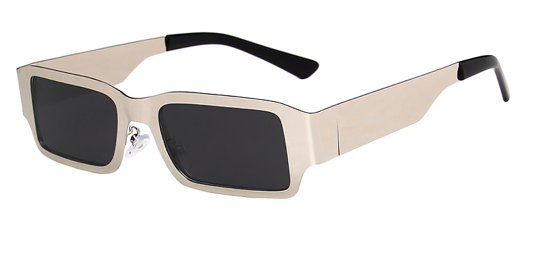 The sharp rectangular shape of the Lucia frame will juxtapose your softer rounded features and make a real statement. Rectangular shades are an excellent choice for men with rounded facial features. The wide frames will help section the face and create a defined look. The pointed angles help add sharpness to the face, and strong lines hide the softness of the face.
The Lucia frame fits all of these criteria and comes in a range of bold and funky colors. Including red, gold, and silver, as well as the classic black, of course. The angular design will emphasize your features and boasts a contemporary look without being too showy.
Lucia is an excellent middle ground. The design is enough to create a sense of intrigue without being too big, bulky, or colorful. The geometric shape is all it needs to make a statement and draw the attention of wandering gazes.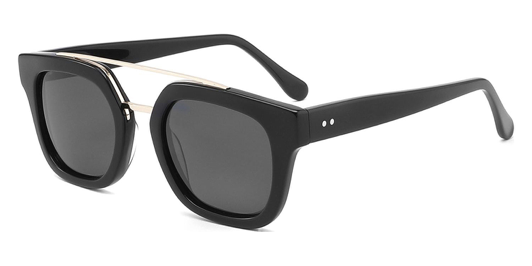 Can you rock aviators with a round face? Absolutely, so long as it's the Ocataviana frame. Typically, aviators don't exactly look great on rounded faces. However, there are some exceptions.
Squared aviators or as they are also known as navigators, are a great choice for rounded faces. The classic rounded or teardrop shape of aviators can often clash with rounded features. By choosing squared aviators, you eliminate that problem entirely and can enhance masculine features.
The Octaviana is a thick-rimmed square-shaped aviator sunglasses perfect for men with rounded faces. Thick acetate is better for round faces as the bold lines will draw attention that, combined with the slightly more angular shape, means that you can rock this retro look too.
Recommended articles:
5 stylish glasses for oval face
5 stylish glasses for heart shaped face