What face shape best suits hexagon glasses?
Gone are the days when all you worried about was how strong the prescriptions for your eyeglasses were. Today, there are tons of choices and things you must consider to get the best frames. One option you might think of are hexagon glasses.
But will these glasses frames fit your facial features? Is the geometric structure trendy today? How can you maximize using this edgy type of eyeglasses frame? No need to go somewhere else; read along to learn more about hexagon glasses.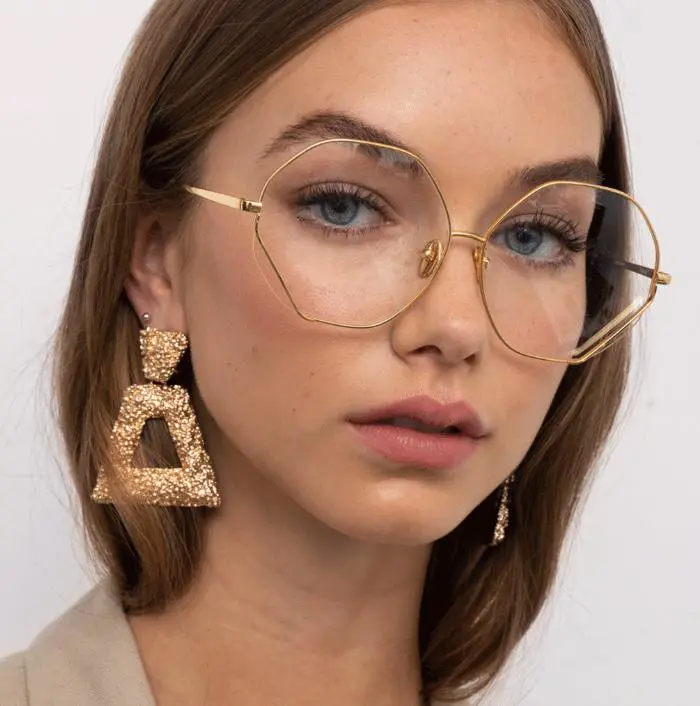 Are hexagon glasses in style?
Hexagon shape frames had their peak popularity in the 1940s. This was also when the variety of lenses and frames grew and adapted. The hexagonal frames that were trendy during these years include angular octagonal, narrow-bottomed frames, and adventurous rounded glasses.
Today they are back with more variations and colors. They're fun, quirky, and different, pushing those standard-shaped frames aside and becoming the must-have eyeglasses for many.
Hexagon shaped glasses are back. Eyewear has recently strayed from the usual confines of oval, round, and square styles. This is partly because of style icons and celebrities who brought these frames back to the trend. With retro styles going back in style today, it's no surprise that the hexagon glasses of the 1940s are also enjoying the limelight.
The people's desire to relive the classic fashion trend has earned hexagonal frames a place as one of the more popular current designs.
What face shapes look best in hexagon glasses?
Getting that perfect frame fit means evaluating if your face fits hexagon glasses. In most cases, not all face shapes look well with this geometric design of glasses. If your face belongs to the following shapes, then hexagon glasses will be your best friend.
1. Oval face. If your face has balanced facial proportions with a high forehead, cheekbones, and a slightly narrow chin, then hexagon glasses can be ideal for you. In most cases, oval-shaped faces can wear almost any frame style. However, they will ultimately look good on geometric frames. Since hexagonal glasses come with noticeable edges, they will give your face an angular touch to soft curves. Remember to stay away from ultra large hexagon glasses.
2. Round face. Round faces generally come with full cheeks and have gradual curving lines instead of hard angles. Regarding face length, people with round faces mostly have equal proportions. Geometric frames like hexagon glasses will accentuate an individual's round-shaped face. The horizontal and rectangular styles that hexagonal frames have will lengthen the wearer's face. You can also choose hexagon glasses with colors or decorations on the temples.
How to buy the right hexagon glasses?
With all the thousand frame glasses manufacturers in the market today, it sure can be a handful to select which among them fits you. Here are some things you must look into before buying one.
1. Identify your face shape. It seems like a sacred rule to check on your facial features first before streamlining your options for frames. This is to ensure that you get to wear the suitable eyeglasses fit. Remember that the right frame style accentuates your facial features and does not overpower them. You know that hexagon glasses are ideal for round- and oval-shaped faces. Hence it would help if you looked for these styles.
2. Choose the right colors. Similar to frame styles, the color of your glasses all matters. Get those colors that will match your skin tone. Finding the right color is straightforward. If you have a cooler skin tone, choose colors with shades of gray, blue, and black. Meanwhile, people with warmer skin tones can opt for tan, red, and pink colors.
3. Consider your lifestyle. Suppose you have an active lifestyle or work in industries which require you to lift heavy things, then it will be beneficial to choose durable frames. Also, ensure the frames will fit at the nose bridge. This will give an excellent snug fit. On the other hand, if your daily activities deal with business meetings, you can opt for stylish hexagon glasses.
4. Affordability and durability. Each hexagon eyeglasses come from different materials. Some are affordable but break easily. Some durable eyeglasses can also be expensive. However, manufacturers today provide frames that are not very costly and affordable enough for most.
Best hexagon glasses for men & women
1.Dream Glasses
Dream glasses looks similar to cat eye glasses, but it adds more edges, making it more stylish. This extra thin frame makes sure that the glasses will not make you feel any discomfort, and you can wear it on for a whole day.
2.Lilah Glasses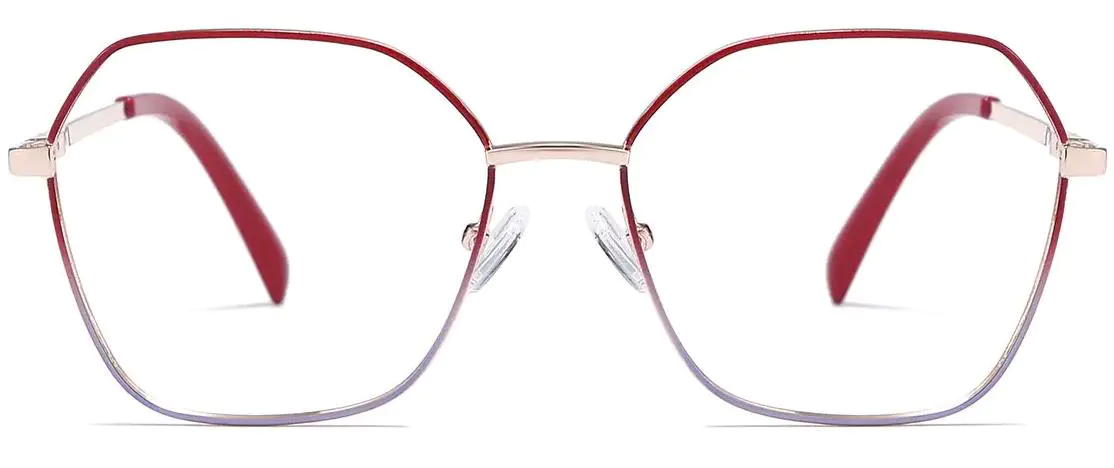 Bold and stylish design, this Lilah glasses with red and blue colors is a good accessory for those who like simple while fashionable style. With just one pair of glasses, you can achieve many different styles to show your fashion taste.
3.Natasha Glasses

Rimless glasses is super cool! With the hexagon lenses, this Natasha glasses is just the pair for you. From formal to casual occasions, this pair can always make you shine and stand out of the crowd.
Recommended articles:
What face shapes do geometric glasses look good on?
What face shape best suits round glasses?
What face shape best suits rectangle glasses?
What face shape best suits square glasses?
What face shape best suits aviator glasses?
What face shape best suits hexagon glasses?
How to find the best glasses for long faces?
How to find the best glasses for small faces?