What face shapes do geometric glasses look good on?
As with most glasses, in particular, the shape of your face plays a major role when choosing eyeglasses. Even though glasses have a practical purpose, such as improving your eyesight as well as your reading capabilities, you should look good in them as well. If wearing a pair of geometric glasses improves your overall appearance as well, it is worth the investment.
There are many different shapes of eyeglasses, such as oval, square, round, and rectangle shapes. Within all of these categories, you will find geometric shapes fit in as well. It is worthwhile to know your face shape because your face shape can most often accommodate more than one shape for eyeglasses. One of the advantages of geometric glasses is that they add structure to your face shape in that they create angles to your face, thus flattering and defining your face.
Geometric glasses are also an excellent choice when you need multi-focal lenses. It will provide a larger area for eye movement. With the latest trends being larger frames, this too will make the geometric glasses a great choice. Furthermore, these types of glasses will definitely add some class to your style.
What Does Geometric in Glasses Mean?
Geometric glasses are essentially multi-shaped glasses. The geometric glass frames have angles. These angles can therefore be placed in square, round, hexagonal, or octagonal shapes. The edges could be pointed or flat. When referring to flat edges, it simply means that one cannot clearly see the angles because they are so slight. Lensmart has a good example of this in its Jasmine glasses.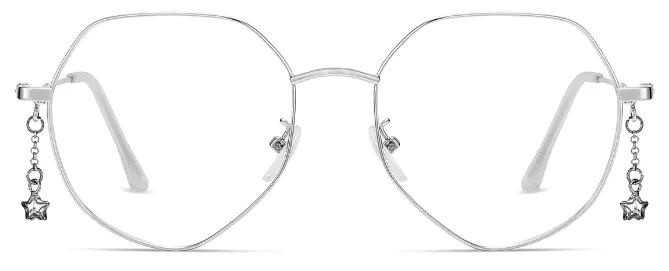 The slight angles, in particular, already hint at the fact that most face shapes could benefit from it. As mentioned before, geometric glasses can add shape to your face. For example, it can create interesting angles to a round face. But, as already mentioned, most faces can benefit from geometrically shaped glasses. Lensmart offers its clients a range of geometric eyeglasses in various sizes from which to choose. Siobhan is such an example.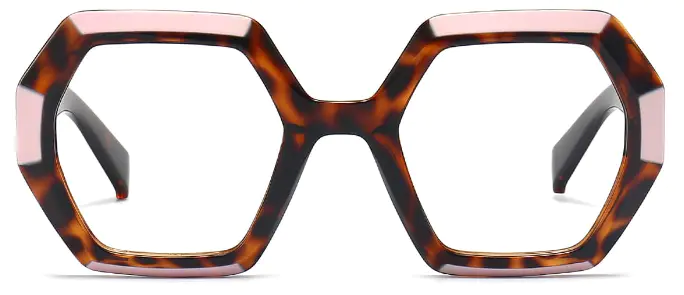 Another distinction of geometric glasses is that, if you cannot truly define the shape of the glasses, they will most probably be a geometric shape. As noted, the angles might be very slight. Another example of geometric glasses at Lensmart is Jelsy.

Are Geometric Glasses Trendy?
Geometric glasses are very trendy simply because they will always be on trend. The reason is that the shape is very different and will help the wearer make a statement. For this reason, one could say that you cannot go wrong with your choice of geometric frame.
These geometric shaped eyeglasses are also trendy because they are not limited in their shapes. For example, geometric shapes come in octagonal, hexagonal, squared, rounded, oval, and even cat eye shapes. This means that most people can wear them with style and improve their overall look.
Besides the fact that the geometric glasses come in different shapes, the type of frame material also adds to the trend. Examples of the frame types that work with geometric glasses are metal, tortoise shell, titanium, as well as plastic frames. There are also those that are frameless, such as Lensmart's Pacie eyeglasses.

What Face Shapes Will Work for Geometric Glasses?
Most face shapes would work for geometric glasses. The best way to find out whether geometric glasses will work for you is to look at your face and analyze it. There are online face-shape apps that could help you find out what shape your face is. Once you have determined your face shape, it would be easy to find a specific frame for your face at Lensmart.
Finding the right face shape for geometric glasses is quite easy. This is because these types of glasses suit most face shapes. Several face shapes that will work for geometric glasses include square, round, heart, diamond, oval, and triangular face shapes. The glasses would look good on any one of these face shapes. However, it is important to choose the right type of frame material as well.
You will find that Lensmart offers several options, such as Yandi, for example. This particular pair is a perfect example of how geometric glasses can work for most faces. The reason is also that, as already established, geometric glasses come in various shapes as well.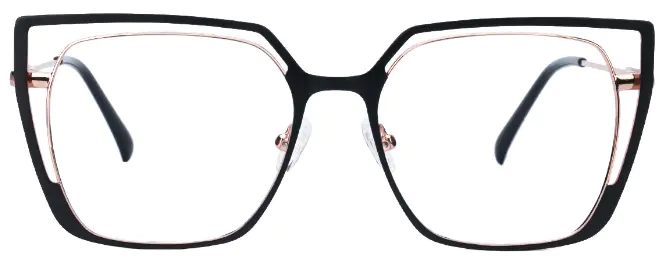 Recommended articles:

What Face Shape Best Suits Round Glasses?
What Face Shape Best Suits Rectangle Glasses?
What Face Shape Best Suits Square Glasses?
What Face Shape Best Suits Cat Eye Glasses?
What Face Shape Best Suits Aviator Glasses?
What Face Shape Best Suits Browline Glasses?
What face shape best suits hexagon glasses?