The best brown sunglasses for men and women
There are plenty of lens shades to choose from but when it comes to sun protection eyewear, brown sunglasses are by far the most popular choice. Brown lenses have been around for as long as sunglasses have been invented, and there are no signs that they will be going away at any time.
If you are looking to buy a new pair of brown sunglasses, you might have a tough time ahead because there are so many options out there! Picking just a pair would be a real challenge. Later on in this article, we will give you some of our best recommendations to help you choose more easily.
What Are the Benefits of Brown Sunglasses?
Aside from looking fabulous with any kind of outfit or on any type of occasion, brown sunglasses do come with a number of other benefits. They are wonderful for improving contrast, especially outdoors. This makes them very practical to wear while driving as they let you see things and judge distances better, especially with blue skies and greenery in the background.
Many have attested that brown sunglasses help relax the eyes, which is probably due to the fact that they reduce a significant amount of glare. Furthermore, they also block blue light that can cause eyestrain.
Who Should Wear Brown Sunglasses?
Everyone can wear brown sunglasses, of course, but the greatest benefit might be for those that do a lot of driving, fishing, shooting, or other activities that require you to judge distance or depth accurately. If you spend a lot of time outdoors and you need to have the clearest vision possible, then brown sunglasses are the best choice for you.
Eye doctors also recommend brown sunglasses to nearsighted people. This is because the brown tint helps boost contrast, especially against blues and greens, and also lowers the amount of glare that goes into the eyes, thereby reducing visual fatigue and improving myopic vision.
How to Buy the Best Brown Sunglasses?
If you want to find the best brown sunglasses, you need to start by identifying the shape of your face. There are certain types of sunglasses that would notably flatter your face shape. Then you would also want to take your hair color and skin tone into consideration when looking at brown sunglasses.
Once you have narrowed down your choices accordingly, you can then choose from the available options with your personal style in mind. This means finding a pair that really shows off your style or reflects your personality.
Also, while it's fun to have a pair of trendy sunglasses that are currently in vogue, it's also advisable to invest in some timeless pieces that you can rely on for years to come as it would be unlikely for these pieces to go out of style anytime soon.
Best Brown Sunglasses for 2023
Here are our top picks among the brown sunglasses that are trending right now.
1.Alaina - Square Sunglasses in Gradual Brown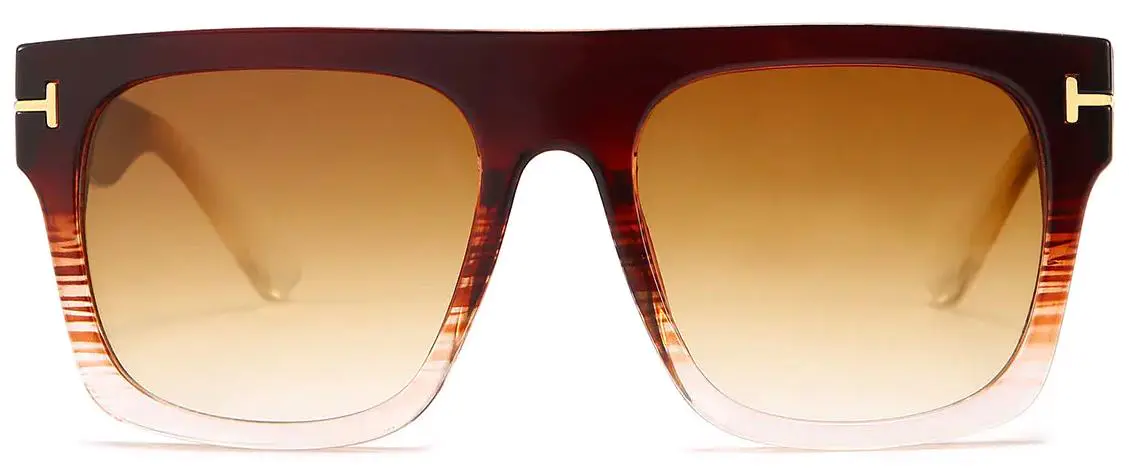 The Alaina is one of those pairs of sunglasses that you just wouldn't want to leave home without. It ticks all the boxes – excellent coverage and glare reduction, top quality UV protection, durability, lightweight and most of all, a very chic design. The lens gradually shifts from brown to almost clear and the pattern on the frame is simply exquisite. It's definitely a must-have pair for both men and women.
2.Cailin - Square Sunglasses in Black & Brown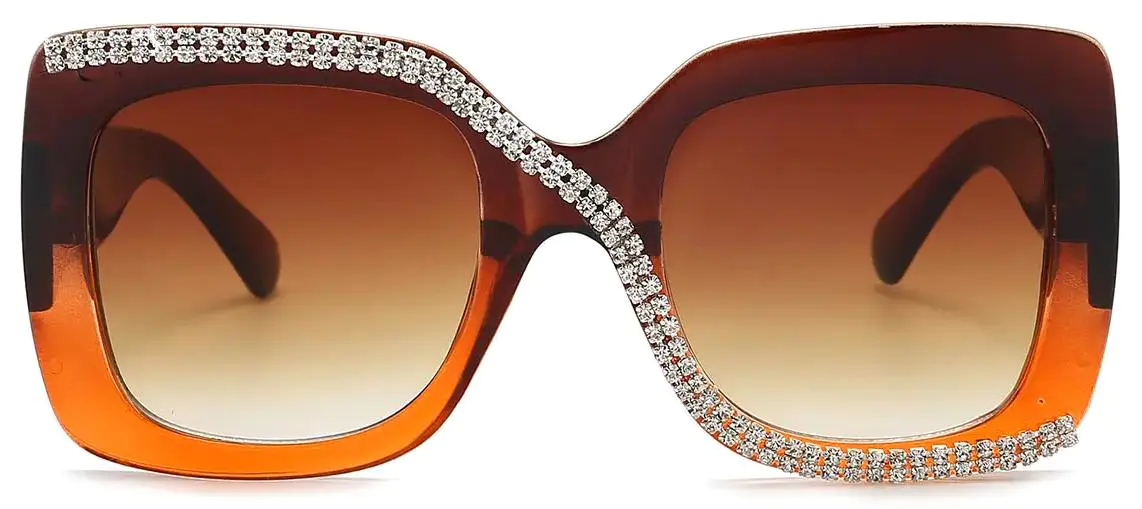 If you are looking for a pair of brown sunglasses that would command the attention of the room as soon as you walk in, the Cailin is what you should get. The oversized lenses will immediately steer the focus to your face, while the enchanting rhinestones running diagonally across the frame simply take it to a whole new level of style. A great blend of retro and modern, these sunglasses definitely make a strong statement.
3.Tuku - Aviator Sunglasses in Gold & Brown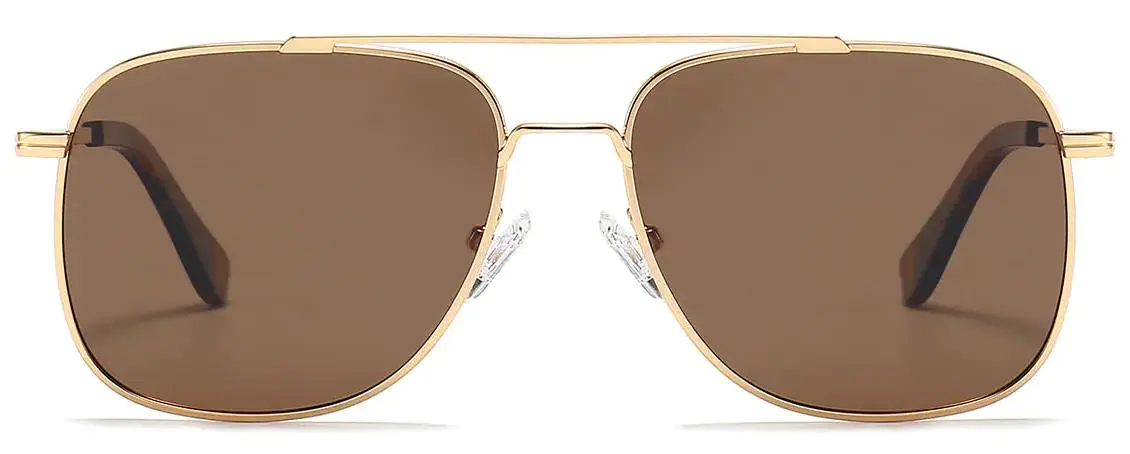 Aviator is a style of sunglasses that will never go out of fashion. The Tuku, in particular, is the epitome of luxury with the striking combination of a gorgeous brown hue on the lens and classic gold on the frame. Any man or woman will feel like a movie star while wearing this fabulous eyewear and will definitely look like one as well.
Related articles:
Buying the best oversized sunglasses in 2023
The best clip on sunglasses for glasses in 2023
Best sunglasses for small faces in 2023
Best sunglasses for men: 2023's new style
2023's best sunglasses for women: keep trendy
Ultimate guide to buying the best sunglasses for your face shape
Sunglasses color guide: what color fits you best?
Explained: what do yellow sunglasses say about you?