Explained: what do yellow sunglasses say about you?
Who would have thought that bold statement pieces like the yellow sunglasses will make a comeback? This stylish eyewear is an attention-grabbing accessory that matches the summer vibe. It's peak sunglasses season, and now is the best time to update your collection!
Here's the thing about yellow specs—they're unique and fashionable no matter the occasion. You can wear them even on gloomy days because these sunglasses offer excellent protection for your eyes.
Why go for the ordinary when you can have these eyeglasses to enhance your look? Here's a quick guide on yellow glasses and how best to wear them.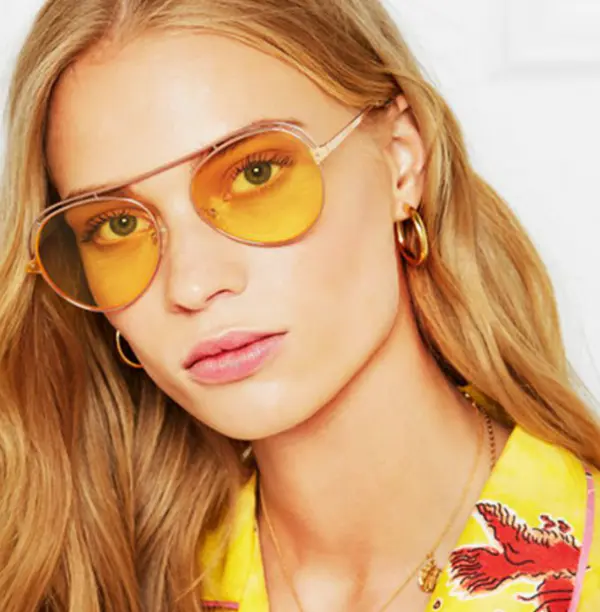 What do yellow sunglasses say about you?
It's not easy for everyone to get on the trend of colored sunglasses, especially since most people are used to wearing the standard clear or dark tint. Yellow specs can stylize your outfit, even if you don a simple jeans-and-shirt combination. It can provide an instant boost to your confidence. Using this pair can help you feel good about yourself.
The good news is there are more benefits other than fashion when you wear yellow sunglasses. Tinted lenses can help you see some colors better, making them look more vivid. Some tints reduce glare, distort colors, block light, and enhance visual acuity.
The yellow tint provides the most benefits in moderate to lower-level lighting conditions. Ultimately, these lenses can improve your depth perception. They can also effectively lessen eye fatigue without compromising your vision.
Benefits of yellow lenses
Yellow sunglasses are highly versatile. They deliver eye protection and excellent clarity, especially when focusing on a moving object in low light and hazy situations. It is often the color of choice for many indoor and outdoor settings like baseball and target shooting. You can also use this pair to shield your eyes against harsh blue light emitted by screens.
Here are the benefits of yellow sunglasses:
1. Great for adventurers who love skiing, hunting, mountain biking, aviation, target shooting, and tennis
2. Delivers outstanding visual clarity in foggy, hazy, and other low-light settings
3. Blocks out harmful blue light that may cause eye strain
4. Might have a color distortion effect
How to find the best yellow glasses?
Shopping for the right pair of sunglasses? Here are a few factors you should consider.
1. Tint intensity
Darker sunglasses don't always provide the best protection for your eyes. You can choose the percentage of light that yellow specs can block. It can be lightly tinted (20%) to darkly tinted (80%), or anywhere in the mid-range.
If you are choosing the right intensity for your sunglasses, make sure that it's based on your preference. That way, you're comfortable wearing your eyewear.
2. Lens quality
Select a high-quality lens with features like an anti-reflective coating and anti-scratch. Durable lenses ensure that your sunglasses last for a long time. You should also make sure that the lens uses a durable material.
3. Size
Although yellow sunglasses come in different sizes, it's ideal to pick oversized lenses to get as much protection from the sun as possible. You should consider a wraparound design to block ultraviolet rays from penetrating the sides of your sunglasses.
4. Affordability
Expensive sunglasses don't necessarily mean they are safe and effective. There's a great selection of specs at an affordable price with all the features you need, such as ultraviolet protection. What matters is you love the design and that they match your personal style.
Three stylish yellow sunglasses
Yellow-tinted sunglasses add a certain charm to any outfit. Not only does it go for outdoor purposes, but it can also protect you from screen glare. Here are our top Lensmart picks for yellow specs that you'd want to wear!
1. Sirka Rectangle Sunglasses
The round lens of the Sirka Sunglasses features a bold Tr90 rectangular frame that says a lot about your fun personality. The tint is just the right amount of gradient to protect your eyes without disturbing your vision. It will give your aesthetic a youthful vibe!
2. Layel Square Sunglasses

The outstanding durability of the Layel Sunglasses is thanks to the Tr90 material. You'll love the yellow hue of the lens that's anti-scratch and anti-reflective. The classic frame design is complemented by the stunning lens tint that spells fashion all the way.
3. Lanta Oval Clear Yellow Sunglasses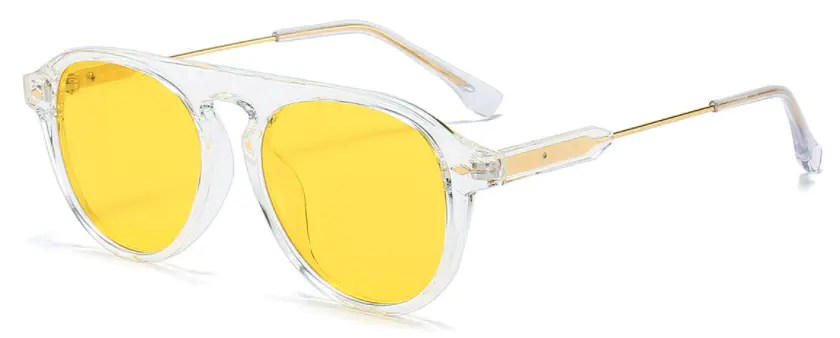 The modern cut of the Lanta Sunglasses makes the yellow-tinted lens stand out. The frame material is made of durable Tr90 that allows a secure and comfortable fit when wearing. It's a truly artistic pair of glasses that looks great whether you're outdoor or indoor.
Choosing Lensmart
These yellow sunglasses and more from Lensmart are available for you to shop! Check out our website's excellent selection of glasses, featuring different shapes and styles. You can have a pair or two that completes your overall look!
Recommended articles:
Your guide to stylish clear sunglasses
Everything about gradient sunglasses you should know
How to find the right yellow glasses?
How to buy the right tinted glasses?
Sunglasses color guide: what color fits you best?
Guide to picking the best glasses for night driving