The 10 best trendy glasses for women with oval face
Trendy glasses are simply glasses that look great with the current fashion. They are the ultimate accessories that can make or break an outfit, depending on which ones you choose to wear. Trendy glasses for women are actually very fun to shop for because they come in all kinds of styles, sizes, colors and designs, and you can definitely have a lot of fun while wearing them.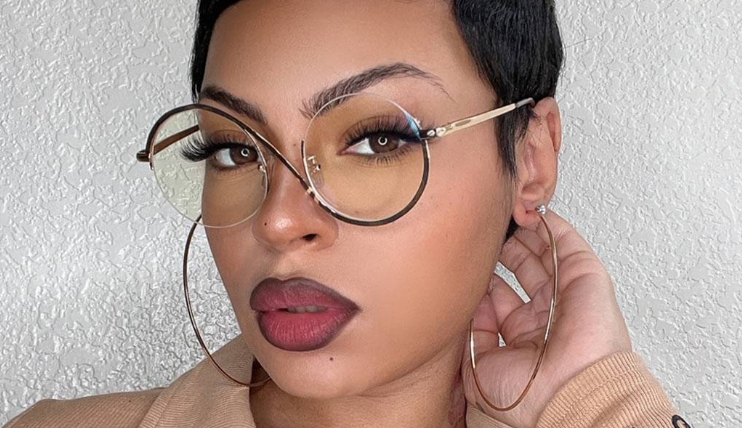 Why Are Trendy Glasses So Popular?
Glasses are probably the most versatile and most effective accessories that a woman could have. Aside from the practical purpose of assisting with vision or providing eye protection, trendy glasses are also used to complete an outfit or make a fashion statement.
Just like with clothing, there are trends and fashions as well when it comes to eyewear. Naturally, you want to look great and in style especially when going out. This is why people, and women, in particular, invest in trendy glasses.
As a matter of fact, most women have more than just one or two pairs because they need to have the right pair of glasses to match with all of the outfits in their closet. This is actually a very sensible thing, and is one of the main reasons why trendy glasses are so much in demand.
What Glasses Are the Best for Women with Oval Face?
The one thing that all women will agree on when it comes to choosing a pair of glasses is that it should make them look nice. No woman wants to end up buying glasses that would overpower their features or make them look unattractive in any way. Fortunately, there are some tried and tested guidelines that we can all follow to help us find the perfect pair of glasses that will be most flattering to our face.
As an example, let's talk about women with oval faces. An oval face is considered to be the ideal shape, especially when it comes to choosing eyewear. The reason is because this face shape looks nice regardless of what kind of eyeglasses you put on.
However, the best glasses for an oval face are those that have angular features, particularly on the frame. The angles will create interest and balance out the roundness of your face, giving you an even more attractive appearance. Thus, square and rectangular trendy glasses for women will work very nicely. As well, cat eye frames are also excellent glasses for an oval face because they uplift the face and highlight your eyes and cheekbones.
Ten Best Trendy Glasses for Women with Oval Face
Trendy glasses for women are everywhere these days, but we have done some virtual window shopping and below are our top picks of women's glasses for an oval face.
1.Behati
One of our favorite cat eye frames from the entire selection, the Behati is a half-rimmed pair of glasses with multi-colored rhinestones along the frame. The rest of the eyeglasses are transparent white, making the stones stand out even more. The upswept style is perfect for an oval face because it highlights the cheekbones and draws attention to the eyes.

2.Moshe
Another excellent cat eye selection, the Moshe blue tortoiseshell eyeglasses are decidedly trendy. The combination of the tilted frames and the stylish shade of tortoiseshell are what put this in our list. It is usually assumed that cat eye glasses are more for older women because they are a classic design, but the Moshe actually looks great for young, modern ladies.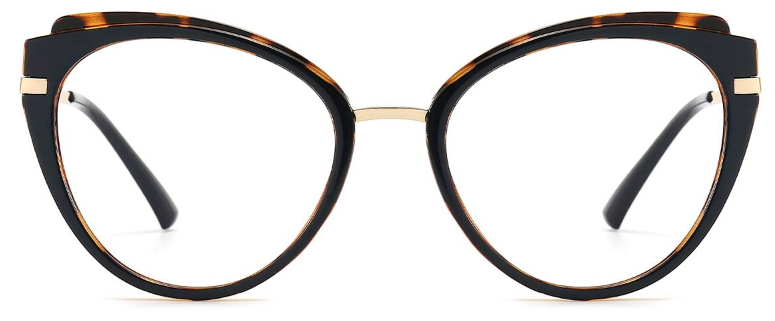 3.Aitana
The sleek combination of the pastel pink frame with black outer edges at the rim makes the Aitana a refreshingly stylish eyewear. If you don't fancy the black highlight, you can choose from the other designs that feature transparent white, pink, tortoiseshell, and purple tortoiseshell. The pointed upper corners of the frame flatter an oval face very nicely.



4.Venus
If you are looking for trendy glasses for women that are great for daily wear but that can make heads turn at the same time, the Venus cat eye in the grey-pink combination is an excellent choice. It has a sensible but extremely fashionable design that is perfect for any woman with an oval face.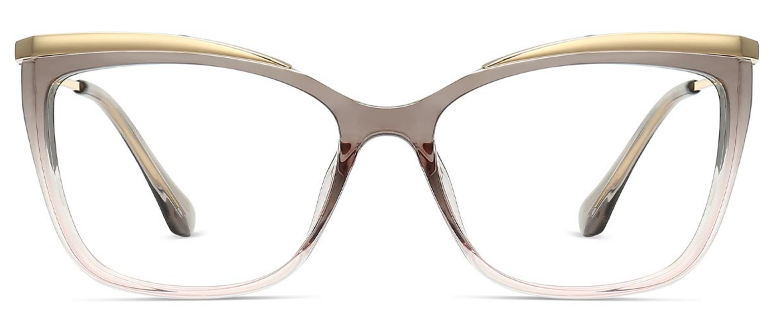 5.Hayes
Who says oval glasses don't work for oval faces? The Hayes oval glasses are not only very flattering to women with oval faces but they also come with a very interesting contemporary pattern on the rim. It gives off a fun and artsy vibe and will make you look more smart and creative. It is also made of a lightweight material so you can be comfortable wearing it all day. We love the blue design but you can also get the Hayes in tortoiseshell and black.

6.Ruthenia
Another pair of trendy glasses for women that have a nice colorful pattern, the Ruthenia square eyeglasses are perfect for a woman with an oval face. The angular edges of the frame create balance against the soft curves of the face. This frame is only available in the colorful camo pattern, which is very effective in drawing attention to the eyes.

7.Finian
Nothing says trendy more than a bold splash of color and that is definitely what you will get with the Finian oval glasses for women. The style that comes in the bright rainbow colored frame is loads of fun and perfect to wear for hanging out with your friends. There are also other styles and although they are not as colorful, they do have variations in shade and glossiness that make them just as interesting and stylish.

8.Tess
They say that diamonds are a girl's best friend. If that is the case, then these square Tess fancy diamond glasses would definitely be in the clique. Lined with sparkling stones all around the front of the frame, these trendy glasses for women are great to wear for dress up occasions like a romantic date or a night out with the girls.

9.Ozara
Fun, flirty and stylish are some of the words that can be used to describe the Ozara cat eye glasses in red. These glasses can actually double as jewelry because of the adorable rhinestones featured at the corners of the cat eye frames.

10.Delicia
Finally, to round up our list of best trendy glasses for women is the Delicia, another cat eye glasses that come in classic tortoiseshell, pink tortoiseshell, and transparent. Again, the cat eye uplifts an oval face very effectively and flatters the eyes and cheekbones.

Recommended articles:
Women sunglasses guide for oval face
Men's sunglasses guide for oval face
5 stylish glasses for oval face
The 10 best trendy glasses for women with oval face
How to choose the best sunglasses for oval face?