The best orange sunglasses for men and women
Shopping for sunglasses is such a joy. You will certainly be spoilt for choice because not only are there so many different styles, sizes and colors of frames, but the lenses come in a large variety of hues as well! And of the many colors available, the one that has been really standing out recently is orange.
Aside from the fact that orange is indeed a gorgeous color, there are a few other reasons why orange sunglasses are so popular, and some of them might even surprise you. For instance, orange-tinted lenses can dramatically improve visibility in low-light or foggy conditions. They also help in filtering blue light, which is said to be harmful to the eyes.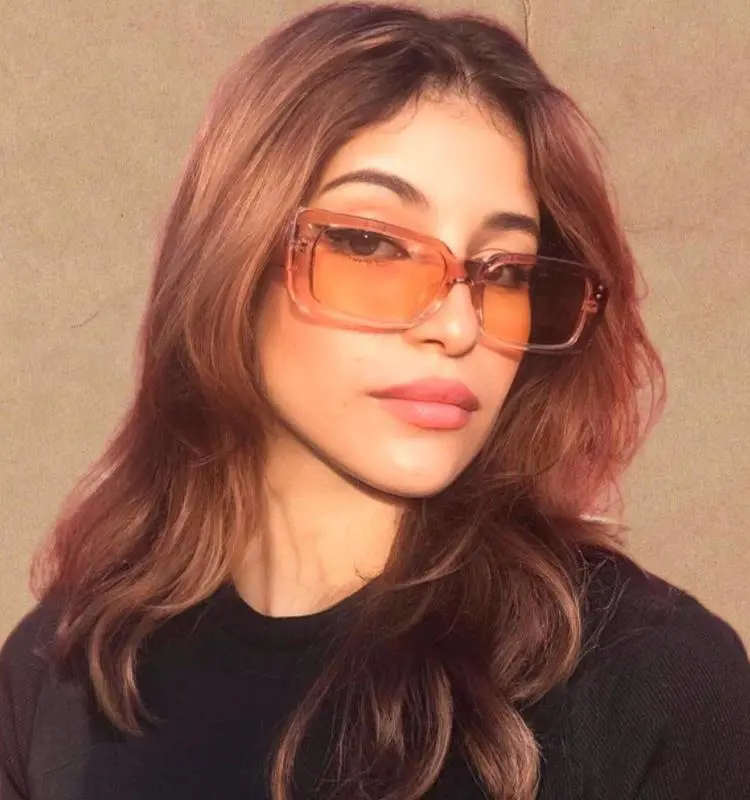 Are Orange Sunglasses Good in the Sun?
Orange sunglasses are very popularly used in outdoor activities like fishing and hunting because they are indeed good for sunny conditions. First of all, they can shield your eyes from the UV rays of the sun. They can also diminish glare, making you see better in outdoor settings. This is also the reason why you would see a lot of tennis players donning orange sunglasses, as these make them see better and therefore deliver a better performance.
How to Buy the Best Orange Sunglasses?
When looking for the best orange sunglasses, you need to figure out a few things before you actually go out to the stores. You have to answer questions like – where do you plan to use them? What amount of sun coverage are you hoping to get? Are you looking for a metal or plastic frame?
Also, you have to figure out what kind of facial shape you have because this will point you in the right direction when picking your orange sunglasses. As a rule, round faces look nice with angular frames like square sunglasses or rectangle sunglasses and vice versa. There are some types of frames that complement almost any face shape, like the cat-eye, aviators or the wayfarer style. If you have an oval face, though, you don't need to worry about frame shapes because every single one of them would be flattering for you.
Best Orange Sunglasses for 2023
There has been an influx of amazingly cool orange sunglasses in eyewear stores recently that it's very difficult to take a pick of. There are so many beautiful designs to choose from and you just want to get them all! But if you are looking for just one, we have helped you by narrowing our list down to our three favorites, which we think you would love as well.
1.Bayan - Square Sunglasses in Gold & Orange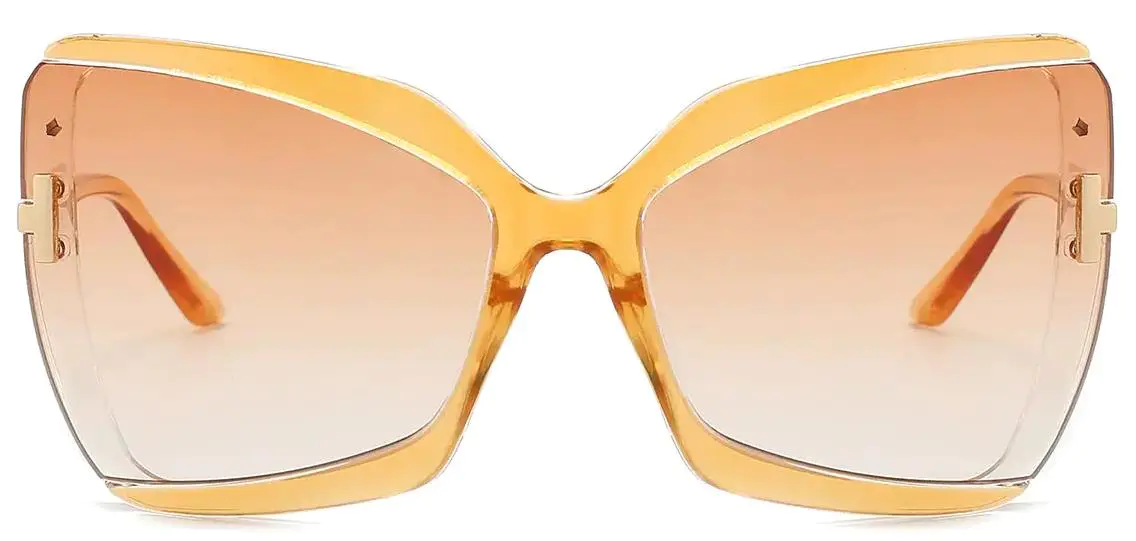 One of our favorite orange sunglasses for 2023 is the Bayan square sunglasses. Bayan means town in Filipino and when you wear this chic and stylish pair, you will definitely be the talk of the town, and in a very good way. There's a delightful orange on orange situation going on, with both the frame and the lenses showcasing different shades of the color. You will not have any problem with UV protection either because the oversized lenses give you ample protection. This pair is definitely a must-have accessory for this summer.
2.Rabih - Aviator Sunglasses in Gradual Brown, Grey & Orange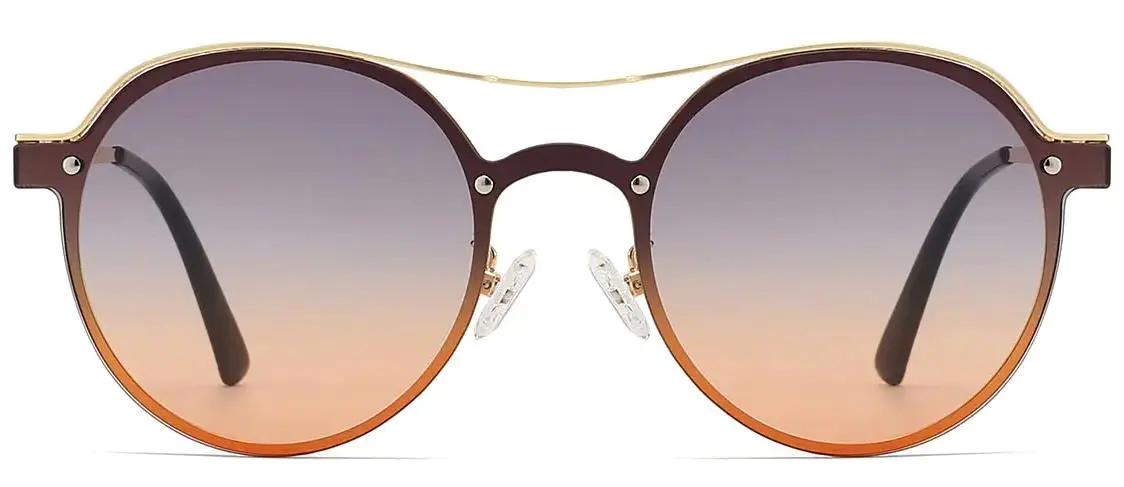 If you love orange but don't want to go overboard, the Rabih aviator sunglasses are the perfect choice. Looking at the gradient on the lens is just like staring at a spectacular sunset. From the lovely orange hues at the bottom, it slowly changes to light brown and then fades into gray. The classic aviator style also adds a retro charm to this piece of eyewear, which is certainly an accessory that would elevate the look of any outfit. Keep your eyes completely protected in style by wearing one of these beauties every time you go outdoors.
3.Ezekiel - Rectangle Sunglasses in Gold and Orange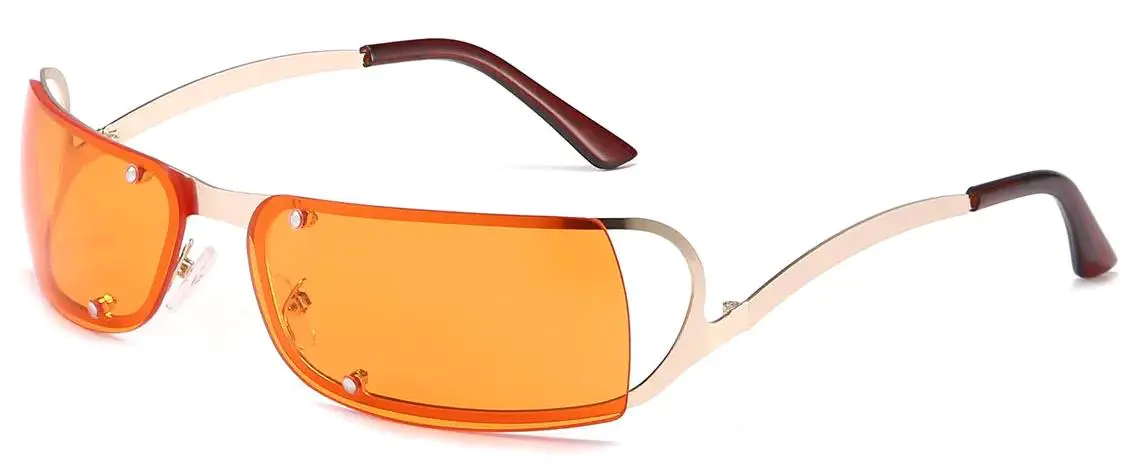 Looking for supreme eye protection without sacrificing style? The Ezekiel rectangular sunglasses are the perfect choice. They come in a very unique, ultra-modern design that has an almost industrial edge to it, making it absolutely perfect for the modern male. The lenses are unmistakably orange, featuring an anti-reflective coating that makes it extra effective in improving vision in the sun. Wear it everywhere and you will surely get admiring sunglasses wherever you go.
Related articles:
Buying the best oversized sunglasses in 2023
The best clip on sunglasses for glasses in 2023
Best sunglasses for small faces in 2023
Best sunglasses for men: 2023's new style
2023's best sunglasses for women: keep trendy
Ultimate guide to buying the best sunglasses for your face shape
Sunglasses color guide: what color fits you best?
Explained: what do yellow sunglasses say about you?