Are heart-shaped sunglasses in style?
They're chic, cute, and flattery. Who would not want to have a pair of heart-shaped sunglasses? Whether you see them worn on TV, in films, on runways, or on some eyewear shelves at a department store, they surely catch your attention. The sunglasses' playful shape and the different colors are already a testament to the frame's popularity.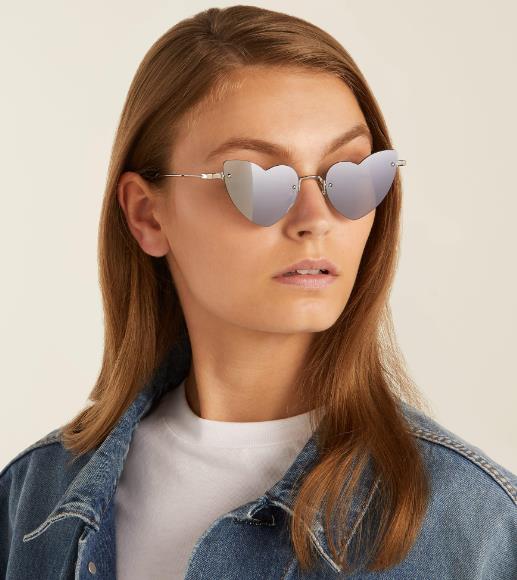 Are heart-shaped sunglasses in style?
As the name suggests, the frames took their reference from a heart shape. It combines the traditional round frames with a cat-eye style. In most cases, they are lightweight, making them easy to wear on any occasion.
These frames never go out of style. They have cemented a name in sunglasses culture, with a retro and 1970s touch to any outfit. If you're into vintage clothing and funky attire, heart-shaped sunglasses are for you.
Heart-shaped sunglasses are iconic frames that date back to the 1950s. While they may not be appropriate to wear for business and formal meetings, in some cases, they're what you need to put extra like on any special day. These sunglasses can be delightful to wear at events and are excellent accessories for any youthful look.
You can find a wide variety of heart-shaped sunglasses in the market today. They come in tons of different colors and designs. Besides the plastic-made sunglasses, heart-shaped frames today have rimless, semi-rimless, glass, oversized, and metal variations.
Do heart-shaped sunglasses suit a heart-shaped face?
Generally, these frames can work in any shape. The key is to wear it with confidence. They are relatively fit for people with heart-shaped faces. You sure can look trendy with these frames. However, we give you a tip on how to make it classy and elegant. The more fashion-forward take to wearing sunglasses is to choose heart-shaped ones in pink lenses with metal frames. They're more refined and subtler than a pair of plastic frames.
No, why would one want to wear heart-shaped sunglasses? Besides being trendy, they're one of the most accessible accessories to put on to jazz up a lousy outfit. They exude a youthful and playful attitude to any fit. They're fun, festive, and fitting for any gatherings and parties.
Furthermore, heart-shaped frames today can also be used for prescription sunglasses. If you're one of the curious ones, you must know that the frame can be heavier than usual. Higher prescription means thicker lenses. Consequently, they might be uncomfortable to wear daily. However, eyewear manufacturers today have optimized heart-shaped sunglasses to provide comfortability for every wearer.
Guide to buying the best heart-shaped sunglasses
Choosing the best heart-shaped frame is easier if you consider the following insights:
1. Design. The main shape might be a heart, but the sunglasses can have larger frames, thicker edges, and colors. Since the frame exudes playfulness, you can have colors that suit your personality and style.
2. Colors. Most heart-shaped sunglasses are in various shades of pink. But, if you want to move out from the usual, consider beige, olive green, warm red, honey, gold, and brown if you have a warmer skin tone. On the other hand, for cooler skin tones, opt for blue, silver, purple, gray, or mauve.
3. Face shape. Generally, these frames are ideal for any face type. But it still pays to check on your face shape and the appropriate frame shape for you. Heart-shaped sunglasses can be edgier with thicker frames or have a minimalist take with rimless frames. When choosing frames, one thing to remember is that they must highlight facial features.
4. Material. Of course, you do not want your eyewear to weigh too much on your face. Considering heart-shaped sunglasses' design, choosing lightweight products is beneficial. You can either inspect the sunglasses first before buying. However, if you buy online, check the manufacturer's material. Some stores indicate the estimated weight of the frame.
5. Durability. You may not use them daily, but your sunglasses must withstand impacts and bumps. Some manufacturers make anti-scratch sunglasses. This ensures that they will still look great after being used several times.
6. Cost. Branded sunglasses will surely cost you more. But, they are generally of high quality, which means they are durable. Sunglasses manufacturers today can produce durable frames at an affordable price. If you can afford branded ones, they go for it. However, one can also score smart finds and combine affordability and durability in one product.
Where can I wear heart-shaped sunglasses?
Here are a few ideas on places and occasions were heart shaped sunglasses might be fitting to wear:
1. Music festivals. Whether it's an outdoor concert or an intimate indie show in a small cafe, you can grab those heart-shaped frames to add fun to the event. These sunglasses will add more life to your fit regardless of your outfit - either a band T-shirt or a jean jacket.
2. Fashion events. It's not always that you get to visit fashion events. But if you do, you must put your best foot forward. Put on those heart-shaped shades and pair them with the best outfit you have for the event. You can even put on a classic and retro look with your sunglasses.
3. Parties. The same with festivals, fashion events, and parties are fun and allow you to wear whatever you want. Of course, except for formal ones where there might be dress codes. A cute pair of heart-shaped sunglasses give you a chic and fun look as you strut your moves on the dancefloor.
4. Art galleries. You can always experiment with your art. Contemporary art galleries globally are known to wear bold and bright eyewear. This is their way of showing off creativity and originality. Curators, artists, and gallerists are usually known for donning funky sunglasses like heart-shaped frames.
5. Special occasion. Whether it's a date night, Valentine's Day, informal gatherings, or just for photography purposes, you can trust your heart-shaped sunglasses to add fun to every event. Additionally, these eye-catching frames allow you to stand out in the crowd and your holiday photos.
Recommended articles:

Buying the best heart shaped glasses

Best cool sunglasses for men & women: upgrade your fashion