Are wrap around sunglasses in style?
Sunglasses are very popular because they protect you from UV rays. Nowadays, they don't serve only that purpose. Sunglasses are now a part of fashion. People wear them to complement their appearances. There are different types of sunglasses. For instance, the wrap around sunglasses. Wrap around sunglasses are mostly used for summer sports. Also, just like the traditional sunglasses, wrap around sunglasses started becoming a fashion style. Generally, they have semi-circular frames that go around your head. These wrap around sunglasses provide peripheral coverage.
Wrap around sunglasses were first used by sportsmen. Especially for cyclists and sprinters. It became an even more popular fashion trend when Balenciaga and Prada decided to add style to this look. Just like every fashion trend, wrap around sunglasses first originated in the 90s. Big stars like Andre Agassi and Pharrell Williams used to rock these glasses in the 90s.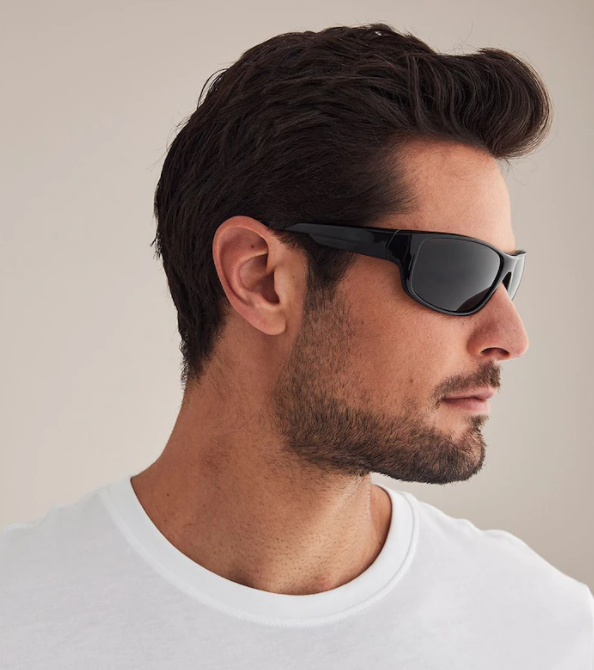 Who are best suited for wrap around sunglasses?
These wrap around glasses suit certain people with certain face shapes. Here are some of the face shapes that look good wearing wrap around glasses.
Diamond Shaped Face
People with diamond-shaped faces usually have narrow foreheads and jawlines. Also, the cheekbones are broad and the chins are pointed. Furthermore, if the widest part of your face is the middle then you fall under this category. These diamond-shaped faces look good when putting on a gently curved wrap around sunglasses.
Oblong Face
Oblong faces are defined by the similarity of the cheeks, jawline, and forehead. Also, for some people, the down part of their face is longer than the top. Oblong faces are also referred to as rectangular faces. They are long and narrow with soft features. They usually go well with oversized wrapped around sunglasses. These oversized sunglasses protect their eyes and facial skin from UV rays. Also, it helps complement their unique features and spectacular face shape.
Oval Face Shape
Oval faces are long, and have broad cheekbones. People with oval-shaped faces have softly curved jawlines. Also, they possess wide foreheads. Their foreheads are even wider than their chins. People who possess these features are considered lucky because they can wear any style of glasses they like.
Round Faces
A round face is known to have fuller cheeks with a wide forehead. Most times people with round faces possess very soft jawlines. When looking for perfect wrap around sunglasses for round faces, the best fit will be the ones with angular shields. Because angular shields help complement their curves.
Are wrap around sunglasses better than other sunglasses styles?
Well, they are not better than all of them. However, they are more practical. They help you see clearly even with extremely bright light. Here are some advantages and disadvantages of wrap around sunglasses.
Advantages
1. A wrap around sunglass performs its duty without exception. It protects you from the harsh UV rays completely. Also, these sunglasses wrapped around your head hardly falls off no matter what.
2. Wrap around glasses are very comfortable and they fit perfectly most times. Especially when you buy one that is your size.
3. These wrap around glasses offer the wearer a very wide peripheral vision.
4. The designs for wrap around glasses are both feminine and masculine.
Disadvantages
1. They might be too expensive.
2. Some of them give you sports looks
3. The style is limited to the summer.
Useful tips for buying wrap around sunglasses
Here are some tips that will help you as you shop for wrap around sunglasses.
1. Try looking for one that gives you enough peripheral vision. At the same time make sure you look for one that doesn't block your view.
2. Make sure you look out for your size. Do not buy these glasses without testing. Your comfort is at stake if you get something too small or too big for you.
3. Your budget. Do not buy any of those overpriced wrap around sunglasses. You don't need the overly priced wrap around sunglasses if you don't earn enough to buy them.
4. Consider your face shape too. You can research to know what style of these wrap around glasses will fit you better.
5. Consider color. Look around for different colors and pick one that compliments your skin complexion.
Recommended articles:
How to find the best clubmaster sunglasses for men?