How to choose the best golf sunglasses?
Choosing sunglasses to wear on your golfing days can be fun and overwhelming at the same time. With all the choices that are available today, it might be confusing to identify which ones are actually helpful to use from those that just look nice. In this article, you will quickly learn how to pick the right golf sunglasses for you.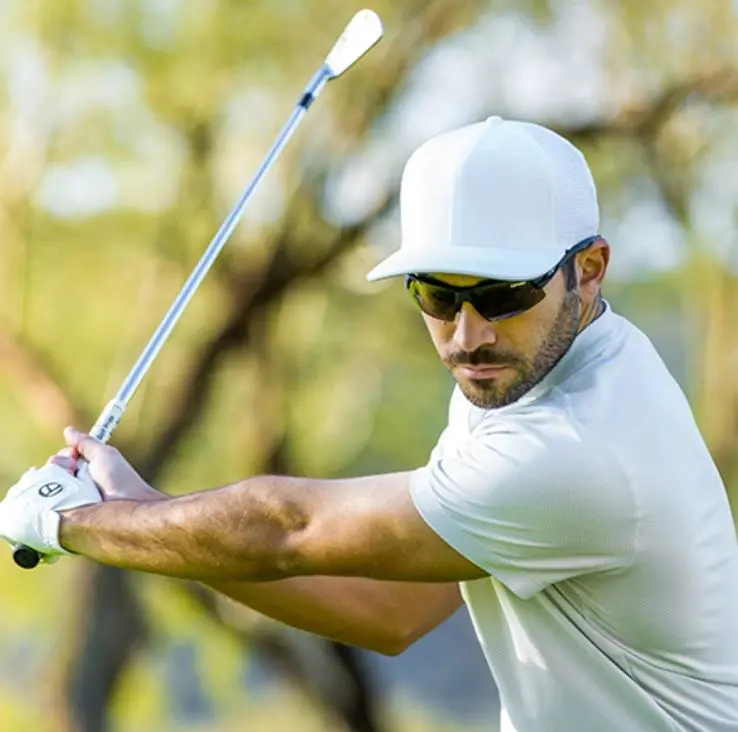 Why do golf players need sunglasses?
Seeing that it's mostly an outdoor sport, one of the main reasons why golf players need sunglasses is to protect their eyes from the harsh glare of the sun. Golf games can take a long time to finish and the extended exposure to bright sunlight can be harmful to one's vision. Lenses with adequate UV protection can help a lot with this.
Another important reason why golf sunglasses are vital is because they can significantly improve a golfer's performance on the green. Aiming can get difficult if the sun is too low during the early morning or late afternoon. The glare can affect the accuracy of a golfer's swing and cost them a point or two, and maybe even the entire game.
Of course, there is also the purpose of looking good during the game. It's a social game and you definitely don't want to look drab next to your opponents. There are many stylish golf sunglasses that you can choose from these days to help you look your best and who knows, maybe even intimate with your opponents.
Are polarized sunglasses good for golf?
There is a lot of talk about polarized sunglasses being the best option on the golf course, but that is not necessarily true. Polarized sunglasses do help a lot in reducing glare, but this is mostly when you are surrounded by water, like when you go boating.
When you play golf, you are surrounded not by water but by grass. The greenery also has a sheen but it's a different kind. If you use polarized sunglasses while playing, this might throw off your judgment of the glare, which might harm your performance.
How to find the best sunglasses for golf?
You can actually easily pick out the best golf sunglasses by keeping in mind a few important things – shape, lens technology, and coverage.
1. Flattering shape
Shape is one of the criteria to consider when choosing the best golf sunglasses. In this department, the deciding factor would be the shape of your face. For instance, if you have a strong jawline and a narrow forehead, aviator sunglasses would complement you perfectly. Round faces usually look great with rectangular sunglasses. People with oval faces have the most choices because most types of eyeglasses would look great on them.
2. Adequate protection
When it comes to the lens, you absolutely need to pick one that offers UV protection. However, some UV lenses can also reduce the clarity of vision. You do not want to have this problem when you are squinting to make a good swing on the golf course. Pick one that enhances contrast and makes you see more clearly on the greenery.
3. Ample coverage and right fit
Finally, you need to consider coverage and the right fit. Some sunglasses can seem fine when you wear them normally but when it's time to hit the ball, you might find that they can inhibit your range of vision. It's best to try some practice swings while wearing the sunglasses before you make a final decision. Also, the fit is very important. You don't want to have your golf sunglasses sliding down your nose at the last minute and taking away from your concentration.
Recommended golf sunglasses
There are plenty of great-looking golf sunglasses that you can buy, and here are a couple of our top picks from Lensmart.
1. Kahlo Rectangle Brown Sunglasses
Suitable for both men and women, the shape and design of the Kahlo rectangle sunglasses make them the perfect accessory to wear on your next golf game. They are lightweight and very comfortable, fitting snugly around your face while giving you adequate protection from the sun. This pair is also available with black and blue lenses.
2. Tuku Aviator Sunglasses
Aviators are among the most popular choices in golf sunglasses and it's not difficult to see why. The classic design gives it a sporty look perfect for the green but can also be worn whenever you are not playing. This pair of Tuku aviator sunglasses is available in a few different frame and lens combinations, but we love this gold and brown pair that would complement any golf outfit very nicely.

Recommended articles:
How to choose the best tennis sunglasses?
How to choose the best cycling sunglasses?
How to choose the best running sunglasses?
How to buy the best fit over sunglasses?
Choosing the best mountaineering sunglasses for you
Guide to picking the best sunglasses for fishing
The best polarized clip on sunglasses for fishing