Everything you need to know about vintage sunglasses
Vintage sunglasses never go out of fashion. When it comes to eyewear, trends come and go, but the classics never go out of style. Retro sunglasses styles might even be more popular now than they ever were in the '60s and '70s. But why are vintage sunglasses so popular? And how can you find the perfect pair of retro sunnies?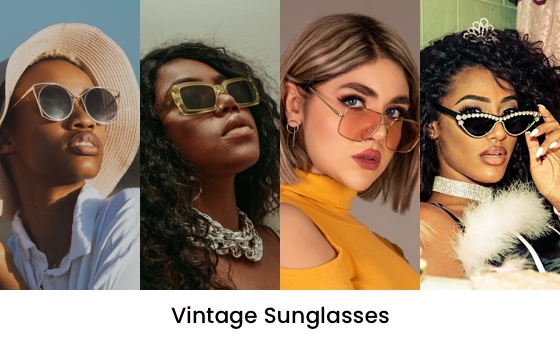 Why are vintage sunglasses so popular?
To fully explain how and why vintage styles never go out of fashion would take far too much time to surmise in this blog post. So, I will be giving you a rundown of the most popular vintage sunglasses styles and explaining why and how each one rose to popularity.
Firstly, let's begin with aviator-style frames. Created in the 1930s by Bausch & Lomb to protect the eyes of pilots, this style didn't become a fashion statement until much later on. In 1944 General Douglass Mcarthur was captured wearing his aviators in an iconic photograph which may have sparked the aviator craze.
After the war, aviators were marketed as emblematic of American patriotism and became hugely popular amongst all: men, women, and children. The craze continued as the century developed when disco entered center stage in the '70s and brought oversized sunglasses with colorful lenses into the spotlight. Then movies such as Top Gun and music stars such as Madonna brought aviator sunglasses onto stages and silver screens which ensured that they would never go out of trend.
Next, we move on to the second most recognizable retro-styled frame: the cat-eye. Marketed as a new era of women's fashion, cat eye sunglasses were favored by several Hollywood stars such as Marilyn Monroe, Grace Kelly, and Elizabeth Taylor. But cat-eye frames reached the height of popularity when famous actress Audry Hepburn wore them in the blockbuster film "Breakfast at Tiffany's."
The Cat-eye styles of the '50s and '60s included a large frame and small lenses. The half-rimmed style was also very popular at the time. Nowadays, cat-eye glasses are much larger and fit a wider variety of face shapes. In more recent years, this style has been seen on the faces of stars such as Scarlett Johansson, Katy Perry, Jessica Alba, Olivia Palermo, Nicole Richie, and Zoe Saldana.
How to pick the best vintage sunglasses?
But which pair to pick? It is so very difficult. Admittedly, I have only had the time to discuss two of the many vintage styles available on the market, so I suppose my first tip would be to explore all your options. Some styles I didn't have time to mention includes browline, wayfarer, and tea shade glasses.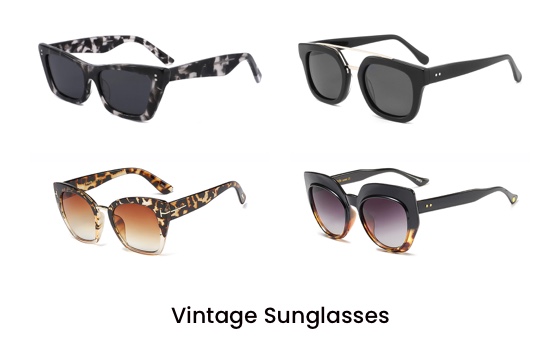 Now, secondly, learn your face shape. Is your face more of an oval, a pear, a square? Knowing your facial features and, even better, knowing which parts of your face you want to accentuate is a great starting point for finding your next pair of sunshades. For example, say you wanted to draw attention away from your jaw and more towards your eyes and forehead, in which case the top-heavy style of the cat-eyes would be a perfect fit for your needs.
Thirdly, find the perfect color. Your skin tone, eye color, and hair color can affect which colors will best suit your style. Find out your skin tone and its undertone before then researching what types of colors fit your skin tone best. Of course, you can try on any color you like. Style is an art, not a science, and all that matters at the end of the day are if you like them.
Vintage sunglasses trends
The '70s are here, and they want their shades back. The 1970s has taken a quick visit to 2021 for some inexplicable reason. Oversized retro square frames are super on-trend right now. So if the more rounded styles of the previously mentioned cat-eye and aviator frames weren't your sort of thing, you might want to try out some boxy square shades instead.
Speaking of cat-eyes, they are on trend this year in a big way (pun entirely intended). Oversized cat-eye frames are in style this year, though when aren't cat-eye frames in style, let's be honest. I recommend you pair it with a tortoiseshell pattern for a full on-trend effect.
You know how I said aviator sunglasses never go out of style? Well, they have been on the runway recently, so now they are even more on-trend. Versace's spring/summer 2021 show included a number of ready-to-wear summertime accessories, including a number of fun aviator-shaped frames. So whilst you definitely don't need to be wearing runway fashion to look good by the poolside, knowing that aviators are incredibly on-trend right now might help guide your decisions next time you shop.
Recommended articles:
Everything you need to know about oversized sunglasses
Everything you need to know about trendy sunglasses
Everything you need to know about vintage sunglasses
Everything you need to know about reading glasses