Men's sunglasses guide for heart-shaped face
An excellent accessory and functional tool, sunglasses are the finishing touches on any outfit. A pair of trendy shades is not just a fashion statement but also a necessary item for blocking excessive sunlight. For this reason, finding a pair of sunglasses befitting your style and face type is essential.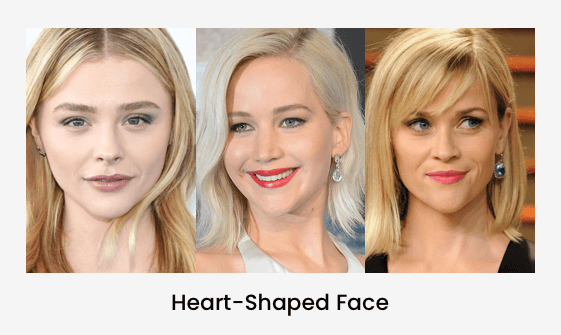 However, choosing the right pair of sunglasses for you can be a challenging task. A huge variety of styles, changing fashion trends, and personal taste are all factors to consider when finding out which pair suits you best.
One of the easiest ways to help find the best sunglasses for you is by knowing your face shape. By choosing glasses that suit your face shape, you can accentuate your most unique facial features and provide an alluring look.
Today we will be exploring the characteristics typical of heart-shaded faces and identify a few pairs and styles which will suit you best. But before we begin, I should first mention that styling is an art and not an exact science. This guide is based on accentuating conventionally attractive features to find out which styles will suit you, but there is more to styling to face shape.
Heart shape faces are commonly characterized by a narrow chin, high cheekbones, and a broad brow. Usually similar in appearance to round faces; however, heart-shaped faces will have a wider forehead, narrow jawline, and widow's peak. Some people may also call it a V-shaped face.
A few styles befitting heart-shaped faces include cat-eye, rounded, square and aviator sunglasses. The aim when styling for a heart-shaped face is to balance out the brow-jaw proportions. You may also want to consider styles that draw attention to your high cheekbones and forehead. The common goal is to draw attention away from your face's straight edges and instead make a more elongated look. Though giving the illusion of a more rounded face isn't everyone's final goal.
So here are a few styles we have on offer here at Lensmart befitting of a heart-shaped face.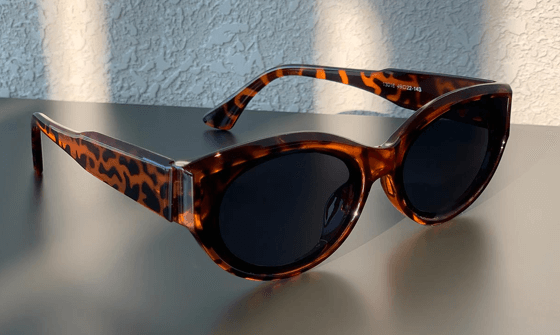 The timeless appearance of the cat-eye style is an excellent choice for anyone with a heart-shaped face. These retro-style frames can help contour your face, balance your features and highlight your prominent cheekbones.
The rounded cat-eye style of the Millie frame would be well-suited to a hear-shaped face. Not only will the teardrop style reduce the appearance of your forehead, but the curved style can also help soften your angular features drawing attention to your eye and cheekbone.
I especially recommend the Millie frame in transparent or light colors. A hidden frame or light-colored frame is the best style to be selected by someone with a heart-shaped face. They add length to your face and don't detract or clash with your sharp features.
I would consider the Millie frame to be a standard oval sunglasses style suitable for anyone with a heart-shaped face. Not too showy, they complement your face without clashing with your best features.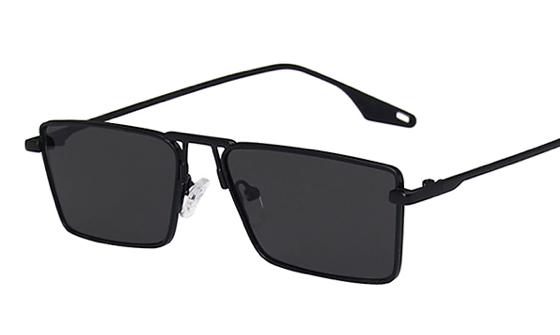 If you thought the rounded cat-eye style of the Millie frames was too feminine for your taste, then I would suggest the Bonnie frame. The rectangular style helps provide balance to heart-shaped shapes and can add structure to your features if they are curvy. The defined look of rectangular shades is perfect if you want to add some traditionally masculine structure to your facial features.
The Bonnie frames come with golden frames and a range of colored lens tints that provide a stylish and trendy look. You could also opt for the plain black option if drawing attention isn't your end goal. The thin metal frames are perfect for heart-shaped faces since they allow your gorgeous facial features to speak for themselves.


I would like to recommend the Noa frame for a nice middle ground between the Bonnie and Millie style with a fun contemporary twist. These bold acetate rectangular frames are an excellent statement piece sure to make you the life of the party. The rectangular shape will help provide balance and add structure to the curvier features of your face. However, if you found the strong geometric style of the Bonnie frames too jarring, then the slightly more rounded Noa frames might be an excellent choice.
Like the Millie frame, I recommend the transparent color options for heart-shaped faces since bolder color options may clash with your features. They come in a fun range of transparent options, from clear to bright orange.
Recommended articles:
Men's sunglasses guide for round face
Men's sunglasses guide for oval face
Men's sunglasses guide for heart-shaped face