Total Width: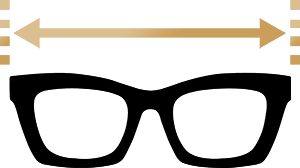 Thick Frame Glasses

FAQ About Thick Glasses
Are thick frames better for thick lenses?
Thick frames are not necessarily better for thick lenses. Instead, the thickness of the frame and lens should find a balance. Thicker lens needs a thicker frame to support it. However, frames that are too thick can make glasses heavier and uncomfortable to wear. Thus it's important to find a pair that can achieve the best visual correction and aesthetics for you.
Are thick frame glasses more expensive?
Not necessarily. Sometimes thick frame glasses can be more expensive than thin frame glasses, especially when they are made of higher-end materials or with more advanced optical features. Thick frames are generally made from thicker materials which cost more than thinner frames. They may require more complex manufacturing processes, which can also increase the cost of production.
Are thick frames harmful to my vision?
No, thick frames are not harmful to your vision, but there are some possible issues when wearing them. Some thick frame glasses may have too large frames for you, which can cause the glasses to sit too low on your nose and make it uncomfortable to wear for a long time.
Thick frame glasses can sometimes cause visual distortion if the prescription is not accurate enough, and this will affect how well you see objects and people.
What thick frame glasses are in style?
Thick frames with rounded curves are a classic and look good for those with angular face features. Thick cat-eye frames are unique and playful, and they give a more feminine and playful look. Thick frames with bold design are also stylish and cool. Learn more.
Do thick eyeglasses look good?
Yes, thick eyeglasses do look good. These glasses can create a more vintage and retro look, as thick frames often remind people of the glasses their grandparents wore. And their thick temple arms can provide better support and stability, which can make the eyeglasses sit better on your face.
Related eyeglasses categories
All eyeglasses
Women's eyeglasses
Men's eyeglasses
Designer eyeglasses
Black eyeglasses
Square eyeglasses
Oversized eyeglasses
Reading glasses