The newest guide to aviator sunglasses for women and men
A classic vintage style bound to never go out of style, aviator sunglasses are timeless and always on trend even after around 90 years since they were first created. Originally created for American fighter pilots during world war two, the aviator style became emblematic of American patriotism and military effort before then later becoming a classic style beloved worldwide. This style later became associated with the Hollywood stars due to their feature on the silver screen in movies such as Top Gun and Skyfall.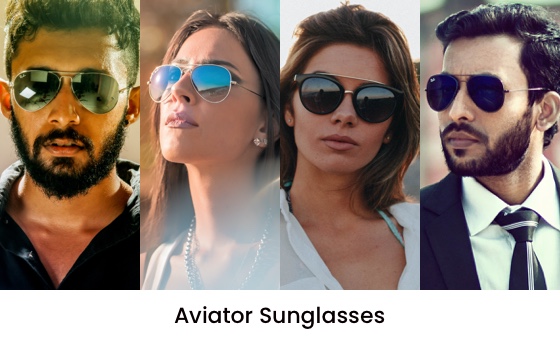 When American fighter pilots traveled worldwide, they brought their standard military issue ray-ban aviator glasses with them, which allowed the countries' residents to connect the dots between aviator glasses and Americanism. In fact, just the other day, I was watching a Japanese sci-fi show from the 60s, which featured a pair of ray-ban aviators. In an episode featuring an American secret agent, he wears gold frame aviator sunglasses to showcase his nationality. That is just how powerful aviator glasses are; their influence travels far and wide.
Are aviator sunglasses unisex?
I would argue that no single garment or accessory is inherently gendered. At the end of the day, sunglasses are bits of wire and acetate with tinted glass and crystal lenses. You can wear any item of clothing or accessory, with the only rule being that you feel comfortable and happy wearing it.
But it's true that as a society, we assign genders to inanimate objects such as clothing and eyewear and that certain styles will enhance perceived ideas of masculinity and femininity. I would argue that whilst aviator glasses are unisex and always have been marketed as unisex items, they do have a certain masculine connotation stemming from their military origins.
When the aviator style was first readying for liftoff, they were marketed as sunglasses for everyone: men, women, and children. Since aviators were first seen on the faces of American fighter pilots, they were advertised to all Americans as a symbol of patriotism wearable by anyone. They even had pilot Amelia Earhart to pitch this patriotic fervor to the average American woman.
So, yes, aviator sunglasses are most certainly unisex, but when worn by women and paired with other tomboyish items, it might result in a more masculine look if that's what you are going for.
How to choose the right aviator sunglasses?
To get this right, we have to understand two things: aviator sunglasses don't always look conventionally good on all face types, and there is more than one type of aviator style frame.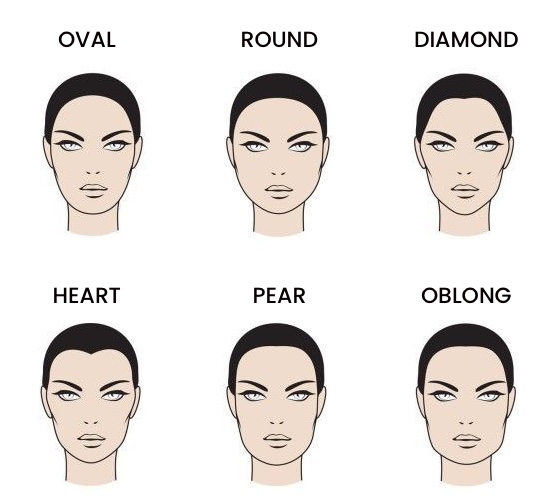 Let's begin with the face shape. Luckily, the aviator style is pretty versatile. Its mixture of hard and soft lines means that it works well on nearly every face shape. But generally, speaking, aviators look best on diamond, heart, oval, and square faces. Aviators aren't typically recommended for people with rounder or narrower faces.
If that sounds like you, but you don't want to miss out on the aviator craze, then don't fret. Style is an art, not a science, and these recommendations are only based on enhancing conventionally attractive facial features. The easiest way to see if aviator glasses suit you is to try some on. You won't know until you try.
Plus, there may be only one iconic original aviator style, but a lot has changed since the 1930s. There are now plenty of variations on this classic style that might be better suited to other face shapes. Aviators aren't one size fits all. Try out different frames, lens tints, colors, and rim types to find the perfect pair of sunnies for you.
Aviator sunglasses for women
Good news, ladies, the aviator style has been back on the runway this year in Versace's spring/summer 2021 show. The runway lineup included a number of ready-to-wear summertime accessories, including a number of fun aviator-shaped frames. Most of these frames boasted marine theming with green and blue-tinted lenses.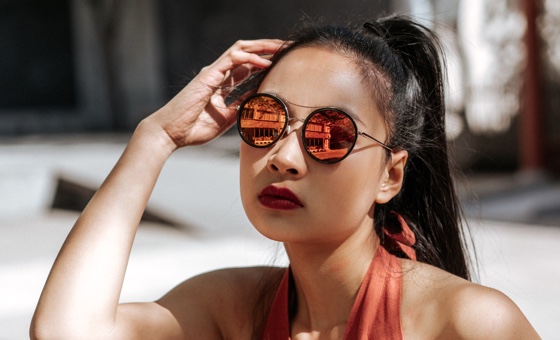 Color tinted lenses are very in right now. One of the most prominent styles at the moment is the 90s pop star influenced. Small, teeny tiny tinted shades are in, and honestly, any sort of tinted shade is on-trend. The aviator style frame in fun color combinations is an excellent twist on this classic look.
Or you could opt for the tried and tested classics. Why innovate when we have a perfectly good design already? Aviators are effortlessly stylish and cool and match with nearly anything. Tinted lenses and colored acetate could potentially clash with other items of clothing, so the timeless original aviator style is perfect for people who don't fuss too much about fashion.
If you are into industrial style fashion, streetwear or certain fashion subcultures you could consider visor type aviators, which cover a large portion of your face. This style is far from traditional, so it's great for anyone into alternative fashion. It also pairs very nicely with tinted lenses.
Aviator sunglasses for men
Aviator glasses for men? Oh, the answer for this is easy: stick to the classics. If you are a traditional manly man, then you are likely looking for a style just like or very similar to the original ray-ban aviators. For an extra touch of coolness, I would also suggest mirrored lenses since they are so often seen in action flics and on the faces of prominent celebrities.
But wait a moment, don't forget to have fun with it. All of the points made within the "for women" section are still applicable so that you can enjoy funky tinted lenses and huge visor-type frames too. I would also like to mention that you should consider a few contemporary aviator sunglasses shapes if you want to explore some more creative styles but don't want to go all-in just yet. Try out some more geometric versions of the original aviator design. Do you want wire or acetate, and what color? There is a whole world of options out there. Don't be afraid to try something new.
Recommended articles:
The newest guide to choosing stylish clip-on sunglasses
The newest guide to trendy glasses for women and men
The newest guide to aviator sunglasses for women and men