Prescription safety glasses: buy the best pair online
For people in the workforce with vision problems, prescription safety glasses go a long way in making them more productive. This eyewear is more than an accessory—you can count on these glasses to protect you on the job. As such, you should understand how it works and why you may need to buy it.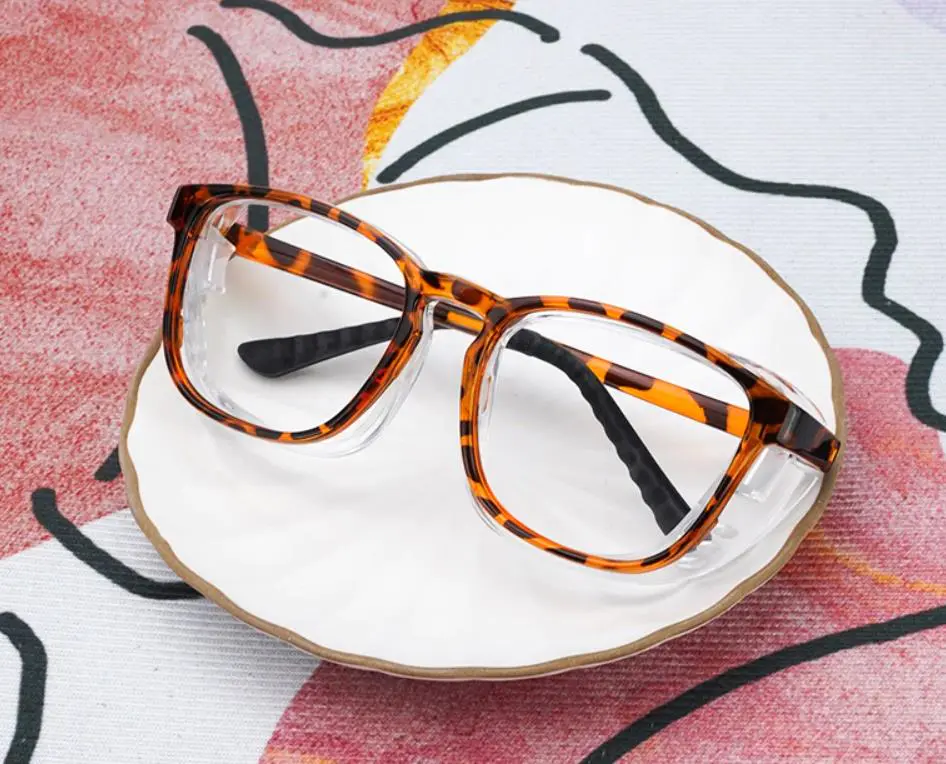 What are prescription safety glasses?
In general, goggles or glasses are a part of the worker's overall safety gear. This eyewear provides eye protection against harsh particles at the workplace, such as dust and debris. Standard safety spectacles can also shield your eyes against UV radiation. However, the typical safety eyeglasses don't come with prescription lenses.
That is where prescription safety glasses come in useful. This type of eyewear has the features required for standard specs for safety in the workplace. In addition, it comes with a eye prescription on the lens to correct the wearer's vision. For instance, if you suffer from myopia, you need 'minus power' lenses, a concave-shaped lens to help you see far objects.
Now, what are the key differences between regular glasses and those incorporating a prescription? Here are some points.
Material
Prescription glasses let a person see better despite their vision problems. As such, the lens should have optimal transparency and thinness. The usual prescription optics may lose their clarity when adding an anti-shatter layer. However, safety glasses require this feature to provide the best protection. That is why safety glasses with prescription may use polycarbonate, an impact-resistant material.
Design
Safety glasses have a specific silhouette that covers a large portion of the face, particularly the eye area. Most designs have a side shield to provide peripheral protection. Wraparound frames are also a staple safety glasses style since they help guard your face against flying particles and hazardous materials. On the contrary, most ordinary prescription glasses are light and are only large enough to protect the eyes.
Are prescription safety glasses worth it?
People who work hazardous jobs will need safety glasses with a prescription if they need vision correction. Regular eyeglasses do not offer the standard level of eye protection that specialized safety spectacles deliver. In the same sense, non-prescription safety glasses cannot help the employee see better, which endangers them at work.
Therefore, prescription safety eyeglasses are crucial in such situations. It prevents you from working with blurry vision and lessens your risk of eye injury. You don't need to wear your prescription eyeglasses or contact lenses underneath the safety goggles to perform your job. As a result, you can work comfortably and safely, making this type of eyewear a worthwhile investment.
How to buy the right prescription safety glasses?
The most important thing to remember when buying safety specs is that they should comply with certification standards. Typically, industrial projects require workers to fully don their gear. Personal protective equipment (PPE) includes certified safety eyewear, too.
When buying this type of glasses, you must look for certain features and a quality that passes the standards. You also need to look at durability, lens material, and coatings that add more protection for your eyes. Of course, your style preference will also matter in selecting the most suitable pair. Here's a quick buying guide for you!
1. ANSI certification
The American National Standards Institute (ANSI) is the governing body that sets safety regulations for eyewear. It also provides certification for other equipment involved in the job. It's not unusual for employers to provide or require workers to have safety eyeglasses. An ANSI certification signifies that the glasses are safe to wear and of high quality.
2. Lens technology
Prescription safety glasses are a must for workers with impaired vision. Therefore, it's vital to choose eyewear that provides optimum visibility for the wearer. Today's technology allows manufacturers to design safety specs with prescriptions. In addition, they incorporate ideal lens features like UVA and UVB protection, anti-scratch coating, anti-fog coating, and impact resistance.
3. Frame technology
With safety eyeglasses, choosing the right frame can enhance your look and protect your eyes at the same time. You have a great range of choices in terms of shape, color, and style. However, you also need to evaluate the frame material and construction. It should be strong and shatter-resistant without compromising on flexibility. That way, the eyewear sits comfortably on your face when worn.
4. Additional features
Some safety eyewear possesses specialized features that fit a certain type of job. For example, there are glasses that can protect you against different chemicals and harmful radiation. When choosing such features, you need to consider your line of work and what risks you can combat with the right eyewear.
Prescription safety glasses for men & women
Hanita - Square Safety Glasses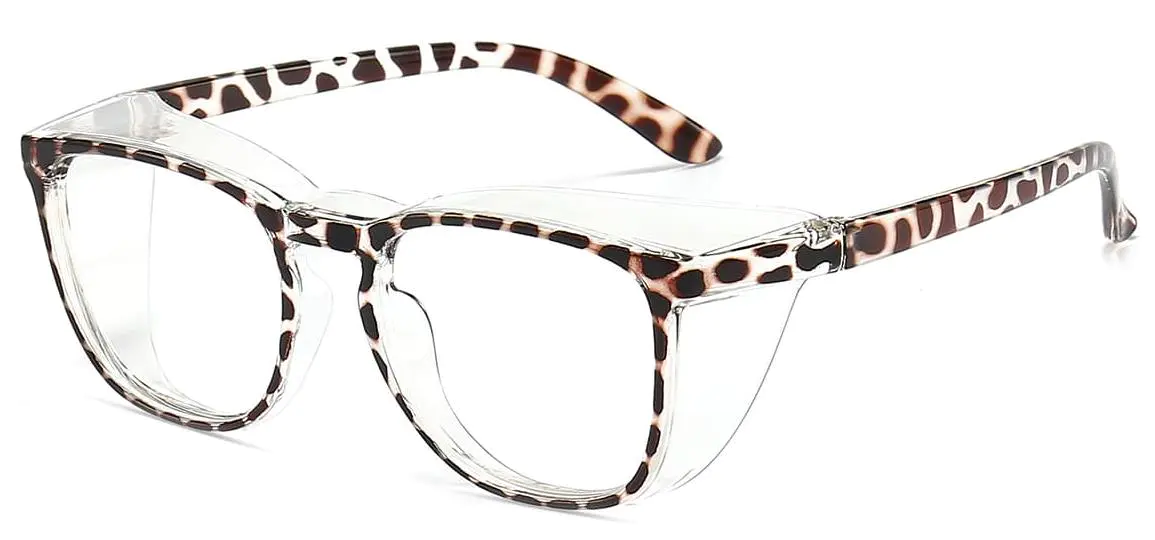 Most people assume that safety spectacles only come in plain colors, but the Hanita square safety glasses beg to disagree. The frame has an eye-catching spotted pattern in dark brown that makes it look like any other regular glasses. The rim is thin and will not hamper your vision while at work.
This eyewear features a side shield that offers fully surrounded protection against dust, debris, smog, and other hazardous particles. Made of high-quality TR90 thermoplastic, you can comfortably wear this pair since it is ultra-lightweight.
Osmer - Square Safety Glasses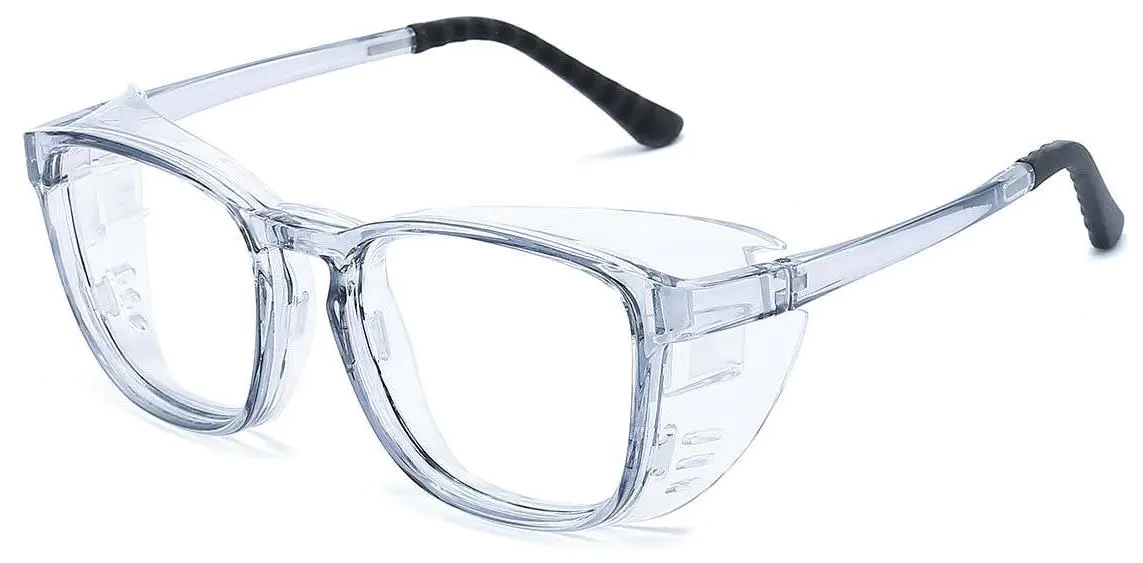 The remarkable flexibility of the Osmer square safety eyeglasses is all thanks to its TR90 build. This full-rim design is a two-in-one eyewear featuring a removable silica gel layer. This portion locks onto the base frame and protects your eye area on all sides. The side shield acts as a barrier against harmful elements like dust and chemicals and can even prevent bacterial infection.
The frame base is available in several colors, enabling you to choose a hue that flatters your face. It's a great option for workers who rely on prescription lenses to perform their tasks with ease.
Buy safety eyeglasses from Lensmart
Lensmart provides the form and functionality you need in prescription safety glasses. Moreover, you can choose from the best-looking eyewear that can also fully protect your eyes. You can see how these frames look on you with the virtual try-on, so be sure to check it out when you shop today!
Related articles:
Ultimate guide: how to read eye prescription
Prescription sports glasses explained
Choosing the best mountaineering sunglasses for you
Prescription safety glasses explained
Buying the best prescription goggles for adults & kids
Is it worth buying prescription sunglasses?