Guide to buying the right fake glasses (non-prescription glasses)
Knowing how to accessorize is vital if you want to get in style, and this guide to buying the right fake glasses is worth the read. Some people assume that eyeglasses are only for people who need a prescription. However, anyone of any age can wear this accessory. The key is to find the right type of eyewear that fits your fashion taste and personality.
Fake glasses, commonly called non-prescription glasses, do more than update your style. You can have a fresh and hip appearance simply by donning a pair of this eyewear. They are popularized by actors, actresses, and other famous people who want a different look using eyeglasses.
Non-prescription glasses have been around since 2010 and have never left the trends since then. Much of the buzz for this type of eyewear goes to designer glasses. Runway looks often include fake glasses as a statement piece to complete their getup. Overall, this accessory can complement any outfit, whether you want preppy, casual, and corporate, among others.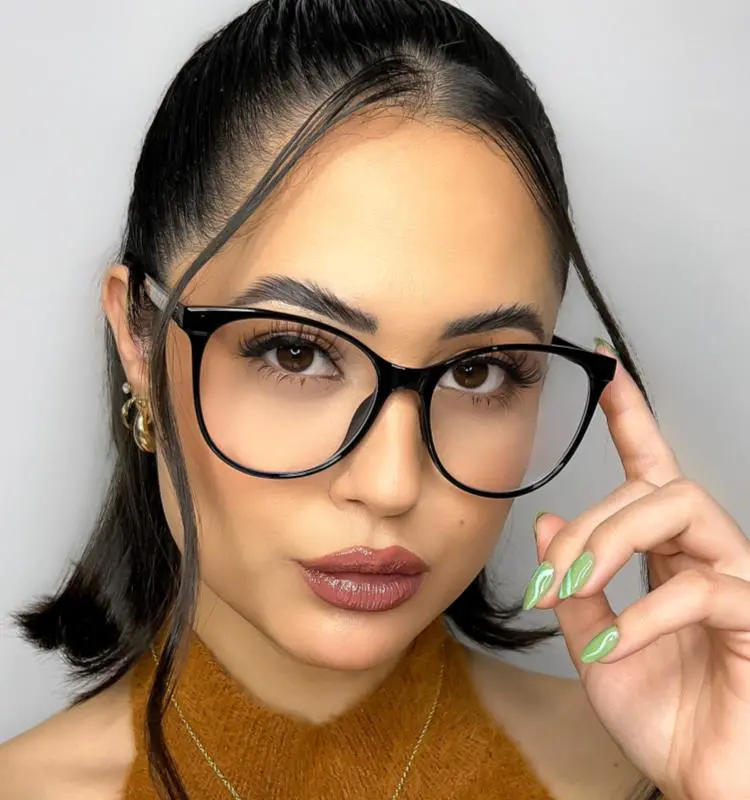 Do fake glasses affect the eyes?
It's typical for a person to hesitate with eyewear. You might ask, "why should I wear eyeglasses if my vision is fine?" The truth is that non-prescription glasses don't essentially damage your eyes. It's like looking through a window or any type of transparent barrier. Seeing an object through a piece of glass is not bad for your eyesight.
However, it's good to refer to buying guides like this one to know what you should look for in non-prescription glasses. This eyewear generally cannot hurt your eyes, but there are a few considerations to make such as suitable lenses and a frame for your face.
Some fake eyeglasses cause extreme glare in photos. The flash can reflect on the glass, causing your eyes to look like two orbs of light. To avoid this issue, you can choose non-reflective lenses or a protective film. It is also suitable for when you work overtime in front of the computer.
Are fake glasses a trend?
The fashion world recognized the fake glasses trend in 2010, with people valuing this accessory to add a new twist to their style. Much like wristwatches, non-prescription eyewear evolved from its utility function to a thing of style.
In 2012, famous sports personalities like Russell Westbrook and Lebron James wore thick-rimmed fake glasses, prompting the trend to live on. It provides a smart and chic look that works with outfits like plaid socks and cardigans.
Fake eyeglasses are a beloved accessory because they are some of the most versatile additions to a getup. You can buy stylish frames that show your individuality and speak to your personal taste. For some looks, eyewear can become the piece that finalizes the look. Both men and women appreciate this voguish trend and are a top consideration.
Guide to buying the right fake glasses (non-prescription glasses)
When you're ready to start shopping for eyewear, you have a wide array of choices ranging from chic, preppy, classy, to trendy and more. You can find a pair in department stores and retailers, or you can also shop online from Lensmart.


1. Find the best material
Plastic frames are an ideal choice for young people since this material is flexible and lightweight. If you opt for metal glasses, you can choose the hypoallergenic selection. Frames made of alloys withstand wear and tear due to everyday use. Titanium frames are lightweight and corrosion-resistant, ensuring that they last for a long time.


2. Choose your frame shape
You also need to select the right frame shape that fits your facial structure. There are rectangular, cat-eye, round, and other styles available for you to choose from. There are basic guidelines for choosing a frame based on your face shape. For example, a square face matches frames with wide curves to soften their angular faces. Rectangular frames suit a round face, making it appear long and thin.


3. Pick the right lens type
A functional part of your glasses is the lens. When choosing the right pair, you need to select lenses that have the features you need. If you work in front of a computer or other device for long periods, you can choose glasses with an anti-glare coating. For outdoors, you can choose sunglasses with polarized lenses and UV filtering to protect you from harsh sunlight.
Takeaway
Do you want to buy your pair of non-prescription glasses? Before you do, you can use our virtual try-on feature that allows you to see how the glasses will look on you. It helps you select the best fake glasses that will suit your personal flair. Visit Lensmart online and find the right pair of eyewear today!
Recommended articles:
What is my face shape? guide to choosing glasses
How to buy the best glasses for your hair color
Eyeglasses color guide: what color fits you best?
How to know if you need glasses?

High index lenses explained: pros, cons and more
How to find the right photophobia glasses (light sensitivity glasses)?
Guide to picking the best color blind glasses