Total Width: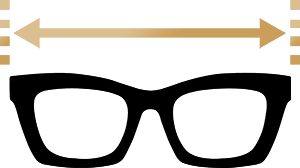 Gold Glasses
FAQ About Gold Glasses
Who looks good in gold glasses?
Gold glasses are flattering on most face shapes and skin tones, making them a great choice for anyone looking to add a bit of glamour to their look. Whether you're a fan of the classic aviator style or prefer a more modern look, there's a gold frame to suit your style.
Are gold frame glasses in style?
Gold frames are one of the latest trend in eyewear and are becoming increasingly popular with fashion-forward people. Whether you're looking for a classic look or a modern twist, gold glasses frames are the perfect way to add a touch of sophistication to any outfit. Learn more.
Are gold frame glasses good?
Gold frame glasses are incredibly versatile, making them a great choice for everyday wear. Whether you're headed to the office or out for a night on the town, gold frames will help you make a statement. With their timeless style and versatility, you'll be sure to turn heads wherever you go. Find more eyeglasses at Lensmart.
Are gold glasses too flashy?
Not if you don't want them to be. On their own, gold glasses are actually very classy and elegant. If you are going for a flashy look, you can opt for gold glasses in more extravagant styles. Otherwise, the hues of rose gold or champagne are excellent choices.
Related eyeglasses categories
All eyeglasses
Men's eyeglasses
Round eyeglasses
Black eyeglasses
Aviator eyeglasses
Rimless eyeglasses