Guide to choosing rectangle sunglasses (multiple color choices)
Eyeglass enthusiasts all have their favorite glass frames. Some like oval frames while others prefer round or square frames. However, one set that is steeped in tradition are rectangle sunglasses. Rectangle sunglasses have been around for a very long time and have witnessed different transformations over the years. However, their shapes remain consistent. Today, there are red, black, white, purple, pink and brown rectangle sunglasses. You even have tortoise shell rectangle sunglasses.
As fashion trends continue to evolve so has rectangles glasses but one thing that has never changed is the frame shape. For people with rectangle facial structures, this type of sunglasses fits them more than any other type.
What color of rectangle sunglasses is most popular?
The taste of society changes like the weather as we all know. At one point, warm colors were the popular trend only for brilliant, luxurious colors to replace them. Now, we are seeing the emergence of neutral colors like black and white. Suffice it to say that no color remains trendy for too long.
Based on the trends that emerged in 2021 and will continue in 2022 or longer, we can see that neutral colors remain the popular color of choice in the US. The study does that for every 100 pairs of sunglasses sold over the last 12 months, the predominant colors of choice were
· Brown
· Gray
· Black
· Tortoise
Classic black sunglasses remain hugely popular across all age groups which should not be surprising since black has consistently remained the color of choice for generations.
Following not far behind are blue, gold and crystal clear frames. Purple also made the list for those who prefer bold colors. The reason why neutral colors remain hugely popular is because they blend with any outfit and are not outlandish compared to bold colors in the second category.
Guide to choosing perfect rectangle sunglasses for men and women
If you have a rectangle sales face, rectangle sunglasses should be your glasses of choice because they are a pair made in heaven. Here are the things to consider when picking sunglasses that will fit you.
1.The right frames: You want to make sure you pick the right frame so settle for rectangle frames. If you want something a little different, comfort going for square or oval frames. Both frames will soften your facial angles for more balance.
2.The right color: When picking the frame color consider your eye and skin color. If you have blue eyes you may want to go for a bold color but if you have brown eyes, consider warmer/neutral colors like brown or black. You should also consider your hair color as well. But for women who wear hair extensions, they can go for a color that blends well with the color of their hair if they want an elaborate look.
3.Comfort: Another thing never to forget is your comfort. You want rectangle sunglasses that are lightweight, not heavier versions that will wear you down. The material quality is also of importance as well. So we recommend high grade frames made of TR90 materials because they are comfortable on the skin and durable.
The best rectangle sunglasses for you
Here are our top picks for rectangle sunglasses.
1. Pearl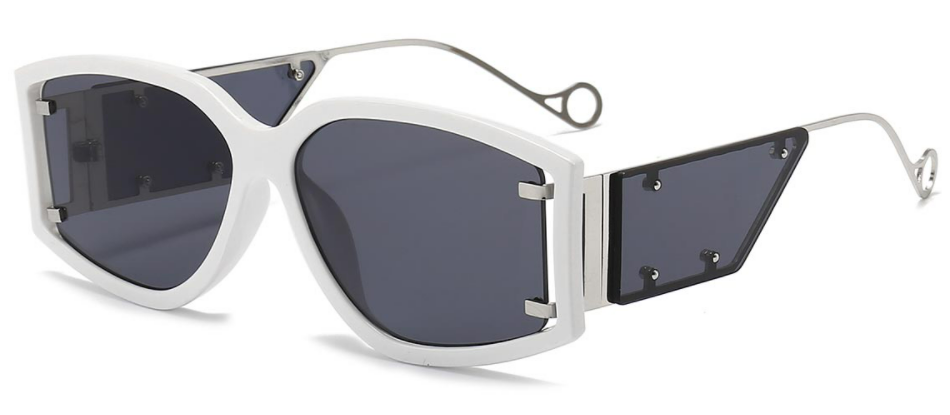 Pearl is a white gray sunglasses for men and women. It has an anti-scratch and anti-reflective frame so these sunglasses will not lose form for a very long time. It is flexible, durable and can be worn for official or social functions. It also has an anti-glare lens to protect your eyes from harsh UV rays.
2. Noa

Noa is the ideal option for those who want to be expressive with their taste. It has an attractive red frame that will draw the attention of onlookers. Noa has a trendy design that will not go out for fashion in a long time so investing in these sunglasses will be money well spent.
3. Calida

Calida is a brown rectangle sunglasses with unisex value. If you prefer warm colors, this one will work best for you. The frames are of the highest quality and you can wear Calida for hours and not lose comfort because it is lightweight. It weighs only 30.5 grams.
Conclusion
The best rectangle sunglasses are ideal for people with rectangle shaped faces. If you must buy one, make sure you review the tips shared in this article to make the right choice. Or better still, choose from the three we reviewed and enjoy a discount from the Lensmart store.
Related articles:
Eyeglasses trends 2023: popular glasses styles
10 transparent glasses to show your fashion
The newest guide to sunglasses for heart shaped face
Stylish sunglasses for square face(with tips for men & women)