The best cat eye glasses frames you should know
The fashion industry has seen so many trends. Some of them come and go. Whereas some of them are timeless, thanks to rebranding. One of these timeless trends is the cat eye glasses. Cat eye glass frames are mainly for women because they fit them better.
What makes cat eye glasses frames popular for a long time?
These cat eye glass frames have been popular for a very long time. They were first manufactured in the 1950s. Here are some of the reasons why.
1.They are unique
The concept of cat eyeglass frames is different, unlike some of the other basic eyeglass frames. Also, the designs are extremely spectacular.
2.They are timeless
The eyes of a feline inspired this fashion wonder. That will always be new to people because it is unique. Cat eye glasses frames are part of the top fashion trends now. This fashion wonder will continue to top the trends as it has done since 1950.
3.It suits everyone
Glasses are face wears. You have to select one that fits your face. The cat eye glasses frames look good on various face shapes. Who wouldn't go for eyeglasses that compliment them every time?
4.They go well for every occasion
This is definitely one of the features that have kept cat eye glasses trending since the 50s. Everyone enjoys having something that can make them look good for every occasion. No matter the look you want to portray, cat eye glasses can compliment your appearance.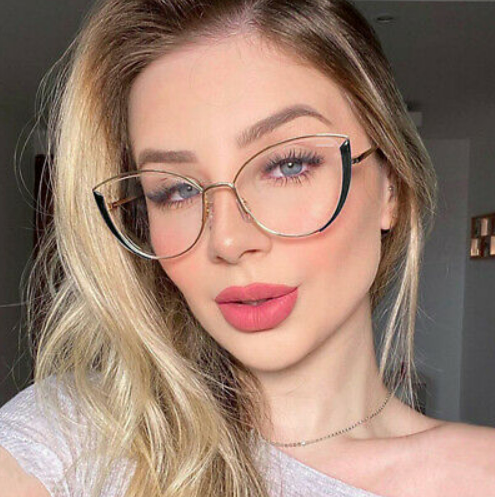 Who are the best suited for cat eye glasses frames?
As we mentioned before, cat eye glasses go with various feminine face shapes. Here are some of the face shapes that work best with cat eye glasses.
1.Oval Face
People with oval face shapes tend to have round foreheads and chins. Their facial proportions are properly equalized. Therefore, they can wear any cat eye glass frames. However, the wide cat eye glass frames look better on oval-shaped faces.
2.Square Face
Your face doesn't have to be like a literal square to be in this category. If your face width and length are equal then you definitely have a square face. Also, if your forehead is broad and your jaws are strong, then you have square face features. Without a doubt, angular and narrow cat eye glass frames are the best for square faces.
3.Round Face
Round faces are usually short. Their foreheads are usually very wide and they have full cheeks too. They have round chins and their jawlines are soft. Round faces usually look better with curved style cat eye glass frames.
4.Heart-Shaped Faces
People with heart-shaped faces usually have wide foreheads. Also, their faces narrow down around their chins. However, their cheekbones are usually full.
Check it out: 5 best cat eye glasses frames
Here are some of the glasses that we recommend for people who love the variety of cat eye glasses.
1. Aphra cat-eye tortoiseshell eyeglasses for women
Aphra is made with metal, even so, they are lightweight. Now you don't have to go through the stress of wearing one of those heavy glasses. Also, these frames have nose pads that make them even more comfortable. In addition, these glasses are recommended because of their lightweight and comfort.
2. Leire cat-eye eyeglasses for women

Just like every other cat eye glasses, Leire is also made for women. The shape that they are manufactured with makes the wearer look elegant. Also, they are lightweight so you can wear them for long. They are recommended because they are comfortable, they create stunning looks, and have spring hinges that make them flexible.
3. Aitana black cat-eye eyeglasses for women

Firstly, let's talk about color. Black will always look good on you no matter your complexion. Black always compliments your look. Furthermore, Aitana cat eye eyeglasses have a medium-sized anti-scratch lens used to coat them. It is recommended mainly because of its anti-reflective feature that helps prevent much glaring.
4. Cybele cat-eye brown eyeglasses for women

Cybele has an anti-scratching coating so it is resistant to scratches and impacts. The anti-reflection also helps reduce glare. They also have anti-fog properties. It is recommended because it works in your favor. It helps to prevent your eyes from getting tired.
5. Kennedy cat-eye black eyeglasses for women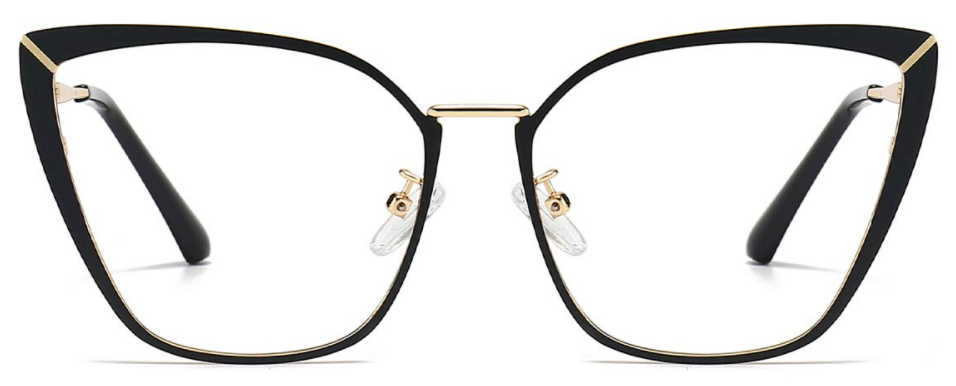 The lenses used to manufacture Kennedy are anti-reflective and anti-scratch. Therefore, you experience less glare with these glasses on. Also, the anti-scratch properties make it durable and easy to use. It is recommended because of its flexibility, lightweight, and durability.
Recommended articles:
Eyeglasses trends 2023: popular glasses styles
What face shape best suits cat eye glasses?
What to consider when choosing stylish cat eye sunglasses?
10 recommended stylish cat eye glasses for women
The best cat eye glasses frames you should know
Are cat eye sunglasses in style?