Optometrist vs ophthalmologist: what are the differences
Many people find it hard to differentiate between ophthalmologist and optometrist. If you need to get your eyes checked, do you know which eye care professional to go to? Every eye doctor plays a significant role in your eye health.
However, these two professions have several distinctions that you should understand before booking your next eyecare appointment. You can learn about them by reading this quick guide.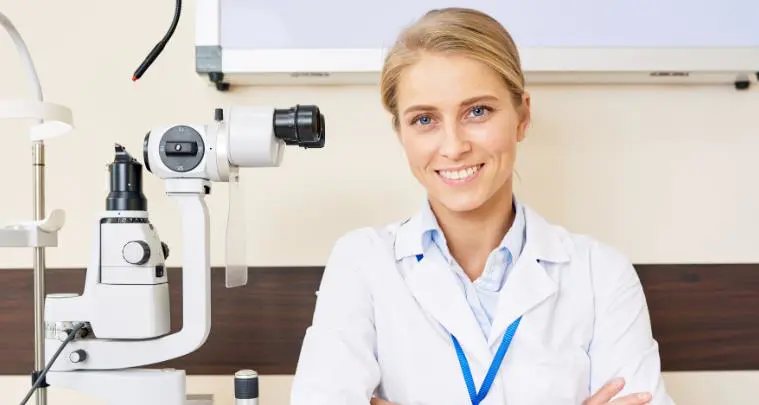 What is an ophthalmologist?
An ophthalmologist earns the title of a medical or osteopathic doctor after completing residency training in ophthalmology. These eye doctors have the license to provide all eye and vision services. They can diagnose eye problems and diseases. Also, they may prescribe and fit eyeglasses or contact lenses to correct a patient's vision.
The ophthalmologist can perform surgical eye procedures, which other eye doctors cannot do. They have the option to get more training for a subspecialty in eye care. These doctors can earn a fellowship in glaucoma, cornea, pediatrics, retina, plastic surgery, neurology, and more.
Education level
As a medical doctor, the ophthalmologist completed college and went to medical school and training for an additional eight years or more. Therefore, they hold a license to practice what an M.D. does: medicine and surgery.
The residency program for ophthalmology covers theoretical and practical knowledge of eye diseases. They learn to diagnose and treat such conditions and practice surgical training if necessary.
When should I see an ophthalmologist?
Both ophthalmologists and optometrists can provide eye care for you. They can handle your routine eye exam and provide a prescription refill. However, you will have to get an appointment with an ophthalmologist if your eye condition or disease needs surgery. For example, if you have glaucoma, cataracts, or strabismus, you need to seek the services of this eye doctor.
Ophthalmologists provide basic optometry services. They are licensed doctors who can perform medical and surgical management of diseases. If you undergo surgery, they can also render rehabilitation services for you.
If you are over the age of 40, going to an ophthalmologist for your complete eye exam is ideal. An eye M.D. can help you save your sight from eye conditions that come with age.
What is an optometrist?
Optometrists are different from ophthalmologists in that they are not medical doctors. However, they possess a Doctor of Optometry or O.D. title. That means they can perform vision tests and routine eye exams. They can also prescribe and fit eyeglasses or contact lenses. The only procedure they cannot perform is eye surgery.
An optometrist is a primary eyecare provider who can diagnose, treat, and manage various eye conditions. They own a license to practice optometry and prescribe medication, including controlled substances for eye conditions.
Education level
The optometry postgraduate program takes around four years to complete, which depends on the curriculum and school. It is preceded by four years of college. Students under the program learn basic and advanced techniques on eye examination. They also perform client case studies to gain in-depth knowledge of their profession.
Additionally, the optometry program includes pharmacology and other natural sciences courses to supplement their knowledge. They also receive full-time training and residency of about a year or two before getting a license to practice.
When should I see an optometrist?
You can pay a visit to the optometrist for your annual eye exam. If you wear eyeglasses or contact lenses, you can approach an O.D. to refill your prescription. You can also talk to them about any signs or symptoms regarding your eye health and they can diagnose the problem.
However, the optometrist cannot perform major surgery on you if your eye condition requires it. You must book an appointment with your ophthalmologist for the procedure. You may still seek an optometrist' services for your post-surgical eye care.
Optometrists can prescribe medication to treat a certain eye condition. In the US, O.D.s may also perform minor surgical and laser procedures although it depends on state law.
Bottomline
Knowing the differences between an ophthalmologist and optometrist can help you figure out which eye doctor to visit for your next checkup. Choosing the right eyecare professional can help you maintain good eyesight and save your vision from worsening. If you are up for an eyeglass fitting, you can choose among the best selection of high-quality glasses from Lensmart today!
Recommended articles:
Ultimate guide to reading eye prescription
Pupillary distance explained: how to measure PD
Glasses measurement: how to know your frame size?

What is CYL, AXIS and SPH in eye prescription?
What are 20/10, 20/20, and 20/40 vision?