Trivex lenses answered: problems, differences, and more
When eyeglasses came centuries ago, glass was the strongest and clearest material. Currently, a vast range of plastics that do not break is now available. These materials are easy to clean, scratch-resistant, and easy to shape into the exact prescription strength.
Standard plastic lenses are inexpensive, lightweight, and comfortable. Additionally, polycarbonate lenses are the other version of plastic lenses which are impact- and scratch-resistant. These two kinds of lenses are the most popular ones on the market.
However, a new, resistant, lightweight plastic is now available - the Trivex lenses. It is significantly similar to polycarbonate. However, they have distinct advantages.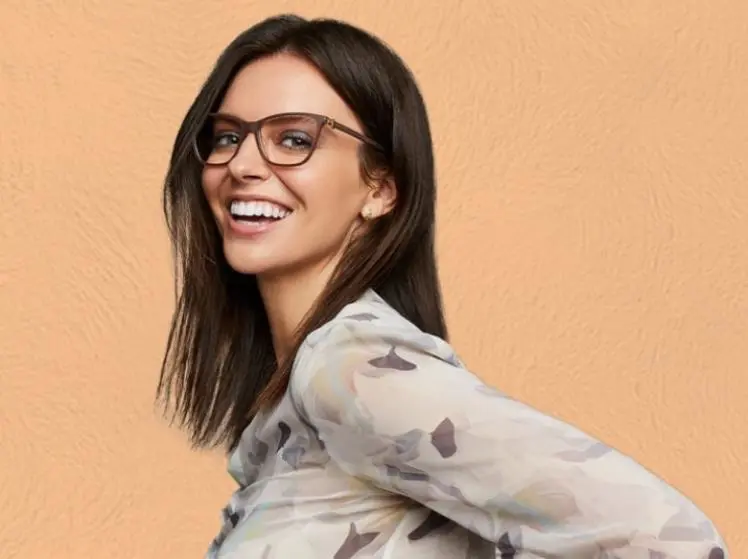 Who makes Trivex lenses?
Trivex lenses were initially developed for military use as visual armor. In 2002, PPG Industries then adapted the technology for commercial optical needs. Trivex lenses use urethane-based pre-polymer material. They are generally named after three essential material properties: ultra-lightweight, extreme strength, and superior optics.
Also, the material contains a high Abbe value. This means it can manage light dispersal better than any other lens material. A higher Abbe value means less distortion and dispersion. Trivex has 43-45, while a standard polycarbonate only has an Abbe value of around 30.
Are Trivex lenses worth it?
One of the most significant advantages of Trivex lenses is their comfortability. Those who use them find them more comfortable than other plastic lenses on the market today. This innovation has an index of 1.53, making them thinner than other ordinary plastic lenses. Trivex has some of the most lightweight lenses today. Using them will not produce any sheer weight as you go on with your everyday life.
Additionally, the Trivex is more resistant to any impacts. It exceeds the minimum impact standard imposed by the FDA by around 60 times. More importantly, Trivex lenses provide better protection if you search for specific types of glasses.
With its impact resistance capabilities, glasses using Trivex can also be considered safety glasses. Trivex lenses can withstand the shock from intense physical activities like cycling, tennis, hiking, or other outdoor sports.
As you may know, not all sunglasses and eyeglasses protect from UV rays. Thus forcing you to get another pair of glasses or additional features on your current one for UV protection. Trivex guarantees 100 percent protection from sunlight, allowing users to be confident in staying outdoors.
Also, eye doctors and eyewear manufacturers have the term optical clarity. This means the quality of visual experiences as you use these lenses. Based on the creators of Trivex, PPG Industries, these lenses provide sharper optics. They perform a slower molding process hardened in heated ovens.
More importantly, Trivex lenses have a lesser probability of cracking when mounted on rimless frames and other minimalist glasses designs. You can have both aesthetics and optimum vision and protection in Trivex lenses.
Trivex lenses problems
Getting high-quality Trivex lenses is very ideal for someone who longs to experience the full functionality of eyeglasses. However, they may not be available in your chosen eye clinic. Since Trivex is a new material, some eye doctors might have difficulty securing these lenses. This pushes you to purchase them online. It's not very ideal as you cannot feel or test the material before buying it.
Also, the excellent quality these lenses provide comes with a price. They can be costly. The price starts at around $200 for Trivex single-vision lenses. For those people particular with thinness, they might discover that Trivex lenses do not offer the same degree of thickness as those with high-index lenses. The specific thinness that high-index lenses provide reduces the "coke bottle" look and can be beneficial for users needing higher visual corrections.
Trivex lenses vs. polycarbonate lenses
Before the world knew about Trivex lenses, there were polycarbonate ones. Polycarbonate has been the industry standard for children's eyewear and safety glasses for years. Trivex and polycarbonate lenses have various things in common regarding being significantly lightweight and impact-resistant.
We give a quick yet comprehensive comparison of these two types of lens materials.
1. Thickness. Eye lenses made from polycarbonate are approximately 10% thinner than Trivex lenses.
2. Weight. Trivex lenses are 10% lighter compared to polycarbonate lenses.
3. Impact resistance. These types of lenses are equally similar when it comes to impact resistance.
4. UV protection. Another similarity these two have is they guarantee to block 100% of the sun's UV rays. This is without the need for additional UV-protection lens coatings.
5. Cost. Depending on the add-ons and other circumstances, the prices of both lenses vary. However, various optical stores and eye clinics charge more for Trivex lenses.
6. Availability. Generally, polycarbonate is significantly available for various lens designs like progressive lenses. On the other hand, both materials can be available for photochromic lenses.
7. Optics-peripheral. As you may know, Trivex lenses produce a sharper peripheral vision because of their higher Abbe value than polycarbonate lenses.
8. Optics-central. Eyeglasses using Trivex produce lesser internal stress than polycarbonate lenses. Additionally, Trivex may produce sharper central vision.
Trivex lenses vs. high index lenses
High index lenses have higher index refraction. This means they have more outstanding capabilities to bend light rays providing clearer vision for people with strong prescription glasses.
Now, how do they compare to Trivex lenses? See the comparison below.
1. Trivex lenses have an index of 1.53 which is lower than high index plastic having 1.67 to 1.74. The higher the index, the more lightweight and thinner the lens will be.
2. In terms of resistance to scratch, both lenses are the same.
3. Trivex lenses are more impact resistant than high index lenses. This makes it more ideal to invest in Trivex for safety glasses.
4. Trivex lenses provide higher optical clarity than high index lenses. This is because of their higher Abbe value.
5. Regarding lens color and size options, high index lenses provide more than Trivex lenses.
6. In general, both lenses are relatively similar when it comes to their costs. However, some aspects can vary if one needs to add more lens features.
Find more about eyeglasses lenses:
What are advantages and disadvantages of progressive lenses
What are the advantages and disadvantages of bifocal lenses
What is the difference between single vision and progressive lenses
Transition lenses problems you should know
Lenticular lenses explained: types, pros and cons
Scleral contact lenses' advantages and disadvantages
The advantages and disadvantages of high index lenses
Aspherical lens vs. spherical lens: which is better?
Trifocal lenses' advantages and disadvantages explained