Return and Replacement
Lensmart offers a 365-day warranty (warranty will be determined by the date of parcel signed) covering clear defects in material and workmanship, and a one-time replacement will only be issued if there are clear defects in material and workmanship. Our objective is simple: to make sure every customer has a wonderful purchasing experience with us.
However, if you have any of the following questions after receiving the product, please contact Lensmart Customer Service within 15 days, otherwise the refund/return request will not be accepted.
Free return and replacement application can be made within 7 days after delivered. (Not including the loss caused by the guest's own error). Customers have to bear all return and exchange shipping fees.
Return and replacement application more than 7 days after delivered can only be provided a one-time reissue or a 50% refund.
- Product problems:
Style or size problem: if you do not like the style or the size does not fit, we can provide a one-time replacement for you. We will also need to charge an express fee (you can choose other styles on our website for a replacement with price difference charged);
The replacement caused by the wrong and unusable customized lens caused by the customer's personal reasons requires the customer to pay extra cost of re-customizing the lens and the shipping fee for reissue;
Uncomfortable prescription: wearing glasses comes with an adjustment period. Some people experience minor headache, sore eyes, and dizziness when wearing a new pair of glasses. Usually we recommend customers to get used to the glasses (especially progressive lenses) for 3-5 days. If you still experience the issues mentioned above, please contact us.

- Delivery issues:
Unreceived package: please go to the local post office to pick up your package as soon as possible after receiving our notice for pick-up. We only provide one-time reissue of the returned package caused by the wrong address provided by the customer.
Any return without informing first will not be accepted and the shipping fee might be charged.
If you bought glasses during the promotion and need to replace/return one pair upon receipt, we will return or replace them on a pro rata basis after deducting the discounted amount.

If you made a mistake during the order, you could contact Lensmart Customer Service Team to get a special discount for future purchase or a partial refund to the original payment account (debit/credit card or PayPal).
The custom time of the lens will be different due to different lens types and the delivery time will be different depending on the logistics company, please refer to the chart below to check the exact custom time and delivery time: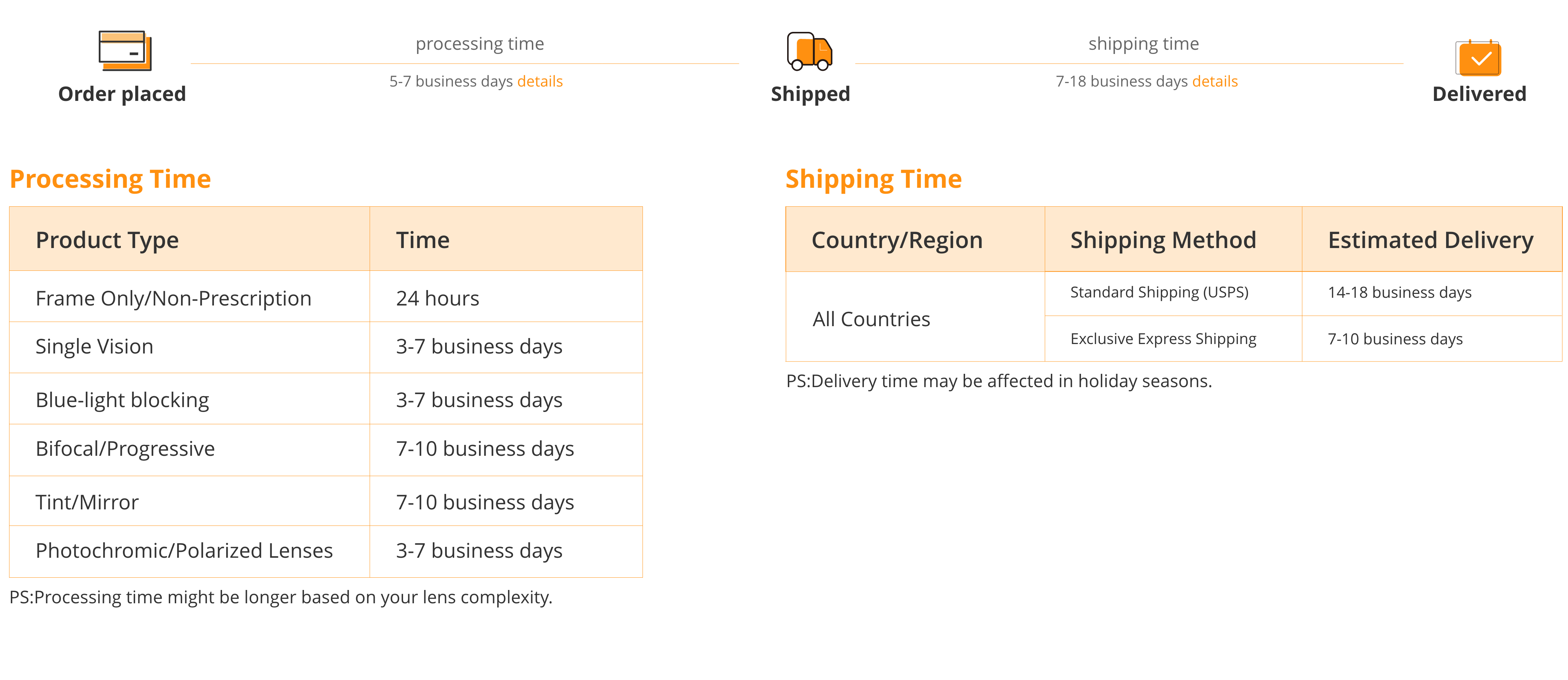 For example, if you have ordered progressive lenses and selected Exclusive Express, your estimated delivery time will be about 17-30 business days after placing the order; if you have ordered progressive lenses and selected the USPS Express, your estimated delivery time will be about 19-30 business days.
-Order Modification/Cancellation
If you want to modify/cancel your order, please contact Lensmart Customer Service Team(cs@lensmartonline.com) after placing the order. An extra charge will be generated if there is a price difference. For any requests for modification/cancellation during customization or after shipment, please refer to the chart below to check the additional charges.

A refund request made after the glasses been shipped and in transit, we can only refund 70% of the amount of the order due to the cost of the order. And the customer need to return the glasses to our warehouse after receiving the glasses.

- Secondary after-sales service

After the replacement/rework of the original order, the cost of subsequent replacement/rework will be regarded as 50% of the value of the order (we won't charge it). If you still have problems regarding to replacement/reworked glasses, please contact our customer service and tell us the specific reason. If you still need a refund, the refund will be 50% of the price of the original order.
Note: Our warranty doesn't cover damage and/or return requests caused by accidents, negligence, or improper care.
If there is any manufacturing error, please contact us and we will remake new glasses for you at no additional charge or issue a full refund after the issue is confirmed.